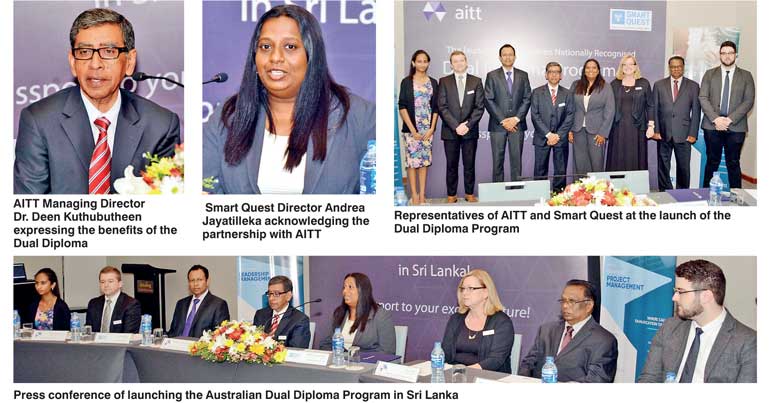 Australian Institute of Technology Transfer (AITT) and Smart Quest Institute of Coaching and Mentoring recently launched two new Dual Diploma programs in Sri Lanka, giving the best chance for our Sri Lankan students to heap all the benefits of studying an Australian nationally recognised, and nationally accredited qualification in Australia – without having to leave Sri Lanka.

AITT is a training organisation based in Australia, offering competency-based, quality and compliant nationally recognised and nationally accredited training to trainees, participants and organisations from all over Australia and from 18 different countries around the world.

Smart Quest is a well-established training and human resources development organisation based in Sri Lanka, specialising and leading in coaching, consultancy, training and recruitment, which have extended its operations across cultures to countries worldwide. Smart Quest is a pioneering institute in Sri Lanka registered under the Tertiary and Vocational Educational Commission (TVEC) for offering coaching and mentoring programs.

AITT has entered into a strategic partnership agreement with Smart Quest to offer Australian nationally recognised and nationally accredited dual diploma programmes that will immensely help Sri Lankan school leavers to launch their future with confidence.

Smart Quest and AITT both understand that Sri Lankan children want to have an option to be equipped with internationally recognised, work ready qualifications with the aim of enabling them to stand in line with compelling job demands around the world.

AITT has designed the dual diploma program as a passport to an exciting future, especially for Sri Lankan students who have completed A-Level and O-Level studies (or equivalent) by promising a proven and cost-effective pathway to Australian universities, work in Australia and more.

AITT brings qualified and industry experienced Australian trainers to Sri Lanka to deliver two unique innovative dual diploma programs through a modern flipped classroom and activity based learning. No boring lectures and long essays or exams. Students will develop real industry skills and real work-related competencies.

Diploma of Project Management is offered with Diploma of Work Skills for Career Advancement and Management as one Dual Diploma program that is delivered in 12 months for GCE A/Level students and in 16 months for GCE O/Level students. The other Dual Diploma is the Diploma of Leadership and Management offered with Diploma of Work Skills for Career Advancement and Management as a Dual Diploma program in the same time period mentioned above.

The Diploma of Work Skills for Career Advancement and Management that features in both dual diploma programs, is an industry verified qualification built for the future world of work. AITT is the only institution in the world with the rights to train and issue this qualification.

AITT uses a blend of face-to-face, team based, and self-paced learning. This flexible arrangement gives students the freedom to choose how they manage time, allowing time for additional studies to meet university requirements in Australia, part-time work, work-experience, or time with the family… all while working towards the Dual Diploma.

Students are given access to the World's best Learning Management System – Canvas (used by 7 out of 8 Ivy League schools). Canvas allows students to face-time, message, and talk to trainers and peers anywhere on any device. Even video assignments and answers can be recorded and submitted from a smartphone or tablet.

As the Dual Diploma program is the exact same as the one students would get in Australia, students are not limited to the university they can apply for. So long as the university entrance requirements are met, an application can be made to any of the 42 universities in Australia (with AITT's help if required). Furthermore, students may be able to gain credit transfer/advance standing for the diploma competencies successfully achieved. This potentially opens the door for students to study anywhere in Australia and in many other countries.

Not having to travel to Australia to undertake a Dual Diploma program, bridging program, or university specific entrance program can save students up to two years of unnecessary study, and over $80,000 Australian dollars. There is no risk of having to spend more in Australia if the student does not fulfil the study requirements.

Enrolments are open now for the intakes for the 2017 programs for students completing Sri Lanka secondary school examinations with the required passes and those who have successfully completed the GCE A-Levels and O-Levels, and the first intake will be starting in the first week of October this year.

To learn more about these programs, please visit www.aitt.com.au/sri-lanka or visitwww.sqicm.com .