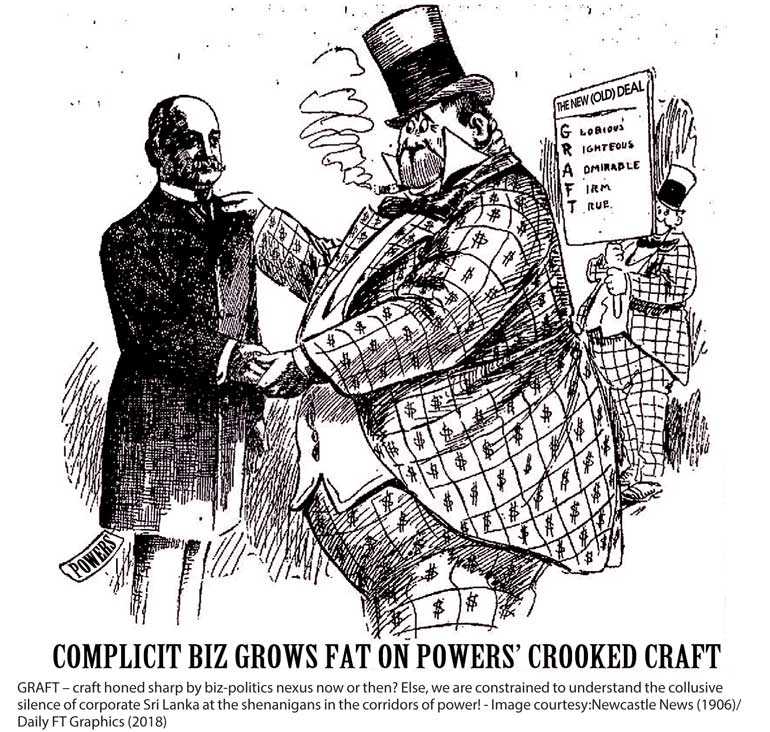 Two things bother me. More than two, really! But let's just stick to politics. Shall we?

First, who constitutes the true political opposition in Sri Lanka? Is it the Joint Opposition, which carries the biggest stick and has the loudest foul mouth? Or is it the TNA, which walks softly and has the largest parliamentary grouping outside coalition government MPs' ranks? Or is there some other 'scientific methodology' – that en vogue practice for composing decomposing political careers into cabinet portfolios! – for estimating it? Could it be the JVP, for the weight and volume of its ideas or ideology – although it is thin on the ground in the House?
The Big O
Well, perhaps it's none of the above. For starters, a political opposition must have both gravitas and the national interest at heart. The JO, demonstrably, has neither. The gravest matter it can get in between its grey cells is how to effect the Great Comeback of the Great Dictator in some form or guise – and thereby avoid gaol for the previous regime's miscreants and sundry unsavoury goals.

For another, unless you're equating national reconciliation pure and simple with national interest, you can forget the TNA as a disinterested party. National reconciliation at best is never pure and at worst rarely simple. It is large. It contains multitudes. The peace that passes all understanding for one community or ethno-political grouping cannot be sufficient cause for indulging it. Although it may be necessary to do so for pragmatic reasons such as surviving a no-confidence motion brought against the sea-green incorruptible by the barbarian hordes.

The JVP, despite its gravamen in parliamentary debate and its panache on the idiot box's plethora of talk shows bearing no relation to reality, is a non-starter. That is because it was once a party-starter in the most civilly unconscionable ways and the civic-minded polity has not forgiven it its fire-starting habits. It never will. No matter how much the leopard seems to have changed its spots.

So I'm left with this conundrum. Is it size that matters? Strength and support in times of adversity? A scintillating show of words and ideas? Or beyond one's presence and power in parliament and potential to prop up pragmatic politics elsewhere in the corridors of power, is there another part of the body politic that can or even must inherit and wear the mantle of Sri Lanka's genuine political opposition?
The Big C
The other kettle of fish that keeps me awake at night is the niggling issue of corruption. Never mind that our island-nation seems to have improved its ranking on some international index or scale or whatever. We all know that it goes on, went on and will always bubble forth like that pesky brook. That everyone who is anyone speaks out against it is neither here nor there. That's all smoke and mirrors, and the mirror is cracking from time to time in interesting places.

First, in this incarnation of Brahma's dream, the Brahmins were caught out with their fingers in the state till. But the bond scam – as any insider in the GOP knows – is only the tip of a rather colossal iceberg. That the greens are systemically green-backed in more ways than is healthy for an anticorruption legislator to know any more than how laws and sausages are made is uncommon knowledge. It is a modus operandi that was allegedly introduced by the Old Fox – to pander to corrupt ministers one fields oneself, so that they can slush-fund party coffers to bankroll one's rollercoaster-ride in power – and is ostensibly implemented with a dab hand by the Young Master (well, no longer in the first blush of youth and possibly flirting with some form of dissonance with reality if his less than sterling pronouncements are to be taken at face value).

Then, there was a flurry of activity hot on the heels of heady campaign promises in which a brace of small fry were put away, much to the chagrin of the loyal state bureaucracy and the amusement of big sharks who kept smiling all the way to their unnumbered offshore accounts.

And now, it transpires that more minions close to the monster in the middle of an embattled executive have been caught red-handed literally stuffing their rucksacks with ill-gotten gains. The question on everyone's minds is probably, how high does the rot go? My own quandary is whether the timing of the big bust was politically motivated, since the law-enforcement agencies clearly respond to string-pulling by whichever mandarin is presently feeling the pinch at the hands of its coalition bedfellows.

Of course, it goes without saying (and that's only half the rotten problem in our realpolitik-ridden state, that it goes without a legal shout-out) that the erstwhile regime and its still-at-large criminals is hardly wet behind the ears… But its sins of omission and commission – pun intended – remain in the realm of speculation (for e.g. was it 80 million or billion and whose kitty did the MiG deal fill?) as well as hamstrung in court.

I don't expect a summons to the fourth floor, as a fellow journo experienced as a reward for his audacity and integrity in asking the tough question: How High Does The Rot Go?
The Big Sleep
In my dreams, the answers to both of my questions above have the same shape and form.

Who is the real opposition? That is has to be someone far from the compromised ken of politics is evident. It has to be an entity renowned for its accountability and transparency, reputed for its good governance, and reliable enough to be entrusted with the fiscal and fiduciary oversight of the national interest. I mean the business community in its most Olympian avatar: far above the morass of machinations in its pristine sanctity – and then I awake. A lingering echo puts paid to that pipe-dream; for "quis custodiet ipsos custodes?"

Who can arrest and reverse the downfall of Sri Lankan politics at the hands of petty manipulators dressed up as kings and puffed up as saviours of our destiny once fallen into disrepair? That it has to be an incorporated body with perfectly streamlined fins to safeguard financial and attendant impeccability is again obvious to those not sleepwalking. Yet once again the dream fades when I face the unshaven bitter waking reality of bribes to the powers that be and never-ending envelopes of entreaty to grace our this event or that function or sundry opening in the hopes of the little quid pro quo on the never-never.

In the end, it all smacks disappointingly of some once vaguely promising erotic dream. What began with hope has ended with not even a damp spot for all one's conjuring of magicians to ward off Queen Mab and her incubi. For the corporate giants we elected to cleanse the Augean Stables have transmogrified into some undesirable succubus themselves. It is only we poor suckers who are left with our limp hopes that after the hard talking was done, some concrete action would ensue in the peace and justice as well as transitional reforms arenas.
(Journalist | Editor-at-large of LMD | Writer #SpeakingTruthToPower)