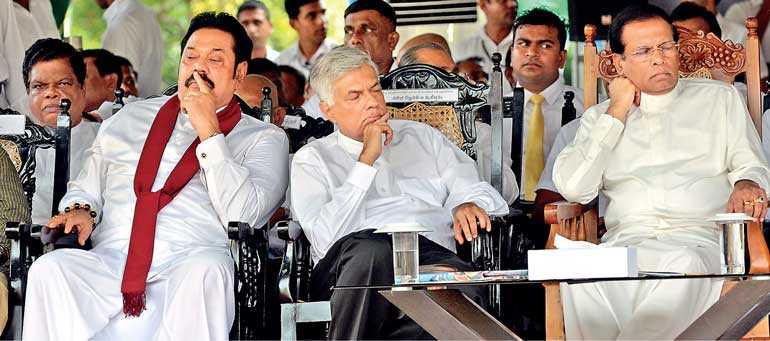 STATE: riven – Pic by Shehan Gunasekara
As we struggle to put it down in black and white today, the writing on the wall is still visible if fading. It suggests that Sri Lanka as an emerging democratic republic has been weighed in the scales and found wanting in the balance. And not simply because a despicable coup threw us off equilibrium. But because our myriad responses indicate a nation-state deeply riven.

There is much to be said for democracy: 'the worst form of government – except for all the others'. It shows. It hurts to know it; to be able to do nothing about it. It has made even the best among us mad, bad and dangerous to know…
One hand
On the one hand the push factor. A president rudely shoving his one-time prime minister and erstwhile coalition

partner in the back… in a one-sided public spat after a long private battle perhaps. An inflamed crowd – vanguard of a horde of marauding barbarians at the gate, perhaps – roaring their murderous approval at the undignified exit of a democratically elected government. The shocking way in which strategic or simply silly orators enamoured of their own self-serving rhetoric can privilege hype over reality, hysteria over reason, homophobia over respect.
Iron in the glove
On the other hand an element of pull. An embattled prime minister spewing infuriated principle on the lawn of a once little hallowed precinct, which his political enemies claim is illegally occupied to date. A slumbering party machine that had fallen asleep on our democratic project slowly grinding in ascending gears towards activity on the popular front that might prove too little, too late – to save itself and/or 'democracy'. Republican mothers and grannies on the mean streets proclaiming liberty even if it did not necessarily equate with the green party. Staunch defenders of the neoliberal faith inviting the public to – or is that inveigling into – rage against the dying of the light.
The body count
But the dichotomies elsewhere are not as clearly remarkable as in the public or political spheres. Behind the scenes, strong partisan feelings and coldly calculated propaganda are framing the issue. Plus moulding and shaping the ongoing national crisis into a golden calf whose image pleases them and their cronies or cabals. These include virtually all stakeholders across the spectrum of civil society.

To supply but one instance of the deep divisions in our society, a single act – the speaker's convening of parliament on 14 November – has been hailed as 'defiant' in a deliberately apolitical newspaper, 'courageous' in business circles, 'unconstitutional' among legal experts propping up the coup, and 'traitorous' by the de facto government spokespersons.

It's a private and personal sphere of contesting opinions. An arena where, in the shifting sands of ideas, idealism or the utter and entire lack thereof, there are no victors – only a growing number of bodies in the amphitheatre. We only fear that when Caesar grows impatient and the legionaries are sent in, before or after the triumphal parade, the body count will mount geometrically.
Funny ha-ha if not peculiar
And the ironies abound while inconsistencies multiply the present crisis from being a nuisance to a nasty business.

That a supposedly spartan president who groused publicly at the state of snacks on our debt-ridden national airline is willing to splurge millions of taxpayer money in a referendum to endorse his decision is staggering. When the simple expedient of convening the House would settle his mind, to say nothing of ours as a nation.

Then there's the putative counterrevolution led by the speaker. A venerable archon-in-waiting whose best efforts are so easily stymied by a mere sergeant-at-arms and the obstinacy of a bureaucracy standing their ground over a gazette notification.

Need we mention the ludicrous own goal where by dint of opening his mouth and placing his foot as well as his future in it, a national leader and would-be party-unifier told his supporters that his first and second choices were tantamount to infidelity – even by the shoddy standards of a marriage of convenience founded on the bedrock of realpolitik?

The only comic relief in all of this is an angry statement by a former minister complaining that with two prime ministers competing for legitimacy, the bureaucracy has ground to a halt. "No one in government offices is working these days," he has lamented loudly in a hilarious jeremiad. Well sir, at least some things never change. O for such constancy in state stability and genuinely national government!
To be whole again
In the meanwhile we all play games. A. Attrition: "Rangé, are you coming this way?" B. Posturing: "They tried to bribe me!" (Tell that to the Marines, please – or the Bribery Commission, better still. C. Rumour-mongering: parliament will be dissolved tonight; parliament may be prorogued again. D. Number-crunching: we have it – UNP; but we've 113+ (the prez or de facto PM), 115 (a stage crony), 120-125 (maybe maths fail ex JVP). Even I can't keep the derision out of my tone.

Not because I'm partisan. But because I think that the proper relationship of a penman to a politico is that of a dog to a lamppost. And even as a dyspeptic media hound I'd hesitate to piddle on democratically elected leaders. De facto governments and their pet poodles are exempt from the tenor of my contempt.

Time will tell. And that's what's running out for a nation, coalition government, and a deeply divided state that was staggering along on borrowed time – and money – anyway.

(Journalist | Editor-at-large of LMD | Writer #SpeakingTruthToPower)