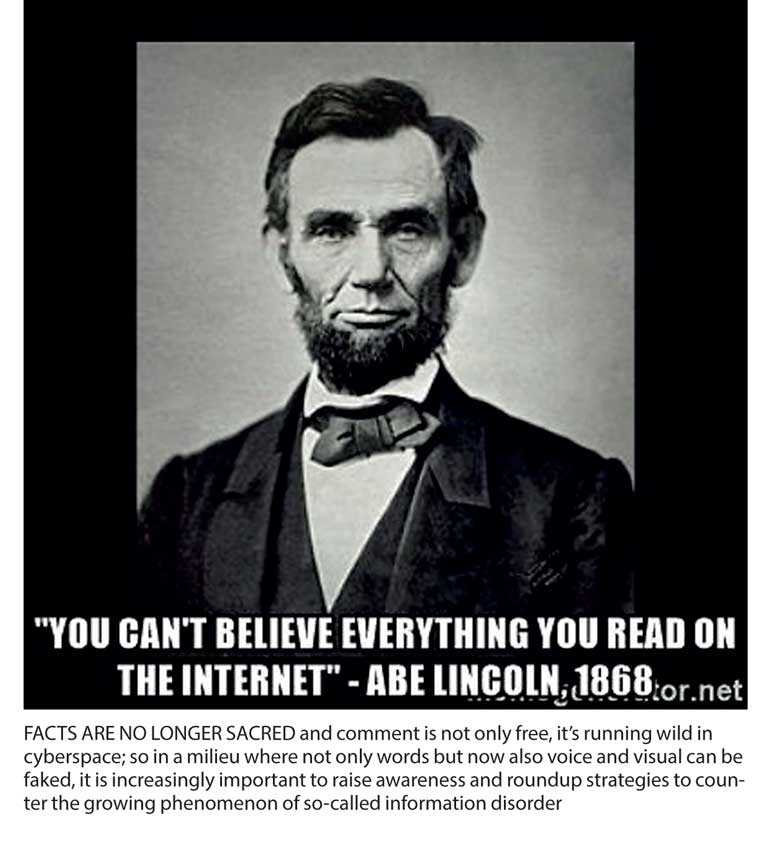 In its most innocent forms, we may all enjoy a bit of 'fake news' and go to bed with a lighter heart and clean conscience. A meme on Facebook urging social media consumers to caution – "You can't believe everything you read on the internet – Abraham Lincoln" – is both funny and ironic. Or virtually any short piece by those pastmasters of parody, NewsCurry, would suffice to make the point to say nothing of alleviating mood. Note… it's not quite satire, but who cares when it's so hilarious!

There is a raft of issues associated with the fake news phenomenon, however. For starters, media literacy in general and social media savvy in particular is so egregious today that many a web surfer may well believe that Lincoln actually said it long ago. Or counter smartly that it was more readily attributable to Albert Einstein. Then again, the state of the nation is so parlous at times that what passes for satire or parody on NewsCurry swims perilously close to the true state of affairs. In any case, satire and parody don't work in a country where impressive literacy levels simply mean that someone can write his or her name in a single language.

Of course, at its insidious worst, fake news takes more sinister forms. We all know or at least suspect that propagandistic posts on Facebook can set an entire province aflame, as recently evinced in the Kandy District. There was also the inane dissemination (no pun intended) of the pill that could render its consumers sterile. And the vernacular media's insane engagement with the whole idea! That an ethnic minority community could be scandalised and scapegoated says less about the virulence of fake news than it does about the virility of national newspapers.

So a recent public seminar exploring the possibility of 'immunising' society from the scourge of fake news was both welcome and salutary. I reproduce in précis form some of the main ideas shared there this week, which struck me as apt. And then add some of my own understanding of the state of play.

State of play

The seminar suggested that are three main types of 'information disorder' (read: fake news).

# Misinformation: the accidental publication of something that is not true. (An ironic example of this was when participants at the seminar were directed to the wrong room. It served to illustrate the definition.)

# Disinformation: the deliberate publication of the same. Disinformation is misinformation that is deliberately disseminated in order to influence or confuse rivals (foreign enemies or business competitors etc.)

# Malinformation: the malicious publication of a falsehood.

To these I would add:

# Non-information: the meagre quantum of information given out by government departments – RTI or no RTI. ("All information is useless" – Keynes)

# Pseudo-information: the measly penny-pinching of triple bottom line reporting that masquerades as Corporate Social Responsibility in many an annual report. Even if theoreticians would quibble and assign the latter two types to one or more of the former three?

State of terror

Some presenters also noted that the employment of fake news as a political strategy is not new, citing the case of a US presidential race at the turn of the 19th century as an instance of a deliberate deployment of it. I think a careful scrutiny of Socrates' trial, Plato's "Republic" or Aristotle's tall tales that had Alexander sighing for new worlds to conquer may yield many treasures. And perhaps Pontius Pilate was being less satirical and more media savvy when he had the headboard of a crucified Carpenter turned Cosmic Anarchist read 'King of the Jews' – an early attempt at irony or imperial Roman meme…

The use of propaganda for military purposes may have roots in Sun Tzu's 'Art of War'. But we know how martial propaganda has an afterlife in democratic-republics where whole virtually an entire nation has failed to successfully transition from a conflict-driven to post-war society. And despite the smiles that some parodists' attempts bring to our faces as we scan their daily newspaper caricatures, there's no denying that jingoistic or sabre-rattling fake news dominates the mindset of certain demographics on the internet as much as denizens who would set a country ablaze again in the name of ethnic exceptionalism.

State of nation

The forum also touched on the growing need to educate society in general and social media in particular about news in its many avatars and imitators. There is a place for satire and parody, perhaps beyond the bailiwick of those usual suspects: NewsCurry. That many readers are lazy and treat satire straight may account for the extraordinary popularity of shows such as the 'Freddy' franchise – where stand-up seems to be employed to the sterling end of critically engaging governance.

Then there is the awful majesty of the law, which has been missing in action – at least as far as curbing hate speech in the country is concerned. One panellist rued this abysmal lacuna, positing that its citizens can hardly trust a state to regulate fake news that did not arrest verbal arsonists and rabble-rousers inflaming communal tension. There was also an image conjured of civil society being like a hapless beast, cowering between the twin monsters of a State that wields terror over its citizens and Corporate Sri Lanka, which feeds its consumers arrant nonsense in the form and shape of commercial propaganda.

It is not only between this Scylla and Charybdis that Sri Lanka flounders. Civil society has foundered between the monstrous rock of governments that tolerate and even employ both hate speech and fake news, and the whirlpool of press releases, conferences, CSR projects and corporate awards that make a mockery of probity in the marketplace and public square.

So I'd agree with the presenter who advocated educating Sri Lanka on media and its uses, abuses, and misuses. I'd disabuse anyone of the notion that it's going to be easy, because we – where once a nation of newspaper readers who took editorials as gospel – are now a state of social media gourmands with the least discerning of palates. And stalwart educators must do more than distinguish between news and nuance and nonsense, like bankers are trained to handle genuine currency in order to tell fake money apart from the real bills. They must champion media houses that base their business reputation on fact-checking; challenge fly-by-night operators with plain or obscure agendas who are economical with the truth; critique the powers that be and their laissez-faire, laissez-passer approach to information disorder; condemn chauvinistic propagandists in town hall and other public forums.

Of course, a witty meme I recently read on the internet somewhere brought me up short. It said: "In the old days, empires were run by emperors. Then we had kingdoms run by kings. And now we have countries…" – and it made me feel we didn't need fake news to poke fun at these counts – for the country is being run so newsworthily that no amount of 'mis' or 'dis' would do more damage than the 'mal' we're being dished out on a daily basis. That it was worse before under a previous dispensation is cold comfort and poor consolation, the last resort of cartoonists who have run out of fresh ideas and treat past sins as cannon-fodder to cover up present trespasses.

Roll over, fake news. The bald truth about the state of things is bad enough.
(Journalist | Editor-at-large of LMD | Writer #SpeakingTruthToPower)