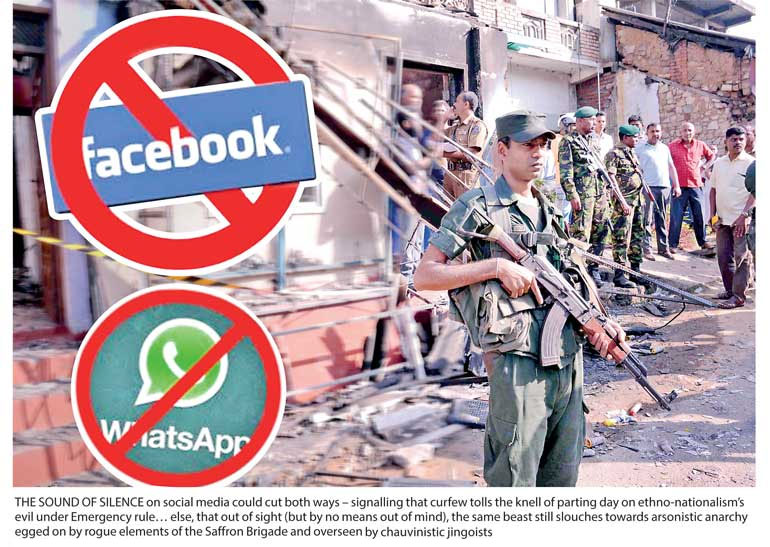 Just one thing today. TGIF. Hope together with the rest of pluralism embracing Sri Lanka that Jumma brings some measure of a just peace to the troubled administrative district that is home to the Buddha's most treasured relict.

But who's to know what's really happening on the ground? Save (of course, or perhaps) the Police, STF or Army, and the vulgar mob with their pusillanimous sponsors. Maybe there is a false sense of serenity in the absence of stirring news to translocate our impending sense of weekend serenity.

There are some pundits who would posit that the silent majority of Sri Lankans who are supposedly sympathetic to the plight of "numerically inferior communities" are culpable in the holocaust at hand (it is not yet a pogrom, for as other commentators have observed – the state is not racist).

Other defenders of another faith in tandem with champions of the secular state maintain equally staunchly that our island race is by and large warm, inclusive, hospitable, and all the rest of the touristic hype we pour like syrup on the toast of burnt townships.

In the limit, one senses Sri Lanka is on the cusp of something. Great and grand; or gory, grisly and grim remains to be seen…

On the one hand, we see politicians treading the cautious middle path between sounding out the electorate and sending mixed signals in the process. The head of state has reportedly toured the de facto headquarters of Buddhism in the land without bothering to do the due by Muslims of Digana by paying them a courtesy call. That the premier model of Machiavellian politics has maintained a stoic silence despite his portfolio as minister of law and order will no doubt help him to maintain his high profile as a lofty Augustan ruler. While Nero fiddles, Rome burns.

So we want to say, in the same voice as a recent tweet: "Meet by all means. Talk but then act. Take charge, take control, take history in the making by its horns and meet the holocaust-causers head on #lka #EndImpunity #ArrestAllAggressors"
On the other hand, the best in civil society have been robbed of their own forum for furthering the reform agenda. By supporting in the blogosphere what the remnant of the reformers still appear to be doing in the legislature. But even there, the plaintive wail of lamentable realities has cast a cloud over the bright sunlit uplands of progress. That one tweeter posted this the day of continuing riots in Kandy district despite curfew, emergency, etc. should break our hearts: "It's a weird feeling – a law we've so desperately wanted was actually enacted today: the #EnforcedDisappearance Act. But on a day on which it is impossible to be happy about anything. #theldeniya #kandy"

There are also those who reflect the hybridity of being torn between two lovers – a revulsion of chauvinists in tension with the less-attractive traits of the so-called victims of ethnic strife. As evinced by this representative of café society: "I'm not sure I have a dog in this race." It should distress us, this odious lack of concern for your neighbour or a desire to see both sides of the causes for communal clashes. But it is not in ostensibly deracinated millennials alone that our hope may lie. A veritable armchair brigade of watchers has opened fire on the panoply of presidential pretensions, challenging his priorities in meeting with prelates first over police chiefs. Hope the message will filter through thick craniums and that craven fear of majority backlashes will be overcome by serving the national interest in this burning hour.

It may serve civil society to relieve some tension thus. To excoriate the executive for its inane trajectory in sealing the lips of civil society but leaving the field open to arsonists. But it may not help douse the fires of Digana or suppress an islandwide response by a targeted minority. Another apocalypse is in the making if moderate monks and mullahs can't pour oil on troubled waters and stifle the impulse of outraged brethren to engender an equally fiery violent retort. Since the prime minister as mandarin in charge of law and order seems unable or unwilling or both to do more than interrogate the intentions of chauvinists with anything more robust than the hermeneutic of suspicion, perhaps a parallel or tangential approach to safeguarding Sri Lanka's pluralism must be taken.
Can parents, teachers, thought leaders et al. pay less lip service to the ideals of pluralism and inclusivity? And actually walk the talk in terms of mundane domestic choices, selection of words to use when describing or engaging with minorities? Realise we are 'the Other' to anOther amidst whom we dwell?
Will academics, professionals, business leaders speak out now more than ever before, or henceforth hold your peace on national issues? Or are you still waiting to see which politico or prelate you can invite to grace your next official function, when it is clear that our leaders have disgraced themselves by allowing the health, wealth and happiness of fellow citizens go to hell in a handcart?
Shall we as a failing civilisation now pay more heed to our well-balanced sportsmen and -women than our blatantly self-serving so-called statesmen? There are far more courageous and sensible things being said by the former role models on social media these days than a cabal of craven cabinet ministers could essay in a month of Sundays!
Would the average Sri Lankan cross the street or step over the threshold to safeguard their neighbour who is clearly an alien clutching strange gods? Or shall we consign ourselves to an eternity of condemnation from our regional allies who still see so much potential in us to be the best and brightest shining star in the South Asian galaxy of nation-states?
Should café society protest less at the temporary suspension of its access to social media? And possess their souls in patience? But gird their loins for a longer stab at using those platforms to proliferate peace with pluralism once the powers that be put the plug back in?
Could the mainstream media show much cojones and comment more on the need for moderates to step up to the plate with the ideology of inclusivity? Rather than pander to their political masters by holding their peace? Which latter in turn are pandering to the all-powerful philosophical and ideological forces who pretend they have any control over their saffron scoundrels gone rogue?
These are some of the acid tests facing a nation that is looking at itself in the mirror as it has done many times – so many times, too many times – in its volatile history of hybridity at unrest with itself.
The Acid Tests
(There will be no frivolous exam for a coalition's conscience or the further education of civil society today – thank me, it's Friday. Watch this space.)




One more thing
From the Facebook page on Tahrir Square to the absence of one on the post-Teldeniya scare... The power of social media to critically engage or effectively conceal the activities of both government and anarchists #FoodForTorts – it is a potential to be exploited by pluralists to build a new land of inclusive ethos once the internet is plugged back in.

While the anarchists plotted on the same social media platforms to burn bridges, those committed to a sovereign Lanka with freedom to live in the faith of their fathers – not free Wi-Fi – may dedicate renewed efforts to a more salutary end. When this travesty a shade short of censorship ends…


One last thing
The interlocutor who asked on Twitter whether anyone out there would be willing to rescind our cherished (!) racial and ethnic markers in favour of a new Sri Lankan identity received this response from me: "Count me in. Been asking for it in print since 2002. Thx for the reminder. #JeSuisSriLankan" – From here let us move on! Come let us build up again what anarchy has burned down and what apathy has neglected to protect.

I give you the end of a golden string. Now wind it into a ball.


(A senior journalist, the writer is Editor-at-large of LMD. A self-confessed Facebook aficionado, he's been converted to Twitter of late… @WSDeChickera – on 10 February he posted: "Phony war over. First shots fired across port bow. Blitzkrieg next? #DemocraticDunkirk #TooLittle #TooLate" – let us talk today, there may still be time, save #lka.)