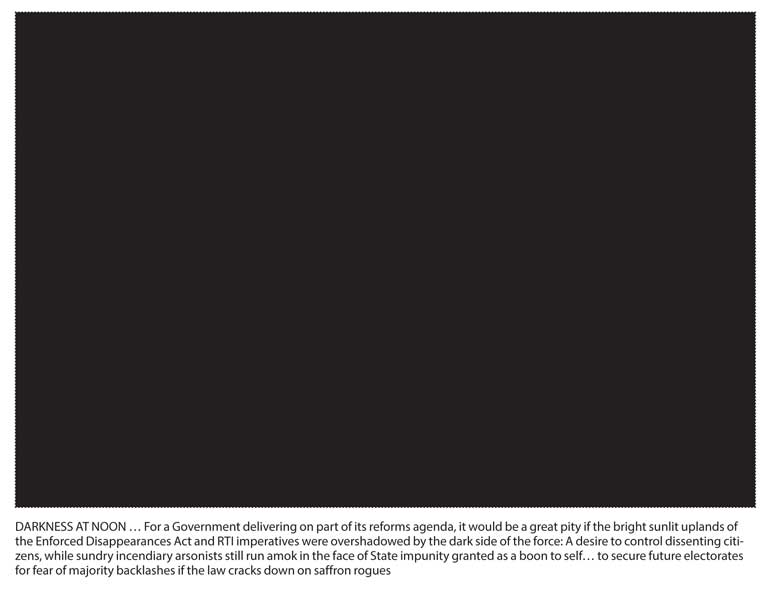 I don't know when power will come back on, and the people of politico-suburbia be reunited on social media. But at the time of writing, savvier denizens of proscribed internet spaces are beginning to suspect that 'sinister' is perhaps a better word to describe this long blockade than 'silly'.

Since the State has opted to remain stumm on its reasons for the prolonged ban, surely it's time for more civic-minded, liberty-loving independent citizens to speak up – or forever hold their peace on future encroachment of their rights.

However one may position Government's social media blackout policy on a spectrum from 'silly' through 'strategic' to 'sinister', it is increasingly evident that segments of the powers that be responsible for the blockade lack a sense of irony or humour.

In a week that saw the passage of the Enforced Disappearances Act in Parliament and formal showcasing of the state's Right to Information Law, social media has been forcibly abducted and secreted away in some Area 51 of culpable bureaucracy, thereby denying end users their right to info…

Therefore it's safe to assume that Mother Superior doesn't have her act together as tightly as she would expect her wards and charges to keep their knees locked. She, or MS for short, waxes between a not-surprising patriarchy on matters moral and a paternalism that is shocking for a self-confessed liberal-democrat on issues social, while her media star wanes in the west.

In the meantime, what's going on before and behind the scenes in our brave new world that has such people in it is cause for concern among more than the six million or so legitimate Social Media users. These range from hard subversion of civil liberties by a data-gathering military intelligence complex for possible use against future political opponents to softer hints that MS's first lieutenant, the redoubtable Premier, is subverting his superior's internet protocols as much as his presidential integrity.

There are strategically-placed media cameos in which the PM features as an unabashed champion of civil liberties such as free access to Facebook, etc. – a claim made more authentic perhaps by his then ostensibly futile promise of free Wi-Fi. (Maybe the PM knew in advance that an internet-based crackdown on civil dissent was en route, and was therefore being more facile than his detractors generally give him credit for?)

On a parallel track, the senior party in the coalition Government seems keen to undermine the credentials of its numerically-challenged junior chief executive with proxy servers delivering faits accomplis such as presidential commissions to enquire into the cause of ethnic tension à la Teldeniya. It can only end with the Head of State's escutcheon more sullied by his modus operandi in not visiting Digana's suffering citizenry, but dallying with prelates and pleading with their long sufferance of rogue elements in saffron-garb.
One thing
Even if political parties or their showpiece personages manage to escape the social embarrassments that their stalemated marriage partners foist on them, the SM imbroglio has left a permanently disfiguring mark on the Government's imprimatur. Thanks in part to its folly in cracking the deadly stingray's tail over one-third of the country's populace who are legal consumers of news and commentary on SM-platforms, while actual arsonists on the street evade arrest if they're ordained into a higher order of impunity, Government has shot itself in the foot… a treatment that – if meted out to fire-starting troublemakers at the first sign of anarchy – could have spared our embattled nation-state a lot of grief and shame.

And that's being charitable: assuming that those who aspire to policymaking in matters clearly beyond their comprehension were only playing silly buggers because they didn't know any better. The darker underbelly of conjecture in media squares where Government watchers generally interrogate State imperatives with the hermeneutic of suspicion has yielded hypotheses that are harder to stomach at the hands of a regime we assumed was clearer and cleaner in its crusade against the former darkness we endured for a decade.

But while time will tell what grim restrictions faceless mandarins are manufacturing for consumption, it's still not too late in the day of the hour when darkness was at noon for business, more professionals, and relevant academics, to speak up and out.

After all, what happens in the happier boroughs on internet-suburbia (while less respectable denizen-detractors are busy burrowing and tunnelling through VPNs to where the action is) can readily be translated to the real world. A crackdown on a wide spectrum of civil liberties including the freedom of expression is not too far in the offing if Government is allowed to get away with getting its rocks off at the frightening power citizen silence gives it.
One more thing
Each man kills the thing he loves – maybe. But every government stifles and stymies the things they fear. In the aftermath of Aluthgama, it was the previous regime that sought to dismantle the apparatus of citizen dissent and critical engagement with the powers that be on saffron impunity. After Ampara and Akurana and Katugastota, it must not come as too much of a shock to the system that self-declared democrats are feeling the deadly sting (or sting-ray's deadly lash, hmm?) at their handling of Digana's inferno.

In a week in which we the people – well, the rest of us or the best of the worst of us – could or should have been celebrating advances made by Government in prosecuting its reform agenda, we're sitting silently sullenly in some dark unlit corner of our cubicles à la 1984 complaining that not only is Big Brother watching us, it's making a list of who's been naughty and nice for ready reference when the political climate necessitates it.

It would be a nice twist of irony if the present powers are compiling a dossier on the demagogues of the past who set far more than Teldeniya ablaze with much crueller instruments than their tongues or tweets, but let's not be gulled into that trap of going down a darkened street where the dead have no name.
One last thing
For the moment, the mainstream media has a duty to remind the Government that it has a privilege as well as a responsibility in not taking too much pleasure in the measure of control a crackdown on social media gives even liberal-democrats currently feeling the heat.

We are also burdened by the absence of chamber voices adding to the orchestra of protest to which some apex bodies – such as, significantly, those in the sphere of IT, ICT, BPOs, etc. – have lent a symphonic ear. Are we to assume that Big Business embraces the embargo? Or that captains of commerce and industry are as craven as civil society once used to be? Facts are sacred and comment is still free… at least on social media platforms such as Twitter, for the nonce – so here's hoping the trinity of biz, pros and dons deliver the goods.

Government has grown fat on its sense of power, self-importance, and lack of control anon. Time to force-feed it the bitter pill of irony and commonsense, to make it realise that power is nothing without self-control before seeking to control others it finds a nuisance.

It's just the thing the spin-doctors of the extreme right seeking or staging a disastrous comeback ordered: if the saffron anarchists are permitted to dance the merry devil in the field as well as the blogosphere while citizen-journalists cool their heels in an unplugged slammer.
(Journalist | Editor-at-large of LMD | Writer #SpeakingTruthToPower)