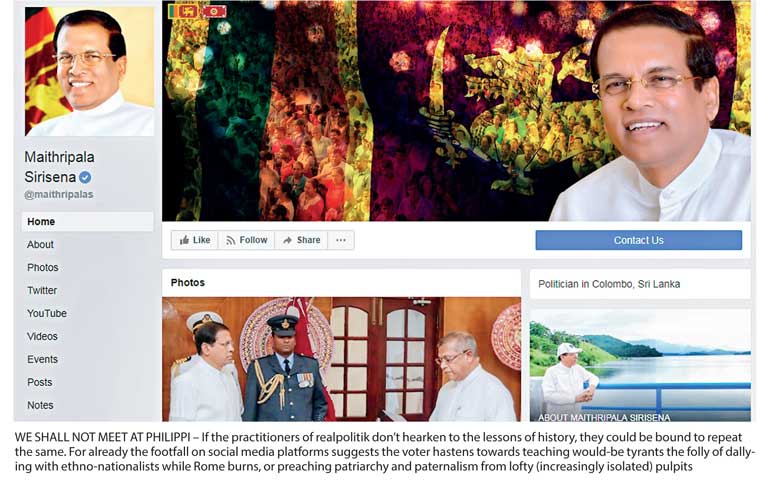 Today (as I write, on 15 March) is a red-letter day for democratic-republicanism. It commemorates the occasion on which a klatch of lean and angry men stabbed Julius Caesar in the back… and front, or all over.

Perhaps Caesar – the first of his name, and never Emperor of Rome (that dubious honour being reserved for his great-nephew Octavius who was deified as Augustus) – had it coming. A brilliant general, no mean orator, the holder of all the traditional magistracies leading to imperator, this noble but ambitious Roman politician – articulate and epileptic – aspired, outrageously to then prevailing sensibilities, to clutch and keep the purple.

Some 21 centuries later (2,062 years since the calendar date of the assassination, to be exact), human nature hasn't changed much. If Shakespeare hadn't immortalised the consul who would be king, we would still have recognised his ilk in successive incarnations of political ambition through the ages and along the corridors of time and power.

The historians Tacitus, Suetonius and Plutarch leave us with relatively dispassionate accounts of Caesar's attempted power grab. I suspect republican sentiments would be equally violent in their passionate disapproval of such a Caesarean seizure (eikonic if not epileptic) even if the annals of Roman republicanism didn't bias us towards less ambitious democratic leaders.

Let us admit that ambition must be made of sterner stuff. We are more likely to follow the conquering general to the gates of hell or a charismatic bully to a promised better future than a stuffy bureaucrat who's minded the store for his stellar peers and inherited the business due to a technicality.

Even a Machiavellian Marc Antony who makes mincemeat of the Brutuses and Cassiuses in the caucus with his celebrated bon mots as much as his puerile jibes at the plebes is perhaps more acceptable to the hoi polloi than envious Casca who skulked in his incandescent master's shadow for many years before daring to dream the great antidemocratic ambition.
Common
It is a mistake of political messiahs – whether powerful magistrates in classical sprawling empires or petty mandarins in a contemporary small island republic – to mistake their present popularity for perpetuity.

MR made that cardinal error once ("the fault is not in the stars") – and we're all still paying the price of his premature exit that led to the emergence of a common candidate to right the wrongs of a repressive regime. MS seems to be on the cusp of making the same mistake again, with the singular exception that he is nowhere near as popular as our erstwhile charismatic bully cum conquering hero was. It would behove him who reaches for the nettle prematurely to remind himself to expect thistles to permanently scar his grasping hand.

If one is in doubt about a man's ambitions, his actions speak more meaningfully and significantly of his inner motivations than some political manifesto can or will. There is a litany of recent false steps from blocking social media to seeking a re-institutionalisation of the odious emergency framework to provoke responses from head-scratching to hand-wringing to voting with one's feet in protest.

Shall I invoke the reprehensible patriarchy of legislation which lowers women to the status of second-class citizens or the repugnant paternalism that entertains ethno-nationalist chauvinists at the head table of presidential parity?

Pity that his strongly professed aversion to corruption is now seen to have been mere electioneering propaganda against the political threat of his numerically superior coalition partners and a transparent attempt to leverage the alleged culpability of the UNP on white-collar crime for personal advantage. I come not to praise this would-be Caesar, but to bury him and his ilk and like before history repeats its blasé self...


Candidate
I am not suggesting that political Caesars are ripe for public assassinations, whether on the way to the Forum two thousand years ago or on Facebook again from today onwards again. Not by any means can even the staunchest republican be vouchsafed safe conduct in realms physical or virtual should he suggest such infamy. So I shall hold my peace for the nonce in the absence of evidence that the incumbent head of state plans to subvert the political reforms process of which he is increasingly looking like a reluctant has-been architect.

The message has been lucid for millennia since Rome abdicated its republic in favour of empire or an island requiring a parliamentary system of governance with a small prime ministerial cabinet enthroned a series of petty functionaries as their all-powerful chief executives.

One could so quote Lord Acton's famous dictum, but that would just be to invoke an embarrassment of riches. The tendency of power to corrupt – and that of absolute power to corrupt absolutely – is self-evident to all but the Caesars who seizures (real, virtual, attempted, aspired to or imaginary) prompt epileptic fits in distressed democratic-republicans.

There is no greater heresy than that the office sanctifies the holder of it – quite the opposite, in fact: if we believe present trends, inclinations, declarations. Great men are almost always bad men; and not in a good way, like Julius Caesar, if you know what I mean.

Trust that at least now (in the restless spirit of Cato the Censor who repeatedly reminded the Roman Senate that Carthage, that symbol of excessive power, must be destroyed) the slow-to-learn body politic as much as the less stellar powers that be will realise the pragmatic wisdom of abolishing, not pruning, the executive presidency of a democratic republic.

Until we actualise that great assassination – of a constitutional monster, not a mediocre character – the shades of the Ides of March will haunt us every step on the way to the Forum as every misstep with the Facebook memes that are rearing their heads again as we speak.
(Journalist | Editor-at-large of LMD | Writer #SpeakingTruthToPower)