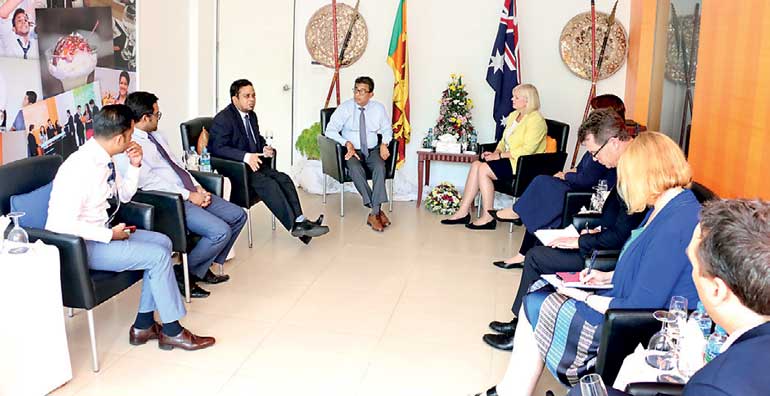 On 1 September Karen Andrews MP, Assistant Minister for Vocational Education and Skills, visited William Angliss Institute (WAI) CAHM at SLIIT for lunch and a tour of the campus under the invitation and patronage of Tim Huggins, Deputy High Commissioner, Australian High Commission to Sri Lanka and the Maldives.

Errol Weerasinghe, the Chairman, Prof. Ratnayake Chairman SLIIT and the directors and staff warmly welcomed the Australian delegation with the traditional Ayubowan and Beetle Leaves greeting.

Karen Andrews was accompanied by Dr. Michele Bruniges AM, Secretary, Commonwealth Department of Education and Training, Matt Dunstan, Assistant to Minister Andrews and Media Advisor, Dr. Amanda Day, Education and Research Counsellor, Australian High Commission, Tim Huggins, Deputy High Commissioner, Australian High Commission to Sri Lanka and the Maldives, Priya Raja, Senior Advisor, Australian High Commission, New Delhi and Kanishka Padidilian, Austrade, Sri Lanka.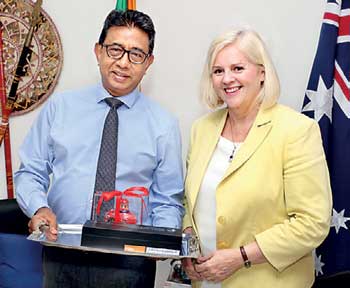 The discussions centred around strengthening the partnership between WAI Sri Lanka and the Ministry for Vocational Education and Skills Australia, with the emphasis on broader training opportunities through the development of easier access for all to participate in various hospitality/ vocational avenues in Sri Lanka.

The Minister mentioned that it was a "highlight" of her visit to too see such a world class facility which maintained such high standards in teaching delivery and learning outcomes. Special mention was made of William Angliss Institute being such a recognised and prestigious organisation by the visiting delegation and how it showed a wonderful example of a "strong partnership" between both countries. Indeed the visiting delegation sought ways in which we can we take our learnings from Sri Lanka and apply this to the South Asian region at large [sic India, Nepal, Pakistan and Bangladesh].

It was highlighted that delivering training and gaining an Australian Qualification enables graduates to secure solid career paths and 'Skill or Up-Skill' individuals to support the industry's much needed human resource requirements.

William Angliss Institute Sri Lanka, in partnership with the Colombo Academy of Hospitality Management at SLIIT is the largest private hospitality academy in the nation. William Angliss is a dedicated centre for foods, tourism, hospitality and events. The William Angliss Institute has a proud history with over 75 years of experience and the Melbourne campus annually has over 21,500 local clients' students and 1,300 international students from over 45 countries with more than 100,000 graduates worldwide.

Their facilities include the largest training kitchen in the country, a model accommodation suite and state of the art equipment and practical space, including a functioning restaurant. The courses on offer are designed with industry needs in mind and work to ensure that the students are "industry job ready" from the day they graduate. There is so much interest and investment in hospitality and tourism, so anyone with a passion and drive can open many doors and choose from a wide variety of opportunities.

The current WAI students were honoured to prepare and serve a 'Traditional Sri Lankan Lunch Buffet' under the theme 'Flavours of our Heritage', the cuisine and ambience gave the guests an insight into the colour, vibrancy and diversity of our great land. The students also had the privilege to take the VIP guests on a tour of the facilities, showcasing their learning environment whilst describing their student life and the outcomes they hope to achieve. The students explained the offerings of either Hospitality Management or if wanting to be a chef, Commercial Cookery that is now on offer. In typical style, all of the guests experienced the genuine Sri Lankan smile and natural warmth of true hospitality. If considering a career in an exciting fast paced and dynamic industry, join them, as 'It all starts at Angliss'.