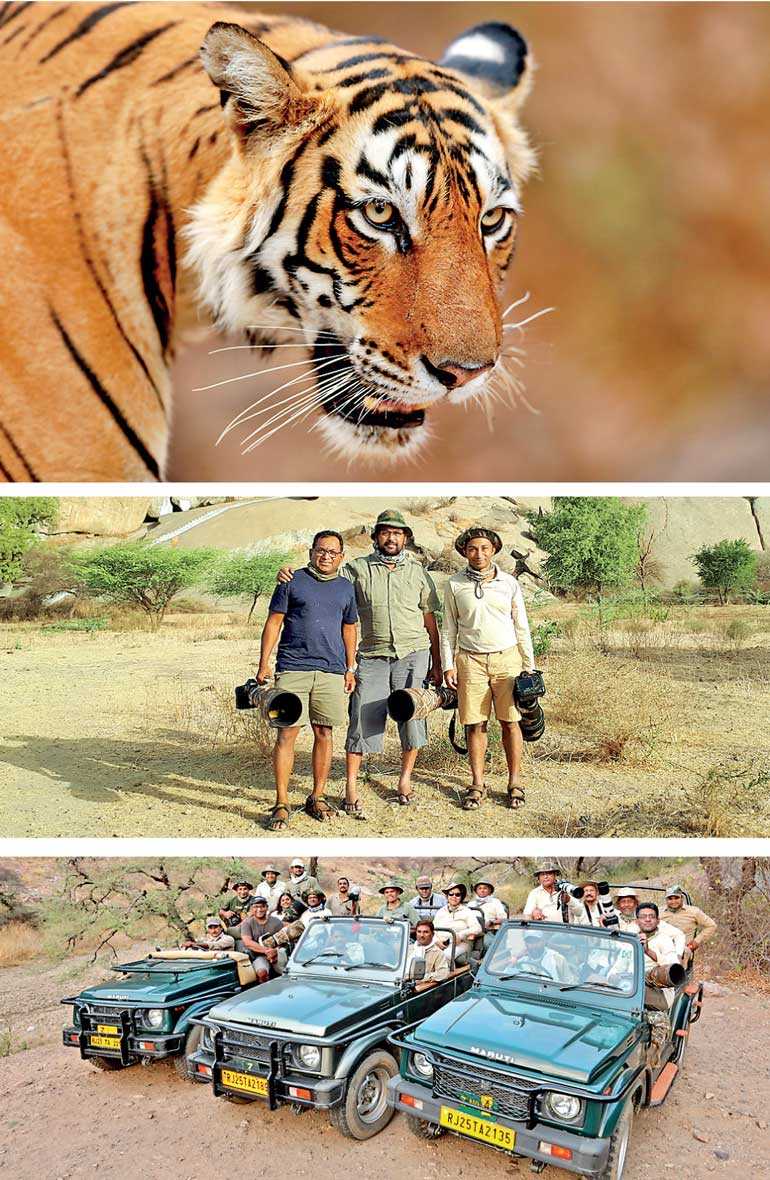 This May, Nature Trails, the award-winning eco-tourism division of Cinnamon Hotels & Resorts completed its fourth consecutive year of conducting tiger safaris in India. Three tours were conducted in partnership with HSBC Premier, giving 24 wildlife enthusiasts the chance to explore the wilds of Ranthambore National Park, and go in search of the park's elusive Bengal tigers.

This year's tours yielded over 40 unforgettable tiger sightings, including a series of magical moments such as tiger cubs playfully tussling with each other, adult tigers on a hunt and much more. Among all of the big cats that are found in the wild, the tiger reigns as the largest predator in the 'Panthera' genus, and is one of the most majestic cats found on the Indian Subcontinent – and one which many nature lovers hope to encounter in the wild. Nature Trails' photographic safaris to Ranthambore National Park, give travellers the once-in-a-lifetime chance to get close to, observe and photograph this majestic cat, under the watchful eye of Nature Trails' expert team of naturalists.

Commenting on the tours, Chitral Jayatilake, Vice President – John Keells Group, Head of Nature Trails – Cinnamon Hotels & Resorts said: "This year's tiger safaris resulted in some truly captivating sightings, photographs and footage, and everyone who participated in the tours cherished their time with us in the Indian jungle – where we spent hours tracking, watching and photographing Ranthambore's tigers. For any Big Cat lover, seeing a Tiger in the wilds must be truly a rewarding experience. With these great cats now endangered, every moment we spent with them can be precious in terms of appreciating these cats and creating more awareness to protect them in the wild."

He further added: "We are pleased to have had the opportunity to run successful tiger safaris for the last four years, and this is one of many novel excursions that we offer. Going forward, Nature Trails will be strategically expanding our outbound excursions and tours. We hope to take more nature enthusiasts to top wildlife destinations around the world, all with the hope of delivering magical wildlife moments and encounters. In the near future, we will be returning to Kenya and Rwanda while venturing into Madagascar and Zambia this year conducting photographic safaris with our guests."

A few travellers who went on the most recent tiger safari shared their comments and feedback: "I have no proper words to describe how special this trip was except to say that I will look back at this safari as probably the best trip I have been on. It was pure magic." – Sharmela De Silva

"We had a wonderful trip and enjoyed fabulous sightings. A big thank you all round to Cinnamon Nature Trails for making it a success." – Dr. Prasanna and Dr. Dulani Gunasekera

"The best safari I have done to Ranthambore, perfect planning, great hotel and most of all the great company made it so special!" – Russell Gray

"There is no doubt, it was a once-in-a-lifetime experience for me. Looking back at some of the photographs I took, I still feel the same excitement that I had watching the tigers in their natural habitat." – Nemantha Hatharasinghe.

To find out more about the unique excursions and tours that Nature Trails offers, visit www.cinnamonnaturetrails.com. The Nature Trails team is headed by Chitral Jayatilake and Vimukthi Weeratunga – Senior Wildlife Biologist and Photographer. The team comprises 15 dedicated in-house naturalist guides who have extensive knowledge and a wide range of skills and expertise. This cumulative experience and their natural passion ensure that every safari, tour and excursion is truly memorable.