Famed author and foreign correspondent, Janine di Giovanni recently visited Sri Lanka on vacation. As a visit to Sapphire Island would not be complete without witnessing one of the most splendid sights it has to offer Janine and her companions opted to try whale watching by air with F-airways. Given below is her description of the experience: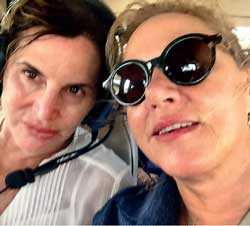 "Luca was very excited about our next proposed safari. Apparently a major feature of many a bucket list is the sight of our planet's largest land mammal and largest sea mammal within a few days of each other. Having met elephants in Yala, we were now going to attempt to see blue whales off the coast of Koggola, just north of Cape Welligama. As much as 30 meters in length and weighing in at up to 150 tonnes, these are the true Leviathans of the Deep, as the vastly-knowledgeable former engineer turned whale expert, Howard Martensteyn informed us at the local airport, who also happened to like breeding and feeding off the nutrient rich waters of Sri Lanka. A few tourist boats braved the day-long return trip on the choppy sea, but we were lucky enough to be watching from the air – apparently also the most environmentally sound option, too, keeping the disturbance to whales at a minimum. Taking off in F-airways' five seater plane early morning, we spotted the tourist boats first, receiving a pounding from the waves as we flew serenely past at about 500 feet. Then Howard pointed out five great dark shadows in the clear blue sea, and a plume of water shot out of a blow hole. Blue whales! An awesome and majestic sight that we could clearly see, but the boats had not yet spotted…so much more than a box ticked on the bucket list, it was sight that will live with us for the rest of our lives, if our excited chatter upon our return an hour later is anything to go by."

Janine is a current Edward R. Murrow fellow at the Council on Foreign Relations and a consultant on Syria for the United Nations High Commissioner for Refugees (UNHCR). She is also a regular contributor to The Times, Vanity Fair, Granta, The New York Times, and The Guardian, and has written a number of books and made two long format documentaries for the BBC. She is herself a subject in the documentary films No Man's Land (1993), Bearing Witness (2005) and 7 Days in Syria (2015). With a wide array of awards to her name and her prestigious resume, Janine's commendation of F-airways' endeavour to promote whale watching by air is a glowing testament of the merits of the activity.