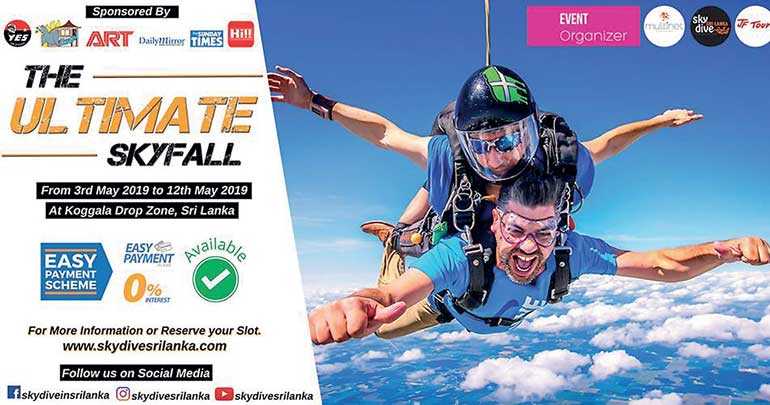 The Ultimate Skyfall is the first skydiving event of its kind in Sri Lanka. It gives adrenalin junkies, adventurers of any age and anyone who wants a novel experience the chance to skydive. It also incorporates a host of other activities for a day filled with adventure, special events, and unique surprises. All dives at The Ultimate Skyfall event will be tandem dives carried out by one of the world's best, most experienced teams – Skydive Crazy, in collaboration with local partners Skydive Sri Lanka. The event will happen in the beautiful coastal town of Koggala.


What is tandem skydiving?

Tandem skydiving refers to a type of skydiving where the student skydiver is connected to a harness which is securely attached to a tandem instructor. The instructor guides the student through the whole jump from exit through freefall. The instructor will also pilot the canopy, and ensure a safe landing. You do not need to have any prior experience to tandem skydive.

Prior to tandem skydiving, you'll learn about your responsibilities and all about the equipment and the skydiving process during a class that lasts around 20-30 minutes.

You'll then walk over to the aircraft and board with your instructor after you are suited up to your skydiving harness. You'll also be joined by other skydivers, including tandem skydivers like yourself.

Having a professional instructor who has performed thousands of tandem jumps will ensure everything goes smoothly. It also leaves you free to take in the complete experience without having to worry about a thing.


What is Skydive Crazy?

Skydive Crazy is Britain's most renowned and respected team of skydiving professionals, all of whom are highly trained professional skydiving instructors. In fact, all instructors involved with the event are a part of the British Parachute Association (BPA) and are also associated with USPA Instructor Examiners, in addition to holding top-ratings in all Instructional syllabuses within the BPA. As a team, Skydive Crazy has been involved in the sport for a combined total of over 100 years and have more than 50,000 jumps between them.


Can I film my adventure?

Of course, you can! Many of our tandem skydivers choose to have a video made of their jump, so they can relive it with family and friends and keep the memory for themselves. To do this, our instructors will jump with a camera attached to their wrists to capture the entire free fall experience. There will also be additional footage from other divers and instructors making for some great stories, of a truly unforgettable experience. The Ultimate Skyfall event has a range of packages from which to choose, with tickets starting from Rs. 75,000.

In addition to skydiving, a host of other activities can also be experienced with tailored packages available to suit individual taste. This including whale watching and golfing to name just a few of the attractions on offer. To know more about the event, or to book your place, call them on 0773 376 109 or email info@multinet.lk.

The initiative is by Skydive Crazy in collaboration with Radio partner: YES FM, Television partner: Art TV, Print media partners: Daily Mirror and Sunday Times and Hotel sponsor: Million Resorts Unawatuna.