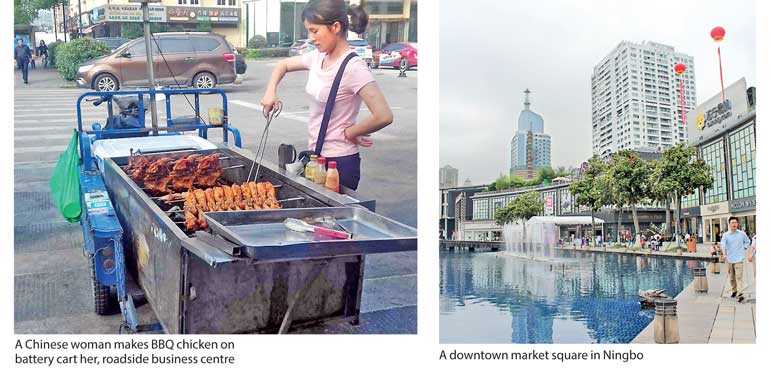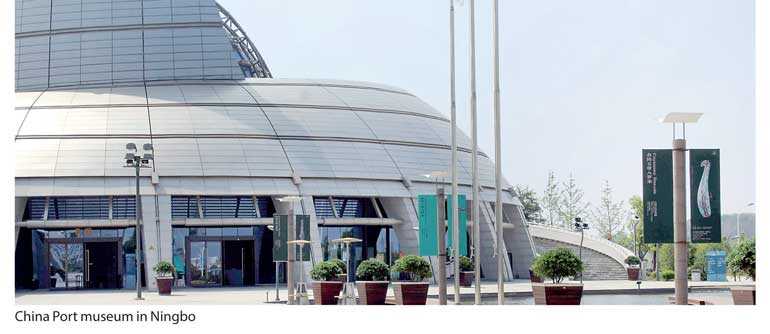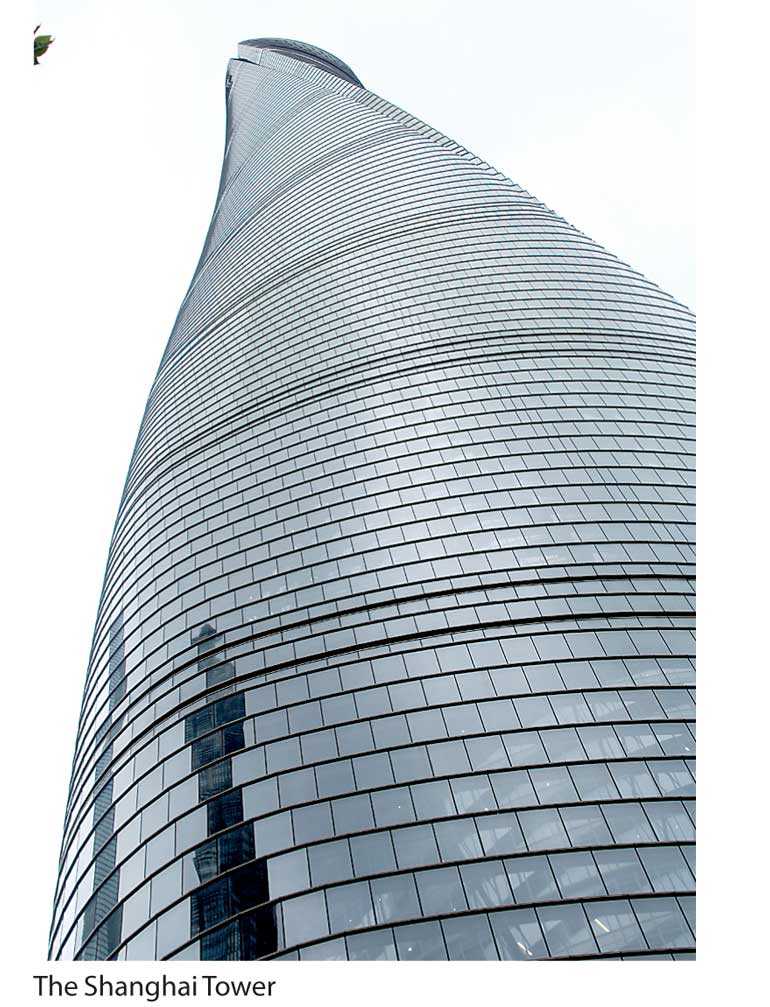 Text and pix by Harsha Udayakantha Peiris reporting

from Ningbo, China

In Ningbo, China, an innovative vehicle is changing the lifestyles of people. Namely, it is a battery cart. A motor bike converted to a three wheeler and powered by a 12v DC battery, the battery cart consumes no gasoline and therefore, adds no auto emission to the environment. The motor noise ratio is zero and there is hardly any sound pollution when the cart is driven on the roads.

For many city dwellers in Ningbo, the battery cart is not only a roadside business centre but also a convenient and cheaper method of goods and labourer transportation. In front of the Ningbo Polytechnic, a middle aged Chinese woman makes hot BBQ chicken for students who dine outside the study centre. A coal fired cook stove placed on the battery cart is used to make spicy, red hot instant BBQ chicken for customers. The cook stove has metal blades that hold fresh chicken meat to bake.

Powered by a small motor they rotate to make the chicken flesh roasted until golden brown above coal fire. The motor of the cook stove is powered by the same battery used to run the battery cart. On one side of the cart is a sticker with QRcode for the customers who use an android mobile purchasing app known as the 'Alipay'. When a customer makes a purchase of BBQ chicken, he scans the QR code with his mobile phone to make a payment and proves the retailer that the correct amount of price is paid through the phone.

'Alipay' is one of the most frequently used payment methods in China and the present day largest mobile lifestyle platform in the world. It is also an online payment that directly deposits in the retailer's account. Compared to the usage of typical credit card and currency bills, 'Alipay' has largely reduced the time of direct transaction between the retailer and the customer. The mechanism, again, is a safe method of electronic transaction embraced by people all over the country.

"Of course 'Alipay' is very popular all over China. It is safer and you are out of the risk of taking currency notes with you whenever and wherever you travel around. Also it is a very reliable method of payment that uses your android device," a student who studies Business English as her major stream of course of study at the Ningbo Polytechnic says. 'Ali Express' is a major area of business and finance studies taught in her syllabus.

At present, China is of the interest of developing regional economies that include Sri Lanka as one of its main overseas home offices with the intention of having opportunities towards large scale investments in neighbouring countries. A government official at the Port Museum of China in Ningbo says that the state's understanding is sustainable.

"China's One Road One Belt initiative is a very positive approach to prosper regional economy. If regional economies including Sri Lanka grab this opportunity, not only will they be developing with China at a sustainable pace, but and at the same time, it will also create a very good marketing opportunity in Sri Lanka for other countries that are in a positive development agenda with China. So, it is sustainable, because on one hand, it gives the opportunity for neighbouring economies to flourish with China, an economic giant in the region and on the other hand, it allows China to bring more investments not only for the benefit of the country itself but also for upgrading the wellbeing of citizens of friendly economies in the region," he says.

All Chinese museums besides very few in Beijing are totally free of charge for both local and foreign visitors. Parents and school teachers from all over China accompany their children to these internationally state of the art museums to share knowledge about the flow of unsurpassed historic development of China to its present day status of the best practices of ultra modern and innovative developments. Chinese museums are therefore, a source of innovative learning centres of past, present and future of China's socio-economic development.

Children who are encouraged to spend their pastimes in these learning centres are believed to become more loyal, patriotic and dedicated citizens towards the rapid development of their mother country once they become a part of the country's economic process in future.

A school teacher who had accompanied a few students at the museum is positive about the State implementations in China. "Like in any other country, I may say, corruption can happen here, also at any time. But when the Chinese government identifies such malpractices, it always takes prompt actions to avoid such to happen in future. So, from the side of Chinese citizens, the government is reliably transparent. And it is true that there exists a considerably huge gap between the rich and poor in present China. Recently, the government has implemented a special program, a special movement to identify these gaps and to eliminate poverty through a longstanding sustainable program. The state is confident that by 2020, they will achieve a great portion of success of that effort," she says.

The Chinese government has implemented a special program of reforms towards its citizens' wellbeing administration. The program is expected to improve the living standards of citizens all over China. This program that takes a two way strategic implementation to develop the Chinese economy in the first phase, whilst elevating the living standards of its citizens simultaneously with the economic boom is also expected to improve the state transparency and the reliability of people towards the government of the People's Republic of China.

In China, there is no opportunity for private landownership. It is always crown property. The citizen only has the right to use the land. "It is true that it should be like that when the government is in a transparent path towards the wellbeing of its people, and the socio-economic development of the country. In some parts of China and especially like in Shanghai, Shenzheng and Beijing, a person has to rent out a parking slot first, before he goes to buy a car. And it is a must. No one argues because it is an implementation by a transparent government. So, everyone is loyal toward such implementations," the teacher at the museum says.

In Shanghai, China's tallest construction and the world's second tallest building Shanghai Tower is a major tourist attraction for both local and foreign visitors and travel explorers who wish to take a bird's eye view of Shanghai from its 118th floor. Situated at the heart of Lujiazui, Pudong, Shanghai Tower is designed with a unique curve that twists and rises. Standing at a height of 632 metres, it has 127 floors above ground and five floors below. It is themed as a green, smart and cultural vertical city. The elevators in the tower are the fastest in the world, travelling at 18 metres per second and the observatory at the 118F of 546 metres could be reached within 55 seconds, stable and smooth. The tower is open from 8:30 a.m. to 10 p.m. daily.

Today, China builds almost 97% of the world's ship cargo transportation containers (TEUs). China's mediation to help develop regional economies has also paved a positive approach to create harmony between and among ethnicities. Such an approach in future will drive nations across Asia towards harmonious trade transactions as that was existed during the golden era of the Silk Road. In ancient times, people in China wrote and read inscriptions or every kind of writing from top to bottom or from right to left. Following the establishment of the People's Republic of China (PRC) in 1949, the Chinese state opened up many of its developmental drives in order to become closer to other economic giants and neighbours in the region and the world.

They started to read and write from left to right. Today, young students from all over China are interested in learning business English through rapid courses at many universities and polytechnics across the country. The trend has opened an enormous opportunity for them to further their studies at overseas universities. In near future, these masses will effectively join China's main stream of sustainable socio-economic development process that includes strategic development of neighbour economies across Asia. Whilst practicing simplicity at its best in every nook and corner in domestic chorus, China is rising innovatively to effectively partner future global economy and its emerging trends. A walk along the streets of many cities in several provinces in China apparently encourages one to think positively to act collaboratively.