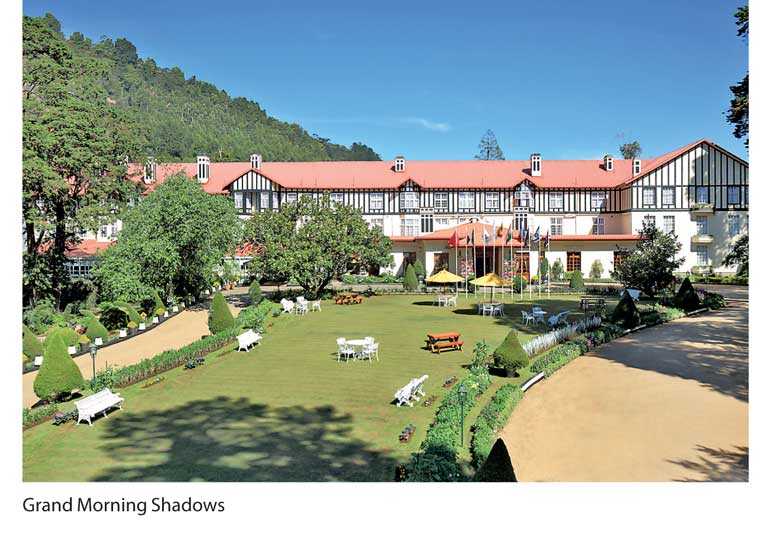 The Tea Lounge at the Grand, which is famed for its exquisite selection of Ceylon teas, the English High Tea and personalised service, was adjudged the Tea Lounge of the Year 2018, by LUX Life Magazine, bringing international recognition to Grand Hotel Nuwara Eliya and Sri Lanka.

With an international circulation among high net worth individuals from all around the globe, LUX magazine showcases products and services that appeal to this distinct breed of readers.

The story of the Grand Hotel begins with Sir Edward Barnes choosing to build his holiday home in a quiet part of a beautiful valley surrounded by mist-covered mountains, which gradually became the nursery for the world's most famous beverage, tea.

Since then Nuwara Eliya has been renowned as the capital of Ceylon tea. It is no surprise that the British pioneer planters of the time thought it fit to convert this unique place into a little town resembling their home many seas away. Horse racing, golf, evening parties, balls and other social necessities were soon established, and the Barnes Hall, later known as the Grand Hotel was inevitably at the center of all this merrymaking. And tea was important both as an economic activity as well as something to be savoured with the right ambience. The sprawling gardens and the quaint lounges all contributed to a tea culture that has stood the test of time for centuries, and to this day the tradition of tea is at the heart of what the Grand offers its visitors. The Earl Gray, English Breakfast and Irish Breakfast blend are still savoured with the same finesse and style as they were a 150 years ago.

Today, hundreds of eager visitors from all over the world make their way to the Grand Hotel to experience the famous beverage in a perfect setting at the Tea Lounge at the Grand Hotel. Dilmah, a world-renown brand in value added teas, are the producers of the teas served in this outlet. They have over the years made the presence of Ceylon Tea in the emerging markets around the world stronger, with their drive to be innovative yet responsible in their journey with tea.During the last six years the Sri Lankan and overseas travel industry has promoted the Tea Lounge amongst its customers and supported the Grand Hotel immensely, while the many travel guidebooks, online review sites and online travel agencies have all played their part in making this venue popular.