Mark gives local surf clubs a Masterclass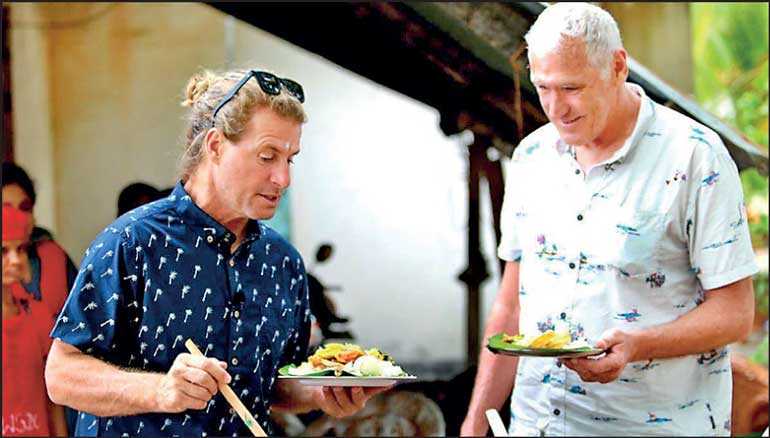 Mark and WSL Asia Region Manager Steve Robertson enjoy a traditional Sri Lankan meal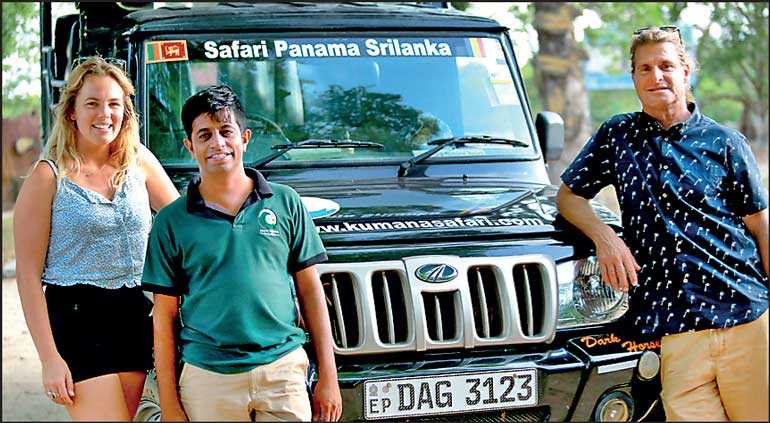 Mark and US pro surfer Tory Gilkerson tour Kumana National Park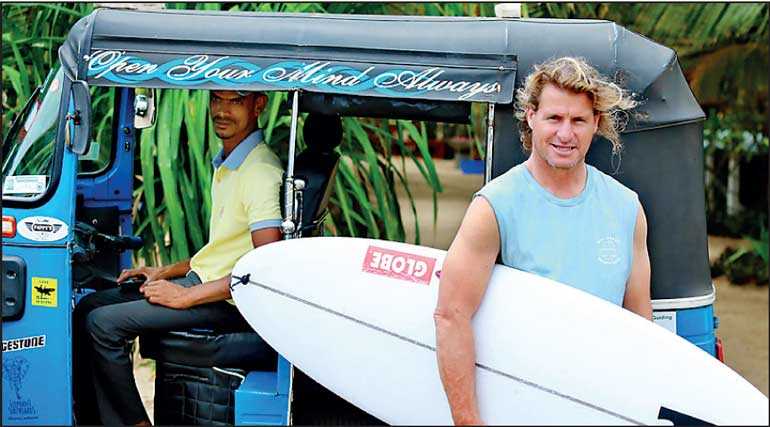 Tuk tuk tours are a popular way of getting about

in A-Bay
---
Aussie pro surfer's visit highlights tourism diversity of the east
For the people of Arugam Bay, last week was a tourist bonanza. Over 120 international surfers flew down to the East Coast to compete in the So Sri Lanka Pro 2019 Qualifying Series (QS) 3000, which placed Sri Lanka squarely on the World Surf League's (WSL) prestigious QS event circuit. In addition to local and international spectators and media, the event was also a much-needed burst of revenue for tourist establishments in the east, many of which have been struggling since the Easter Sunday attacks. A high point for event participants was a surprise visit by Mark 'Occy' Occhilupo, Aussie pro-surfer and 1999 World Champion. Although Occy hadn't competed at this level in close to six years, the response from spectators was huge – the pro surfer is a legend in the field and remains well-loved by the global surfing population. Occhilupo's visit was sponsored by the Australian High Commission in Sri Lanka as part of broader support for tourism development and promotion in Sri Lanka through its Market Development Facility and Skills for Inclusive Growth initiatives. Although Occy competed in a few heats, he was mostly in Sri Lanka to sample the many diverse tourism activities available in the east.
Kumana safari
Kumana was one of the first stops on the agenda. For bird enthusiasts and wildlife lovers, Kumana National Park is a haven. Best known for its large flocks of migratory birds, the park is also home to a population of elephant and, rarer, Sri Lankan leopard and sloth bear. As with most first-time visitors, Occy was stunned by the natural beauty of the park, and Sri Lanka in general: "It's been an incredible experience all round! I'm stoked I came to Sri Lanka – the waves are so fun and the people are so warm and welcoming, it's a beautiful country."
Community-led tourism
The eastern tourism scene is characterised by a high level of community involvement – most likely due to significant skill-building programs implemented by multiple private, state and non-governmental players in the region. Visitors to the east can learn how to cook basic Sri Lankan cuisine, enjoy an authentic village lunch or spend their days immersed in Sri Lankan hospitality at one of the many homestays available.

For the more adventurous, there are scenic cycling routes and tranquil boat rides on the Pottuvil and Urani lagoon. Tuk-tuk tours through the city are a particularly popular way of getting around, with more drivers getting certified as qualified local guides. During his visit, Occy enjoyed a tuk-tuk ride and sampled some delicious rice and curry cooked by a group of women in Thirukovil – made with slightly less spice than usual!
Surf's up
It goes without saying that any visitor to Arugam Bay must include surfing on their agenda – regardless of skill level! Many local surf clubs have International Surfing Association (ISA)-certified instructors equipped to train from beginner level upward. Occy took some time off to give these local surf clubs a Masterclass, much to the delight of the young surfers for whom it was a once-in-a-lifetime chance to dominate the waves with a surfer of his calibre. Arugam Bay resident Sharmalie Sanjaya, president of Sri Lanka's only all-female surf club, was in awe: "All the girls in the club are so happy we got to surf with him. I never thought I would get the chance to surf with a world champion!" While the Easter Sunday attacks dealt a severe blow to the entire tourism industry, emerging destinations like the Eastern Province have found it particularly difficult to resurface from the slump. Events like the So Sri Lanka Pro 2019 and visits from international celebrities like Mark Occhilupo help to remind the world of everything Sri Lanka has to offer, and why the island was Lonely Planet's No. destination for 2019.