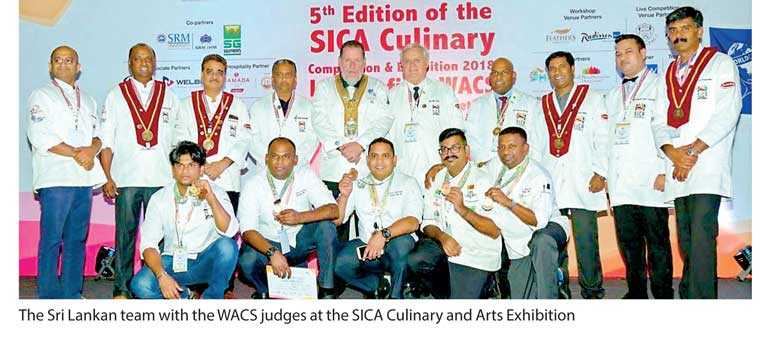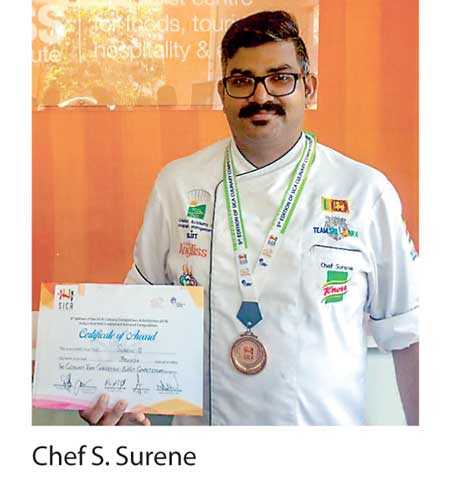 The South India Chefs Association (SICA) is a fraternity of culinary professionals representing the finest hotels, restaurants and culinary institutes in South India.

It is affiliated to the Indian Federation of Culinary Association (IFCA) which is the nodal body of the Culinary Association in India and affiliated with the World Association of the Chefs Societies, the apex body of the culinary professionals the world over. This is the first time that the World Association of Chefs Societies (WACS) has endorsed the competition where in the judges were from all over the world and all licensed and registered by WACS.

This is the first time the Chefs Guild of Sri Lanka received an invitation to showcase their talent and prove their capabilities at the 5th Edition of the Culinary Arts and Food Exhibition 2018 held at the Chennai Trade Centre in India.

The team consisted of Chef S. Surene, Lecturer – Certificate III and IV in Commercial Cookery, Certified Trainer and Assessor – William Angliss Institute at SLITT, Executive Chef and Executive Pastry Chef of Araliya Green City, Executive Chef of Golden Ridge Hotel both in Nuwara Eliya and Sous Chef of Mount Lavinia Hotel Catering in Colombo.

Chef Surene is also an Executive Committee Member of the Chefs Guild of Lanka and Advisor to the Young Chefs Club of Lanka and coordinated all affairs of the Sri Lankan team for this competition in Chennai.

While coordinating the team, whose arrival was the very first time in Chennai, Chef Surene took part in the Team Challenge – Buffet Set-Up, where the team had to set-up an entire buffet starting from food to buffet table set-up to dining table and service, for 18 persons including the judges. Ninety per cent of the ingredients, tools and most of the equipment that was used for the competition were taken by the chefs from Sri Lanka and the balance was provided by the hotels in India.

Team Sri Lanka won two Gold medals, one Silver medal and six Bronze medals. There is no better way for a culinarian to have their craft judged by putting their skills and knowledge to the test in a competitive format.

William Angliss Institute at SLIIT congratulated the chefs who participated and brought honour to our country as well as to the respective organisations they are attached to. William Angliss Institute at SLIIT thanked the Chefs Guild of Lanka for the opportunity extended by them in this regard.