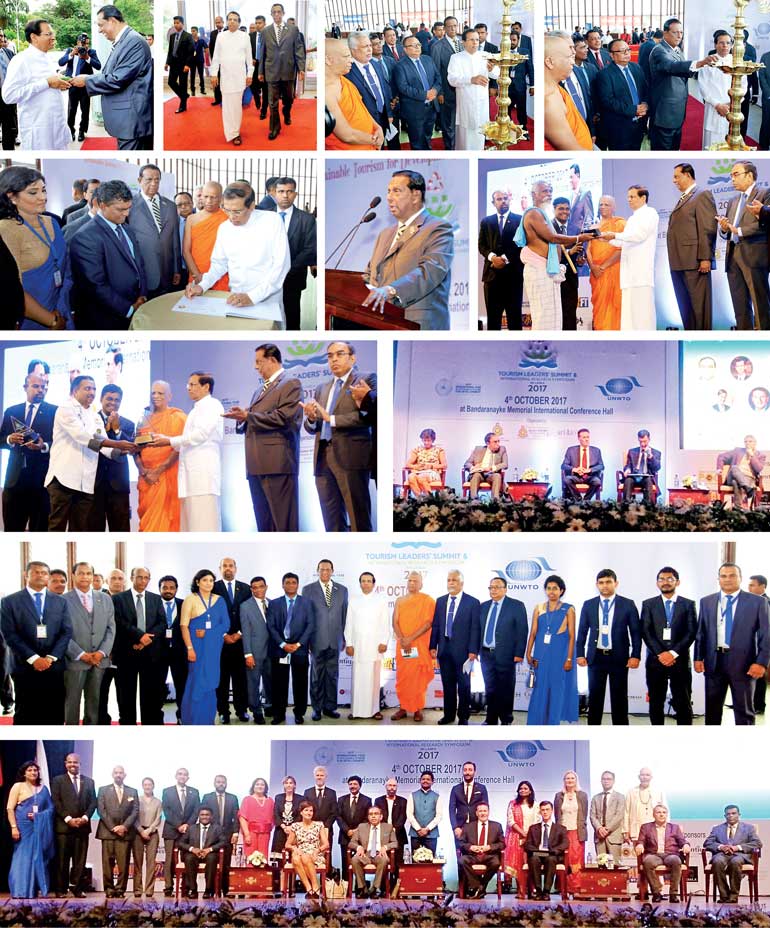 Tourism Minister John Amaratunga recently said that Sri Lanka is a key player in world tourism and the Government's Tourism Vision 2025 and Tourism Strategic Plan 2020 will enable the country to achieve greater and sustainable benefits.

He made this observation in his address to the Tourism Leaders' Summit and International Research Symposium 2017 which is part of the official World Tourism Day events held in Sri Lanka. President Maithripala Sirisena was the Chief Guest.

Amaratunga said President Sirisena along with Prime Minister Ranil Wickremesinghe, has provided every support and encouragement for the development of our tourism industry.

"Policies followed by His Excellency has restored the good name of the country among the global community and this in turn has had a direct impact on the success of our tourism industry. President Sirisena is today a globally acknowledged leader for his dedication to strengthen good governance; promote, protect and uphold human rights and foster reconciliation in this war battered nation and also his commitment to uphold law and order and a new constitution that would heal old wounds and take Sri Lanka in to the future. All this has been recognised by the world community and we are now aware that he is a strong contender for this year's Nobel Prize which will be announced in Oslo this Friday the 6th. If he were to be bestowed this honour and I sincerely wish for it, it would be the greatest gift our industry could ever receive," Minister Amaratunga added.

He said the United Nations World Tourism Organisation's theme for this year's World Tourism Day Celebration: 'Sustainable tourism for development' will help Sri Lanka to focus on the sustainability factor of its fast growing tourism industry. The recognition of the importance of tourism in national development strategies and in the global development agenda is now well accepted. Today, tourism is one of the major sectors of our economy and one of the main wealth creators for Sri Lanka. Tourism for us means much needed foreign exchange, jobs, poverty alleviation, gender equality, sustainable production, and protection and promotion of our natural and cultural heritage.

As the premier state-run academic body, the Alumni Association of Tourism Economics and Hospitality Management Program of the Department of Economics, University of Colombo has taken the lead in the past three years in organising celebrations of United Nations World Tourism Day at national level in association with the Ministry of Tourism Development. Working together with key stakeholders has helped fulfil the national tourism development agenda and synergise a common platform in which academia and industry professionals work together in designing sound and practical strategies to develop the industry.

Minister Amaratunga said the Government's prime tool in this respect is Tourism Vision 2025 which envisages Sri Lanka to be recognised as the 'World's finest island for memorable, authentic and diverse experiences'. This is in line with legendary explorer Marco Polo's timeless observation of Sri Lanka as the finest island of its size in all the world. In order to get there we are now in the process of implementing the Tourism Strategic Plan 2020. Vision 2025 provides strategic direction for the government, the industry and all stake holders. It has drawn on our people, places, heritage and cultural values in its formulation. At the core of this vision is the protection and conservation of our natural resources.

"I'm very happy to note the academia led by the University of Colombo lending its might for the development of the industry. It is my wish that the other universities too will also follow suit and join this national endeavour. Today Sri Lanka is a key player in world tourism especially after its appointment as a vice president of the United Nations World Tourism Organisation. 130 countries and 1,500 delegates endorsed this appointment at its recent general assembly in China. No doubt this is a great achievement for Sri Lanka as it becomes a role model for the development of sustainable tourism. We in Sri Lanka must therefore harness the power of tourism for our economic well-being while being fully committed to the UNWTO's sustainable development goals, most notably its 2030 Agenda," he said.

In the global context, today tourism generates close to 12% of world GDP generating over 250 million jobs which is more than 12 times the population of Sri Lanka. It is the third largest export industry in the world after chemicals and petroleum. Last year according to UNWTO estimates over 1.2 billion people crossed borders as tourists and by 2030 this figure is expected to go up to 1.8 billion. Globally, one in every ten jobs is in the tourism sector and this figure could well go up in time to come. For us here in Sri Lanka our aim is to achieve four million tourist arrivals by the year 2020. Along with this we hope to earn $ 7 billion in foreign exchange and provide direct employment for 600,000 people while over a million will benefit indirectly from the industry.

Tourism is now one of the main pillars of our economy and its position will be further consolidated with the targets we have set for the industry. Tourism has become the passport to prosperity for many countries and Sri Lanka is no exception provided we manage this sector in a sustainable manner. This is where we require the input of the academics in order to chart the way forward," the Minister added.