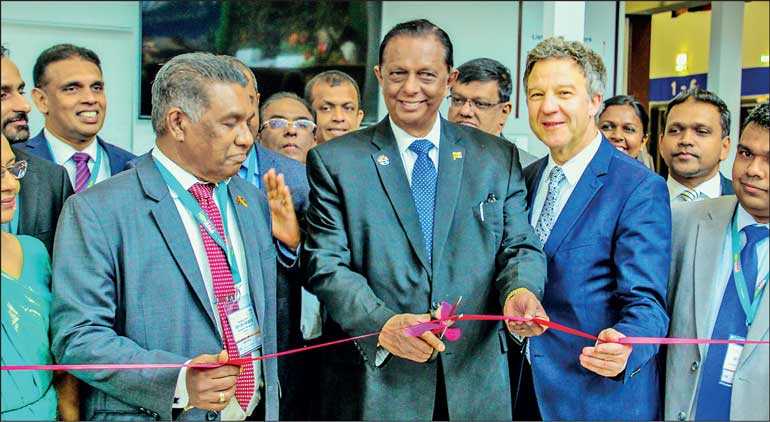 Tourism Development, Wildlife and Christian Religious Affairs Minister John Amaratunga officially inaugurating the Sri Lanka Pavilion at ITB 2019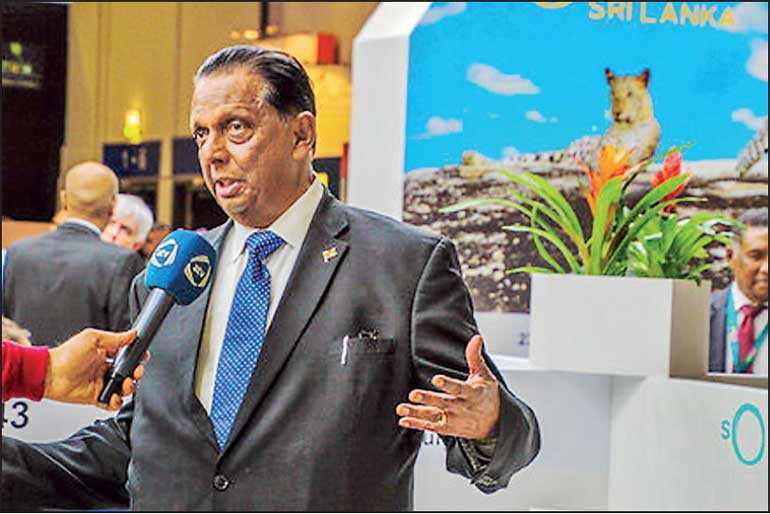 Minister Amaratunga addressing the gathering at the Sri Lanka Pavilion at ITB 2019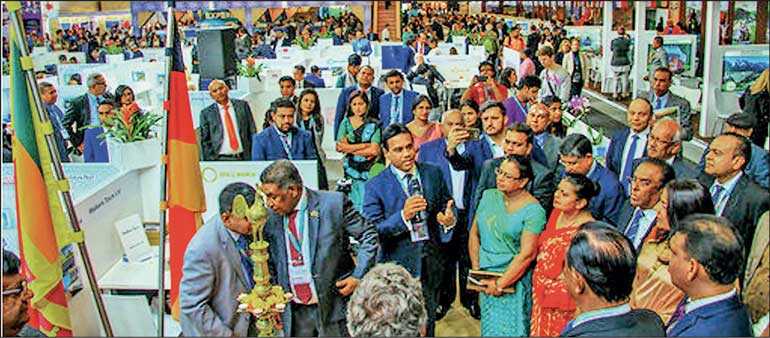 The Sri Lanka Pavilion at ITB 2019
---
The world's leading travel and trade show ITB opened in Berlin, Germany on 6 March, where Sri Lanka took centre stage with the inauguration of its stand-out pavilion and country branding, amidst much grandeur and fanfare. 

As part of the branding, Sri Lanka Tourism Promotion Bureau unveiled a unique documentary film which depicts Sri Lanka through its natural wonders. An award-winning team of nature documentary filmmakers were behind the exciting new project – a first-of-its-kind film capturing the island from the perspective of its rich and diverse wildlife.

The Sri Lanka Tourism Promotion Bureau (SLTPB) commissioned the film to bring to life its new branding 'So Sri Lanka' which encapsulates the fact that Sri Lanka is more than just a destination, it's a feeling.

To entice experience-seeking travellers to visit Sri Lanka – named by Lonely Planet as the best country in the world to visit in 2019 – the all-female British crew captured Sri Lanka's stunning landscapes and vibrant culture from the viewpoint of the country's most extraordinary inhabitants: its wildlife. The film includes 'up close and personal' footage shot with (and by!) some of Sri Lanka's most iconic residents – including elephants, turtles, leopards, blue whales and fishing cats. 

The filming and production team has extensive experience working with the BBC's Natural History Unit, collectively responsible for some of its most spectacular series, including Blue Planet II, Africa, Human Planet, and Our Blue Planet.

The Sri Lankan Pavilion was tastefully designed, taking into consideration the new brand identity "So Sri Lanka." The eye-catching pavilion is expected to attract many visitors, giving 72 hoteliers and tour operators from Sri Lanka the opportunity to network with industry stakeholders participating at ITB, along with the Sri Lanka Tourism Promotion Bureau. 

The Sri Lankan Pavilion was declared opened by Tourism Development, Wildlife and Christian Religious Affairs Minister John Amaratunga, along with Sri Lanka's Ambassador to Germany Karunasena Hettiarachchi, Federal Foreign Office Commissioner for South Asia Ambassador Potzel, Sri Lanka Tourism Promotion Bureau Chairman Kishu Gomes, and other senior officials of the tourism industry of Sri Lanka. Senior Advisor to the Minister Felix Rodrigo, Consul General in Frankfurt Madurika Venniga, Sri Lanka Embassy in Berlin Head of Chancery Ahamed Razee, Tourism Advisory Committee Member Dinesh Weerakkody, PR Officer to the Minister Ann Amaratunga, Honorary Consul Nihal Samarasinghe, and Honorary Consul for Hanover Claus Holtman were also present. 

Minister Amaratunga highlighted the importance of Sri Lanka's participation at ITB and the growth in tourist arrivals from Germany, which was a result of the work carried out by all tourism industry stakeholders of Sri Lanka. The new branding identity "So Sri Lanka" was highlighted as an important step taken towards creating greater awareness of the destination. The full launch of the global campaign is expected to be held in the coming months. Minister Amaratunga was confident of achieving 3 million tourists by the end of 2019. 

Ambassador Hettiarachchi highlighted the increase in German tourist arrivals to Sri Lanka and thanked everyone for their continued support in promoting Sri Lanka in Germany. The Ambassador acknowledged the contribution made by the Minister towards upliftment of the tourism industry, as well as to strengthen bilateral relations with Germany.

SLTPB Chairman Kishu Gomes noted that every country presents their product portfolio and value proposition in the best possible manner at the ITB, and that the Sri Lanka Pavilion has been designed to stand out from among the rest.

The eye catching pavilion will showcase some of Sri Lanka's unique offerings, including an in-house Ayurveda Spa offering healing therapy to visitors, while enjoying a cup of pure Ceylon tea served by the Tea Boutique in the pavilion. Another highlight is a Selfie competition arranged in order to drive traffic to social media sites of Sri Lanka Tourism. Winners of the Selfie competition will be offered airline tickets and holiday packages by the private sector, in order create greater awareness of the destination through digital media. 

This year's edition of ITB is expected to run until 10 March. It is the largest platform in the global tourism industry, which connects leading tourism industry stakeholders from across the world. More than 180 countries will showcase their offerings at this mega event, attracting visitors from all parts of the globe. The event, which began over 50 years back with 250 trade visitors, has now grown to over 114,000 trade visitors.