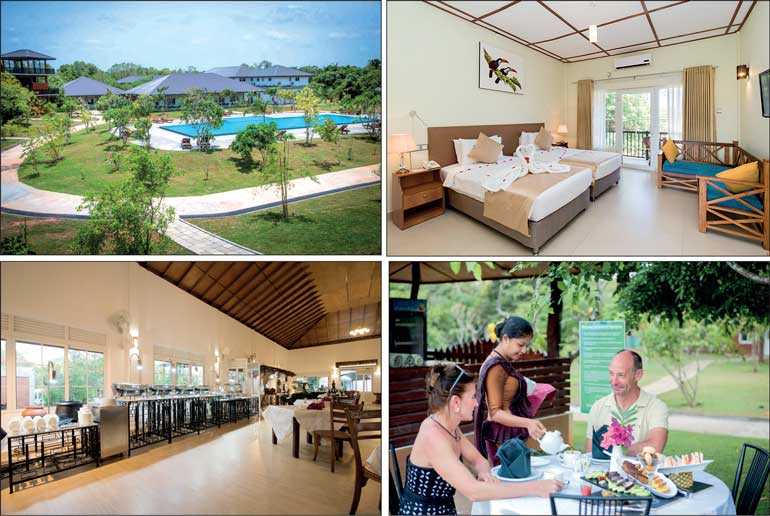 ---
Hidden away in an ancient ruin is a serene, comfortably warm haven, in a breath-taking and welcoming setting that represents both Sri Lanka's natural beauty and culture. A spacious setting tastefully decorated with a view of a beautiful mountain just as you open your eyes and delicious delicacies served to please your tastebuds with the best of Sri Lankan hospitality.

Sungreen Resort and Spa Habarana takes pride in being the only location in Habarana with a direct view of the magnificent Ritigala mountain. Book a stay in one of the 40 beautiful luxury hotel rooms, including one suite, four family rooms, 15 twin bedrooms and 19 double rooms. Each room has its own private balcony overlooking Ritigala. The rooms are equipped with all modern amenities such as hot and cool water, mini bar, cable TV, safety locker and free Wi-Fi.

The hotel offers a 50% discounted rate on HBDBL Rs. 10,500, HBTPL Rs. 12,750, FBDBL Rs. 12,000, FBTPL Rs. 15,250, HB Family Rs. 17,250, FB Family Rs. 20,750 from 1 May to 30 November.

Some of the extraordinary packages offered in this period includes a complementary day or night safari for a two night stay, or day or night safari and a catamaran ride for a three night stay. In addition, a selection of imported liquor and any local liquor is offered to Full Board guests at a very special rate of Rs. 11,500 per person. (All inclusive - T & C Apply)

For more information please refer the hotel website www.sungreenhabarana.com or email info@sungreenhabarana.com.