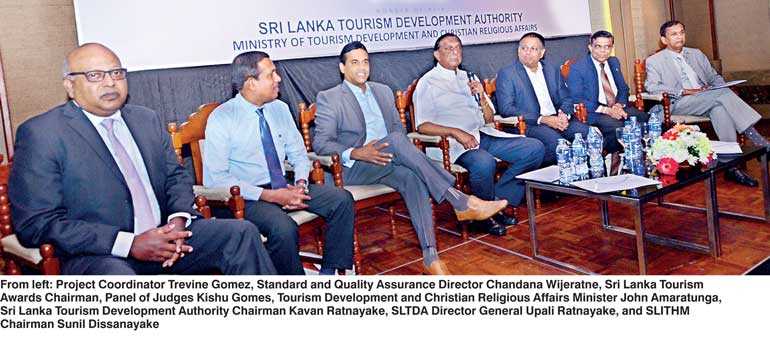 6th edition of awards to recognise 50 best performers, in 11 key categories
Minister believes awards an important aspect to uplift industry standards
SLTDA Chairman says it's vital to recognise contribution of travel and tourism trade
Panel of Judges Chair cites awards will elevate
Sri Lanka's quality, standards brand in global arena
50% awards for SME sector, covers all segments that contributed to travel and tourism trade
By Charumini de Silva

The sixth edition of Sri Lanka Tourism Awards 2018 will be held on 6 December in Colombo under the patronage of Prime Minister Ranil Wickremesinghe, where 50 best performers will be recognised for their contribution towards strengthening and empowering the country's travel and tourism industry.

Re-launching the awards scheme after a six-year break, Sri Lanka Tourism Development's (SLTDA) key objective is to recognise and reward excellence in the travel and tourism industry under 11 key categories, while promoting and enhancing the delivery of service standards.

Addressing at the announcement event, Tourism Development Minister John Amaratunga said the awards was an important aspect which will uplift standards as well as give due recognition for the contribution to the industry stakeholders.

"Tourism is one of the foremost important foreign exchange earner and employment generators in the economy and it will soon be the top contributor to the economic development," the Minister expressed confidence.

SLTDA Chairman Kavan Ratnayake said by reinitiating Sri Lanka Tourism Awards the authority wants to celebrate and recognise industry, while providing them some guidance on what the destination look forward achieving in future.

"I believe tourism is one industry that has done well and has contributed immensely over the last 40 years, but not many has recognised them. I think it is timely we celebrate, recognise and give guidance where we want to go," he added.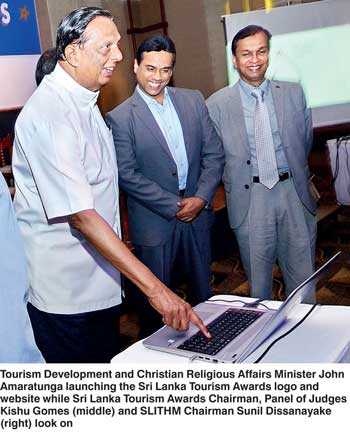 Panel of Judges Chair Kishu Gomes believes tourism industry has tremendous potential to be the top contributor to the economic growth.

With fierce competition observed globally in the travel and tourism industry, he said it was opportune that SLTDA reinitiate the awards scheme to elevate Sri Lanka's quality, standards as well as brand in the global arena. "The competition will no doubt help local trade to improve service standards, quality and recognise top contributors. Eventually, this will help Sri Lanka take on the global competition as a tourist destination when our standards, offerings, quality is improved. It will also help improve Sri Lanka's brand as a tourist destination," he stated.

Joining him in the panel of judges include; Otara Gunewardene, Dr. Rajiva Meewakwella, Indira Malwatte and Chandra Mohotti.

He also said they had a stakeholder meeting on Monday (13) with regional association heads representing Kandy, Beruwala, Bentota, Kalutara and Negombo to discuss and outlined the process and categories.

Sri Lanka Tourism Awards 2018 Project Coordinator Trevin Gomez said initially they will have three major categories covering accommodation sector, travel and tourism sector and specified tourism sector.

He said these criteria's will be evaluated and application process will be audited.

"There are certain unique hotels in growing eco, sustainable tourism areas and all these sectors are looked into. We also look into events and festivals that attracted tourists into the country. So all these areas will get covered," Gomez pointed out.

It was noted that around 50% of the awards will be for the SME category and in the near future they will put out all categorise on www.tourismawards.lk.

Sri Lanka Tourism Awards 2018 will also pay tribute to electronic and print media for their contribution to the travel and tourism industry. In addition, foreign journalists promoting Sri Lanka tourism and websites will also be recognised.

"We hope that this will continue as an annual event which the industry will look forward to having," he added.

Pix by Shehan Gunasekara