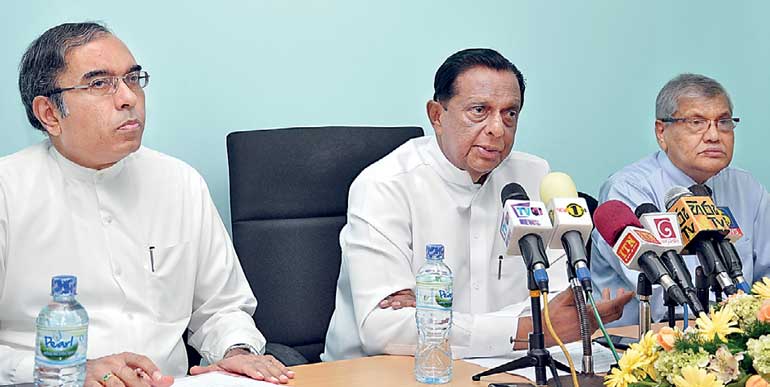 Tourim Ministry Secretary Esala Weerakoon,Tourism Development Minister John Amaratunga and SLCB Prema Cooray - Pic by Lasantha Kumara
By Charumini de Silva

Banking on the excellent air connectivity to India and China as the facilities to hold large-scale events in Sri Lanka are now in place, Tourism Development Minister John Amaratunga insisted on an aggressive marketing program to woo the Meetings, Incentives, Conventions and Exhibitions (MICE) market.

He said Prime Minister Ranil Wickremesinghe has agreed to provide the convention facility at Temple Trees for major travel events.

"The Prime Minister said the facility at Temple Trees can be used for mass scale tourism events. We have excellent air connectivity to India. Now we need to have an aggressive marketing program," he told journalists on Friday.

Currently, SriLankan Airlines flies 127 times a week connecting major and sub cities in India, becoming the largest international airline in the country.

However, Amaratunga said it was very unfortunate that the number of arrivals from India is quite low.

"We have to work very hard to attract Indians to Sri Lanka. We should tap into the Indian wedding market. Not only India, we are also focusing on the Chinese market for weddings," he stated.

Amaratunga stressed that 400 couples will visit Sri Lanka in December where a colourful ceremony will be held under the patronage of the President and Prime Minister.

"The facilities are there now to hold large-scale events, it is now a matter of attracting them with the right campaigns," he added.

According to him, the Bora Community has also requested space to hold their annual conference, which will bring in around 25,000 people to Sri Lanka.

"The only problem we have right now is that our airport in Katunayake is congested. We have reached full capacity. But Mattala will be opened soon and some operations will be directed to Ratmalana too," he added.
---
SL to host Indian tour operators outbound convention in Oct.
The Indian Association of Tour Operators (IATO), the national apex body of India's tourism industry, will hold its Outbound Convention 2017 in Sri Lanka from 2-4 October.

The three-day summit, hosted by the Sri Lanka Convention Bureau (SLCB) in collaboration with IATO, is expected see 300-400 participants representing inbound tour operators, travel agents, hotel chains, airlines, media and other stakeholders in the tourism and hospitality industries from India.

Tourism Development Minister John Amaratunga described the IATO Outbound Convention in Sri Lanka as a vote of confidence in the country's rapidly developing tourism industry.

SLCB Chairman Prema Cooray said it is a great opportunity for the travel trade of Sri Lanka to meet with their counterparts from India and to cement their relationships further to strengthen this very important market.

Today the market has improved from 125,000 tourists in 2010 to 360,000 last year, while expecting the arrivals from the country to increase to 400,000 by the year-end.

"In my opinion, the Indian market has no borders. there is a lot of scope to expand. We can go towards a mark of perhaps one million tourists from India in the foreseeable future," Cooray expressed.

IATO has a membership of over 1,600 from across the country.

"With so many entities involved, the main advantage of the convention is the publicity and promotional activity created for Sri Lanka just by holding the event in the country," he added.

Noting that close to 4,000 medical organisation representatives from India visited Sri Lanka recently, Cooray pointed out that the numbers that could come from the leisure and MICE segments were huge. (CDS)