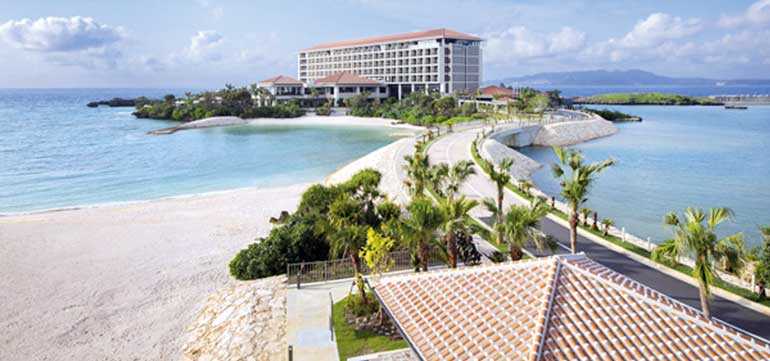 Hyatt Hotels Corporation has announced the opening of Hyatt Regency Seragaki Island Okinawa in the southernmost region of Japan.

Located on the private Seragaki Island and linked by a bridge to the main island of Okinawa, the hotel offers a stunning view of the East China Sea from all 344 guest rooms.

An immersive destination hotel, Hyatt Regency Seragaki Island Okinawa blends local culture, warm hospitality and thoughtful service, enabling guests to feel refreshed and reconnected to who and what matters to them most.

"We are delighted to celebrate the opening of Hyatt Regency Seragaki Island Okinawa, the first Japanese beach resort in Hyatt's portfolio and we are grateful for the continuous support from Tokyu Land, NTT Urban Development Corporation and Milial Resort Hotels," said David Udell, group president, Asia-Pacific, Hyatt Hotels Corporation. "With the debut of Hyatt Regency Seragaki Island Okinawa, our twelfth Hyatt property in Japan, we are excited to offer guests an energising seaside retreat in the country's sunshine isles."

Hyatt Regency Seragaki Island Okinawa is on the west coast of Okinawa, approximately one hour by car from Naha Airport. Located in Onna, Okinawa's most sought after beach destination, the hotel is an ideal spot for exploring the rugged scenery of the Yanbaru area to the north and the Unesco World Heritage sites in the central and southern areas. Nearby attractions include the Bios no Oka subtropical forest, the Okashi Goten sweets factory, the Ryukyu Mura theme park, and the scenic Cape Manzamo, a dramatic coral cliff and ideal spot for sunset-viewing.

"The hotel welcomes domestic and international visitors alike to enjoy Okinawa's vibrant beach scene, breathtaking nature and colourful culture," said Hiroko Noguchi, General Manager of Hyatt Regency Seragaki Island Okinawa. "Here guests will find a revitalising, seamless retreat for couples, families and friends and an upscale locale for special occasions and destination weddings."

The breezy, light-filled interiors by Tokyo-based, Hashimoto Yukio Design Studio draw from the hotel's idyllic waterfront surroundings and the rich traditions of Okinawan culture to create intuitive spaces where guests can connect and recharge. All guestrooms feature mesmerising views of the crystal clear waters.

There are 320 guest rooms housed in a seven-floor building on Seragaki Island, including 71 Regency Club rooms and 16 suites which come with unique privileges such as dedicated check-in and check-out and use of a private lounge. Ideal for honeymoons and private gatherings, the spacious 1,948-sq-ft Seragaki Island Suite features a private 1,689-sq-ft terrace.

Suited for families or longer stays, an additional 24 Beach House rooms are located in a three-storey building across from the main hotel. These accommodations range from 592 to 807-sq-ft and are equipped with full kitchens or pantry-style kitchenettes.

To celebrate the opening of Hyatt Regency Seragaki Island Okinawa, guests who book stays between 21 August and 22 October may enjoy a 50% savings on every second room night booked when they stay a minimum of two nights by requesting this offer.