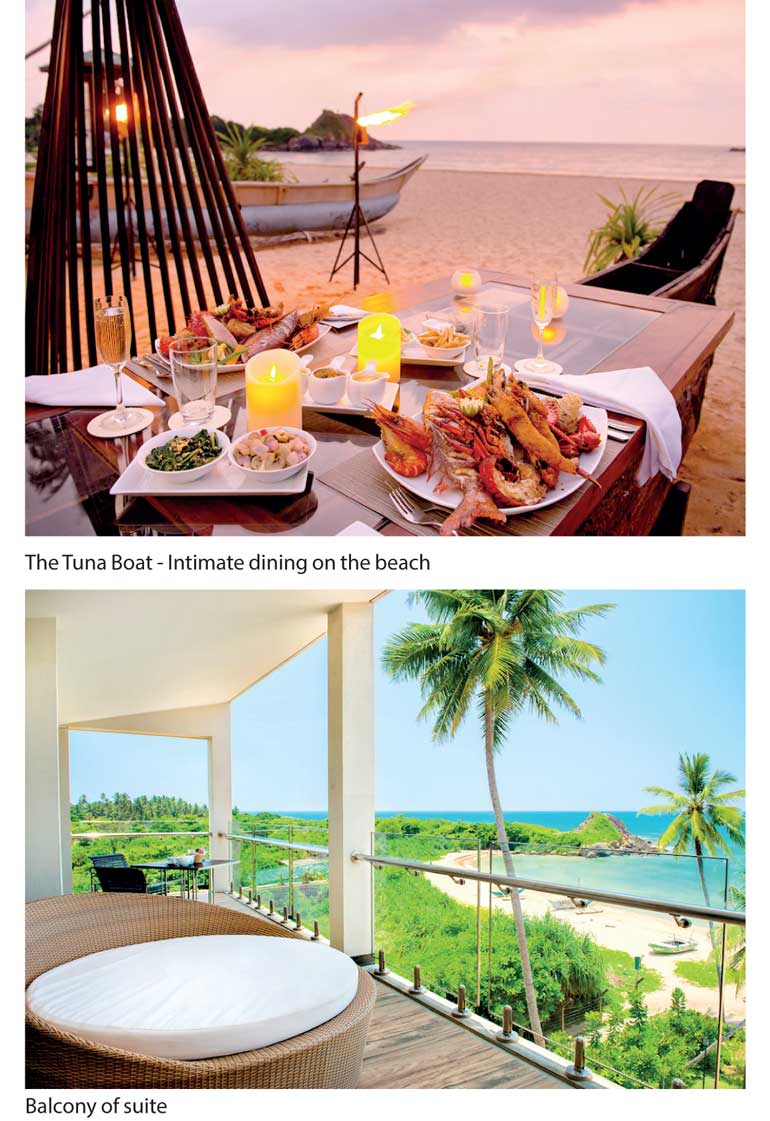 Shinagawa Beach by Asia Leisure is a 26-room luxury boutique hotel situated on a sparkling stretch of sandy, palm fringed beach in the coastal town of Balapitiya. It is a spellbinding experience, promising rest, relaxation and complete luxury amidst a one-of-a-kind beach and inescapable views of the deep blue ocean.

"Shinagawa Beach is a member of the exclusive Small Luxury Hotels of the World and has also been recognised as an International 5 Star Hotel for the year 2016-2017 by the International Hotel Awards. It was previously recognised as the Best Small Hotel in Sri Lanka at the Asia Pacific Hotel Awards for 2014-2015," said Asia Leisure CEO Reyhan Morris.

Dining is yet another magical experience at Shinagawa Beach, not only for the luscious cuisine and scintillating beverages, but exquisite views of the Indian Ocean in all its glory. Salt offers signature menus including Sri Lankan dishes with an avant-garde twist. Crimson is a lounge bar offering drinks concocted by an award-winning mixologist and created using the finest liqueurs and liquors. The Tuna Boat offers fine dining by the beach with a wooden fishing boat sunk into the soft sands as table top and freshly caught seafood prepared to perfection. For those preferring an even more intimate dining experience, champagne breakfasts and candle lit dinners can be arranged on the beach or in the balcony of their room.

Shinagawa Beach provides 24 deluxe rooms and two suites with sweeping views of the Indian Ocean, private balconies and high-speed Wi-Fi. Deep soaking bathtubs, rain showers and soft duvets to sink into ensure deep comfort whilst the suites come equipped with Bose sound systems and espresso machines.

Water sports including scuba diving, snuba, jet skiing, sea kayaking, wakeboarding and towable rides are all on offer at Shinagawa Beach. The colourful Kowilawatte Temple is less than a kilometre away from the hotel whilst the river safaris along the Madu River are not much further. The Kosgoda Sea Turtle Conservation Project, the Karandeniya Galagoda Shailatharama Viharaya which houses the largest reclining Buddha statue in South Asia, the Ambalangoda Mask Factory and Museum, the ancient temple of Kande Viharaya, the moonstone mine in Meetiyagoda and the historic city of Galle all lie less than an hour's drive away.

Shinagawa Beach is the magically intimate offering by Asia Leisure, the leisure subsidiary of Asia Capital PLC. Asia Leisure's vision is to provide one-of-a-kind hotel experiences across a variety of locations with focus on unique concepts, catering to a diversity of interests and tastes of the luxury traveller.