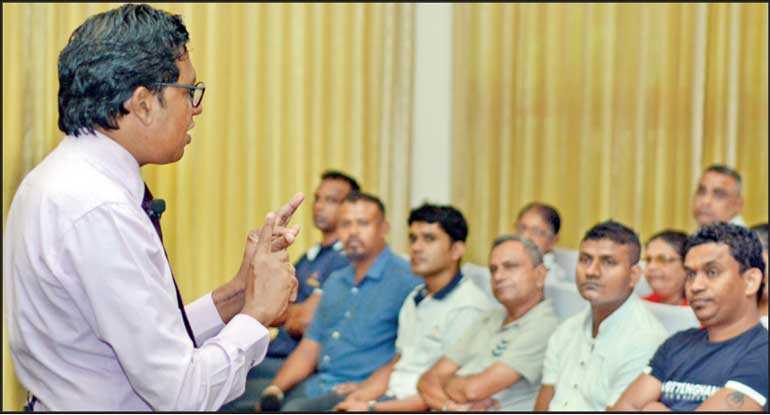 ---
In assisting the local community to enjoy the dividends of the growing tourism potential in the region, the newly-opened Dambulla branch of Nations Trust Bank recently conducted a seminar for homestay operators and interested entrepreneurs in the locality of how the homestay value proposition could be developed and delivered to attract and retain customers and enhance the brand profile.

The seminar that dealt with various aspects including service quality, designing unique, immersive experiential offerings, food and beverage and hygiene and good housekeeping, was conducted with the support of veteran hotelier and consultant, Aruna Jayakody at the Sannasa Hall in Dambulla to an audience of over 60 participants.

Nations Trust Bank Vice President – Branches (Emerging Region) Menaka Wavita elaborated on the reasoning behind the bank's CSR initiative.

"With Lonely Planet and other global travel sites citing Sri Lanka as best for travel in 2019, there is further room to attract more tourists to Dambulla and we felt that we could help build livelihoods of more people and make this economic opportunity more inclusive and sustainable by strengthening the capacity of entrepreneurial individuals of this community to offer quality homestay value propositions. By ensuring that minimum service quality standards are maintained across the board by tourism operators, Dambulla will be able to enjoy the patronage of more tourists, which then results in higher incomes for people of Dambulla, not only in tourism, but also in other livelihoods such as agriculture."

Tourist Hotel Owners' Association – Sigiriya President Lional Gunasekara, who attended the program, shared his views on the learning outcomes. "This was a great opportunity for our small tourism sector operators to listen and learn from an industry professional with extensive experience on different aspects of the homestay business. It was an eye opening session for them because they were able to identify areas of improvement that they had not thought about much before, where with little to no extra investment, they could get better customer satisfaction and revenue from enhanced guest experience. I want to thank Nations Trust for organising a much-needed awareness session of this nature."

Dambulla Nations Trust Bank Branch Manager Ruwan Premarathna reaffirmed the bank's commitment to help people and businesses achieve their goals and aspirations and noted that the bank is in Dambulla for the long-term and hopes to uplift the lives of community members through similar value adding educational programs in the future.