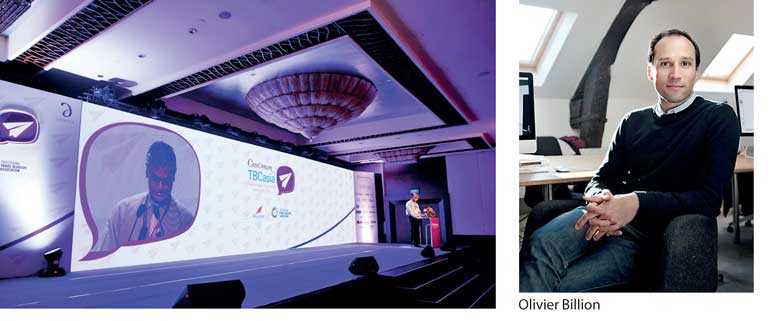 An international expert in influencer marketing, Olivier Billion, Founder and CEO of Ykone, will be speaking at Cinnamon TBC Asia 2018, the third edition of its biennial conference, to be held on 30 October at Cinnamon Grand Colombo.

He will talk extensively on using influencer marketing to create and amplify story-telling around a product launch, a topic largely relevant to the digital platforms in any industry as it has become the core medium for communication to capture the attention of the current consumer.

Olivier is the Founder and CEO of Ykone, a global influencer marketing and content agency based in Paris, Berlin, London, New York, Dubaï and Bangalore. He and his team at Ykone helps brands to create incredible content and stories by collaborating with the world's most powerful and leading influencers.

The company under his guidance has garnered a clientele comprising of Dior, Dom Perignon, L'Oréal, Lancôme, Hermès, Swarovski, brands which depend heavily on influence marketing for their branding. He develops and manages influencer strategies with these companies that will help people engage with brands' stories and reach millions through the use of social media.

As per a research done by Business 2 Community, 94% of the serious marketers around the world use influencer marketing to grab the attention of their target audience. Influencer marketing is considered the most effective means to reach out to the target market of a business since the platforms used are those that are frequently and easily accessed by the potential consumer in the current point of time.

In terms of conversion from these exposures, it is also higher due to the influencer being identified as similar or familiar to the consumer. With these mass scale evolvements in the consumer behavior, the timely insights from experts such as Olivier Billion would be next thing that can open the eyes of elite marketers to embrace influencer marketing as an effective means of brand and product related awareness. Additionally, with seven other internationally recognised speakers sharing insights across varied topics, Cinnamon TBC Asia 2018 will offer effective insight into how to create and use effective digital content for your business.

The hand-picked panel of globally-acclaimed speakers and trailblazing experts include Liz Ward – Managing Director of Tourism Tribe, Sonali Chatterjee – Sales Director (India and South Asia) of CNN International, Sarita Harilela, Executive Producer for Asia Pacific with CNN International, Janicke Hansen – President of Professional Travel Bloggers Association, Giuliana Riitano – Industry Manager, e-Commerce and Classifieds of Google, Abhay Khanna – Regional Manager of the Expedia Group and Zan Wu – Founder and CEO of Zanadu, China's leader in premium and luxury travel. The conference will also focus on the shifts and trends that are shaping the travel industry, through its theme Creating Transformational Digital Content for Travel.

There is no reason to delay grabbing your ticket, but if you're still not convinced, visit www.tbcasia.com or www.cinnamonboxoffice.com or call 071 711 8111. We just don't want to see you get left behind.

The Cinnamon Travel Blogger Conference 2018 is supported by the PTBA (Professional Travel Blogger Association) and PATA (Pacific Asia Travel Association), Official Radio Partners – Real Radio and Kiss FM, Official Airline partner – Sri Lankan Airlines, In association with Leveza by MAS, Destination partner – Sri Lanka Tourism Promotion Bureau, Hospitality partner – Cinnamon Hotels & Resorts, Official Digital Partner – eMarketingEye and Print media Partner Ceylon Today, Official Radio Partners – Real Radio and Kiss FM.