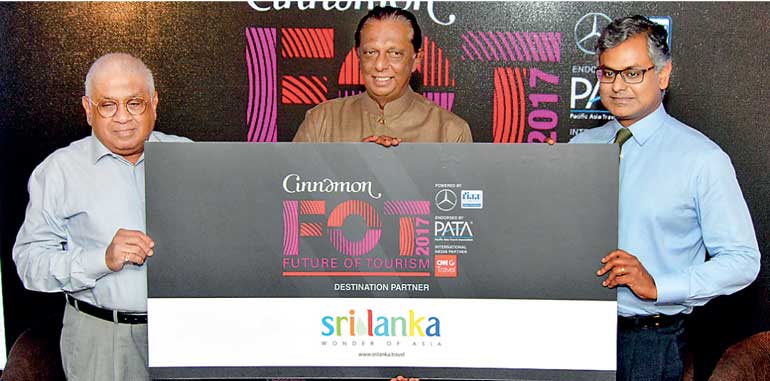 By Charumini de Siva

The second edition of Cinnamon Future of Tourism Summit 2017 was officially announced last week and is set to take place on 26 September in commemoration of World Tourism Day.

Conceptualised and organised by Cinnamon Hotels and Resorts as a part of its ongoing commitment to spearhead the growth of the region's travel industry, the iconic event which unites the most elite and acclaimed industry professionals from across the region under one roof is served as the first-of-its-kind in Asia and provides a resounding platform for industry specialists to discuss and understand what the future of tourism holds.

This year's Future of Tourism Summit will bring together thought leaders from across the globe who have make their mark in the world travel industry.

Governed by the pertinent theme of 'Technology, Innovation and Authenticity,' the summit will feature many speakers and two dynamic panel sessions that will explore a broad range of topics and bring to light global travel insights coupled with latest and upcoming industrial trends.

John Keells Holdings Pls Leisure Sector President Krishan Balendra said the conference would help understand how the growing global travel industry – considered the world's leading economic contributor – is evolving.

"This year we have handpicked an expert panel of 15 global travel specialists who will be delivering exclusive industrial insights, while highlighting the pivotal role that innovation, authenticity and technology will play in the future of tourism," he added.

This year's summit will be curated by SHS Swiss Hospitality Solutions Founder Wilhem K. Weber and feature CNN Travel Executive Editor Brekke Fletcher, TrendOne Brand Ambassador Rene Massatti, TrendOne Head of Creative Innovations Sebastian Rassmann, Emirates Academy of Hospitality Management Director of Research & Innovation Dr. Sanjay Nadkarni, Google Country Director Fazal Ashfaq, Mocinno International Hospitality Management Managing Director Jeroen Gulickx, Twenty31 Consulting Inc. Partner Oliver Martin, Minor Hotel Group CEO Dilip Rajakarier, Dragon Trail Interactive Managing Director Roy Graff, booking.com Co-Founder and Roomlr Founder/CEO Bas Lemmens, Linser Hospitality GmbH Founder and Managing Partner Dr. Franz Linser, Euro Monitor's Jocelyn Cheung and STR Global's Matthew Burke.

The speakers will present their findings under the following topics: 'Understanding Tomorrow's Traveller,' 'Technology of the Future – Tech Showcase,' 'Use of Customer Data for Innovation,' 'Changing Future Hospitality Landscape to Make your Hotel Profitable,' 'Role of Brands in Future Hospitality Marketing,' 'The Future of Chinese Outbound Tourism and Opportunity in Sri Lanka,' 'Future of Wellness Travel and Opportunity for Sri Lanka,' 'Fighting for your Market Share – OTA vs. brand.com,' 'Future of Hotel Revenue with Comparative Regional Analysis and Trends' and 'Forecast on Travel & Tourism (Global, Regional – Asia Pacific and ASEAN, Sri Lanka)'.

Balendra said: "We hope the Cinnamon Future of Tourism will help our region's top travel professionals gear up and prepare for the industry's next phase of growth."

Though it was difficult to quantify the benefits of first Summit's outcomes, Balendra insisted that there were many learnings in terms of knowledge and capacity building, with Sri Lanka also being in the spotlight of many travellers due to the publicity received.

Sri Lanka Tourism Chairman Udaya Nanayakkara pointed out that such forums would certainly enhance the knowledge and capacity building of the local tourism industry, which has been a dire need.

"We are grateful to Cinnamon Hotels and Resorts as well as its partners for hosting an event of such magnitude. We are glad that leading private sector companies are now joining hands with this initiative and coming up with quality events," he added.

Calling on industry stakeholders to work collectively for a greater impact, Nanayakkara stressed such programs would help reposition Sri Lanka tourism and enable it to reach greater heights.

"Tourism is the only industry that can bring benefits to 21 million people in Sri Lanka. The benefits of the tourism sector trickle down to the grassroot levels as it is result-oriented industry," he stated.

Noting that Sri Lanka Tourism was looking forward to partner and participate in such events, he said they were keen on working with the private sector with the common objective of growing tourism.

The event is powered by Mercedes Benz and is endorsed by the Pacific Asia Travel Association (PATA), with CNN Travel as the International Media Partner, HNN as the Media Partner and TravelIndex as the Digital Media Partner.

The Sri Lanka Tourism and Promotions Bureau is the Destination Partner and SriLankan Airlines has come on board as the Airline Partner. The Digital Partner for the event will be Xiteb, Mobitel Ltd. the Mobile Partner, Daily Mirror, Daily FT and the Sunday Times are Print Media Partners and the Inbound Tour Operator is Walkers Tours.

Cinnamon Hotels & Resorts, a leading hospitality chain in Sri Lanka, aspires to be the pioneer in the travel and tourism of Sri Lanka through the events it conducts to benefit the industry. In 2015, Cinnamon launched the 'Future of Tourism Summit' and the 'Travel Bloggers' Conference' as well as the 'Travel Bloggers' Awards' in 2016. These events have proved to benefit the destination and the industry as a whole.