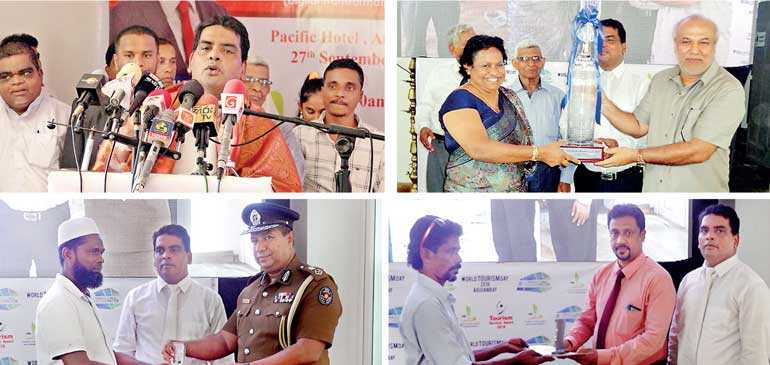 World Tourism Day was celebrated in Arugam Bay attended by a large gathering. Held every 27 September around the world with its main event in Budapest, Hungary,it is a unique opportunity to raise awareness on tourism's actual and potential contribution to sustainable development.

Minister of City Planning and Water Supply Rauff Hakeem was the Chief Guest while State Minister Sriyani Wijewickrama, Deputy Minister Faizal Cassim, and H.M.M.Haris, District Secretary Ampara, D.M.L.Bandaranayake Deputy Inspector General of Police Ampara Nuwan Wedasinghe, Chairman Pradeshiya Sabbha Pottuvil M.S.Wasid, Director, Finance Sri Lanka Tourism Development Authority Sampath Ganepolaarachchi,National Organiser for the Chamber of Tourism and Industry Donald Rajapaksa,stakeholders in the tourism industry and the general publicparticipated at the event organised by the Chamber of Tourism and Industry.

President, Chamber of Tourism and Industry A.M.Jaufer welcomed the guests on the occasion.

Addressing the gathering Minister Rauff Hakeem said that Arugam Bay beinga world-reputed surfing destination with historical monuments around attracts many guests from overseas. The Chamber of Tourism has to play an important role in providing the necessary services to the guests visiting the area. He further said that he will look in to the needs of the area and attend to them while requesting the members of the travel trade and the general public to keen the environment nice and clean.

Speaking on the problem of drinking water to the area and the prevailing land issues in Pottuvilarea he said that he will engage with the relevant officials and solve the problems so that the people can lead their normal lives.

The special feature of the event was felicitating tourism industry stakeholders in the Eastern Province. Among them were nine domestic airline companies, 11 life guards, 96 eco-tourism operators, 15 national park safari drivers,100 hotel employees and 100 tuktuk drivers.