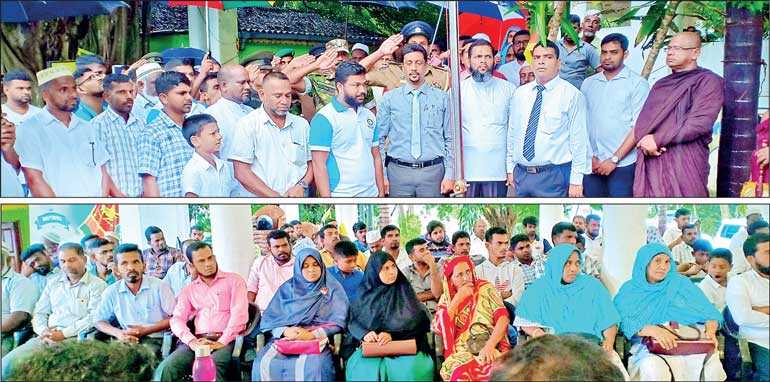 ---
The Chamber of Tourism and Industry celebrated the 71st Independence Day in Arugam Bay on Monday amidst a large gathering. A vehicle procession was also conducted from Arugam Bay to Pottuvil. Divisional Secretary Pottuvil MAC Ahmed Nazeel was the Chief Guest on the occasion.

Pottuvil Pradeshiya Sabbha Chairman Abdul Wasith, Commanding Officer of the Army camp in Sangamam Lt. Col. Ranatunga Gamage, Area Commander STF Arugam Bay Upul Jayewardena, Commander Navy Panama base Deshapriya, ASP Puttuvil Welisarage, Medical Superintendent Pottuvil Dr. Rajaf , A.M. Sitheek, Chairman Heda Oya Development Committee and President All Mosque Federation Pottuvil, The Sri Lanka Surfing Federation and Taxi Owners Society in Pottuvil were the other organisations represented at the occasion.

Public servants in the area were honoured for the service rendered by them to the area during the event.

Addressing the gathering President Chamber of Tourism and Industry thanked the Government for the developments in Arugam Bay area to make it an attractive tourism location. He said road development had taken place while the Ministry of Tourism had already approved 50 solar-powered lights covering nearly five km for the Pottuvil Arugam Bay main road covering.

The Pradeshiya Sabbha has taken the initiative to cover the roadside gutters in the area while the City Planning Ministry is to set up a new sea plane landing facility. All these activities are being done to improve infrastructure facilities in the area which will in turn bring more tourists which helps to improve the livelihood of the people in Arugam Bay and Pottuvil. He further said that the people in the area were supporting the Government to carry out the necessary development projects.

Divisional Secretary Pottuvil Ahmend Nazeel said that the Government had taken steps to carry out several development projects in Arugam Bay and Pottuvil. He thanked the Chamber of Tourism and Industry for all the hard work put in by them to promote tourism in the area.