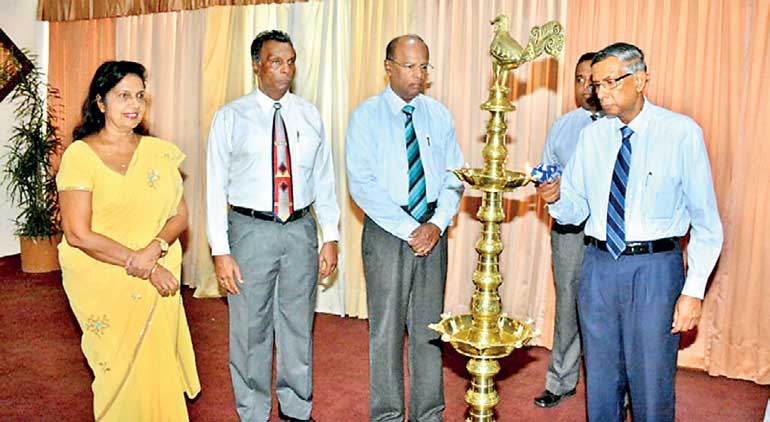 The commencement of CHFMA certificate level lectures at SLITHM. CMA President Prof. Lakshman R. Watawala lighting the traditional oil lamp at the inauguration while CMA Vice President Hennayaka Bandara, CMA CEO Kanishka Jayasinghe, CMA Senior Director Education and Examinations Dr. Swineetha De Livera and SLITHM Principal Saman Hathurusinha look on
The Certified Hospitality Finance and Management Accountant Program jointly conducted by the Institute of Certified Management Accountants of Sri Lanka (CMA) and the Sri Lanka Institute of Hospitality and Tourism Management (SLITHM) commenced the CHFMA Certificate level program recently at SLITHM premises.

The program was inaugurated by CMA President Prof. Lakshman R. Watawala together with the council members and senior management of both CMA and SLITHM.

CHFMA will open the doors for all those who are currently employed in the hospitality industry at different levels in the financial accounting and management accounting sector to obtain a professional accounting qualification specialising in the hospitality industry where they will be able to develop the knowledge and skills of those in the accounting and finance fields.

CHFMA qualification at different levels has been officially recognised by SLITHM for job vacancies for the Hotel and Tourism sector. As a professional program it will be a course consisting of both academic and work experience producing a well rounded professional accountant for the hospitality industry.

CMA Sri Lanka President Prof. Lakshman R. Watawala addressing the inauguration ceremony said, "CHFMA program is important due to the rapid expansion of tourism industry in Sri Lanka and this program will help the hospitality industry to build a qualified pool of professionally qualified accountants, audit, finance and cost and management accountants who will add value to the organisations by their skill and competency in a globally competitive industry.

The CHFMA Certificate level is specially meant for those employed in the hotel industry and others with part accounting qualifications and will be a stepping stone for them to obtain a professional qualification.

Entry qualifications for the CHFMA Certificate Level are as follows:

CMA, CA, ACCA and CIMA (first level), + one year working experience or

AAT final + one year working experience or

Certificate, Diploma or any other equivalent accounting qualification + one year working experience in accounting or

Those currently working in the Hotel Sector with one year's experience in the accounting field.

A qualified lecturer Ravith Goonewardenae from the Cinnamon hotels will be conducting the lectures on Sundays at the SLITHM premises in Colombo 3.

On completion of the certificate program they can go on to the diploma and thereafter the professional level and obtain the CHFMA membership on completion of all levels with a three-year practical experience requirement as per the Practical Training Guide for the hospitality industry and a Viva Voice.

Those successful will be identified as members who are qualified professional accountants and managers in the hospitality industry with the designations 'ACHFMA' for associates and those with a minimum of five years senior executive experience after obtaining ACHFMA to be designated 'FCHFMA' for fellows showing their commitment to high ethical standards, professional values, and lifelong learning or continuing professional development.

Those interested to obtain details should contact Anupama on Tel: 0114641701-3 Ext-125 or mobile 0775006113/email: anupama.k@cma-srilanka.org.