Thirty minutes north of Colombo, near the fishing village of Thalahena, Negombo's most popular beachside village, is Welikala Holding's pilot hotel project - Arie Lagoon.

Located on five and a half acres of an exquisitely trimmed grassy parcel of land, running parallel to the famous Negombo lagoon, the Arie Lagoon is Negombo's newest four-star deluxe property featuring generously spaced clusters comprising 55 intimate rooms. With its sprawling lawns and living spaces, Arie has the look and feel of a large hotel.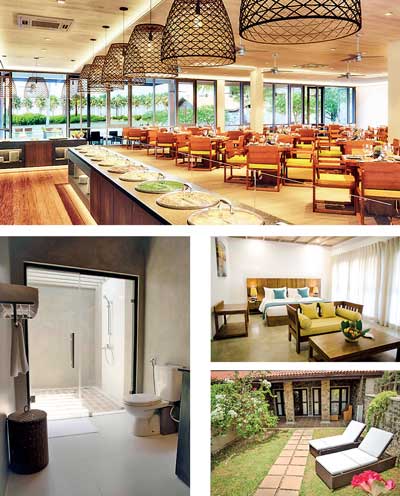 As one steps into the minimalist stone-clad pavilion flanked by still black pools, a large urn filled with floating lotuses reflecting the copper lights above, one is filled with the serenity which Arie Lagoon offers its valued guests. Themed on the colours of the brand, the rooms are furnished with custom-designed solid wood furniture which is set on polished cement floors and white distressed finished ceilings that perfectly reflect a relaxed and easygoing resort. The aqua green French windows with distressed finished blue accessories accentuate the feel of the lagoon, giving one a fresh and exciting experience.

Arie offers the premium facilities one requires to relax and unwind and it's a total solution for all the needs and wants of valued guests. There are three different categories of tastefully designed and spacious rooms on offer and of the inventory 41 are deluxe rooms, three are large family deluxe rooms which accommodate four and five are premier deluxe rooms, one of which has a private outdoor plunge pool and six premier suites. There are interconnecting rooms with private gardens, rooms with bathtubs and a large room inventory with a twin bed option.

The Crab Claw Bar is embraced by an infinity edged pool as if by the claws of a crab. This feature sets the stage for a unique bar design where customers can enjoy the bar whilst being in the pool itself or being seated in the alfresco dining area along its edge.

Banana Prawn is Arie Lagoon's main all-day dining restaurant named after a species of lagoon shrimp. The restaurant, bar and pool are designed to transition into each other, ultimately leading to the majestic Negombo lagoon. The Bar A Cuda bar is inspired by the plush look and feel of a British pub with a snooker room, leather upholstered lounges, polished timber floors, ceiling, copper chandelier and sculptures of Barracudas in the contemporary idiom, enhancing the ambiance of the bar. The Kalapuwa wine lounge is the ultimate lagoon experience overlooking the lagoon engulfed by its calm breeze and the sight and sound of rippling water. For the connoisseur of wine, the wine cellar adjacent to the lounge will fulfil that desire too.

Arie has cutting-edge facilities including two swimming pools, with one of them having an infinity-edge, conference and banquet facilities for 500 guests that have an independent bar area and a terrace that does not impede the space of the hall. Elegant design elements such as carpet flooring, custom-made chandeliers and wallpaper coverings enhance the luxurious feel of the hall, giving it a breath of fresh air and undoubtedly making it one of the most sought after venues for weddings and other corporate events.

The lagoon front large garden by the hotel's main pool is yet another serene and romantic location for garden weddings, cocktails, etc. In addition, the property also has a three-cabin wellness spa, gymnasium, a dedicated supervised child care or play area with PlayStations and video games, etc. to keep children of all age groups occupied, enabling parents to relax and unwind.

This luxurious four-star property brags of a staggering Rs. 1 billion plus investment by Welikala Holdings Ltd, which is a diversified group of companies with business interests in hydropower projects, condominium development, furniture manufacturing, etc.

Arie offers a unique and memorable experience of the power of nature and its beauty. Having direct access to both the sea and lagoon on either side undoubtedly gives it an added advantage of the best of two worlds to the property. In close proximity to both the international airport and Colombo through the expressway, together with their attention to detail and exceptional customer service at every level to ensure each and every guest has a lasting experience for the body and mind surrounded by the beautiful lagoon, will soon make Arie Lagoon a sought after hotel in the future.