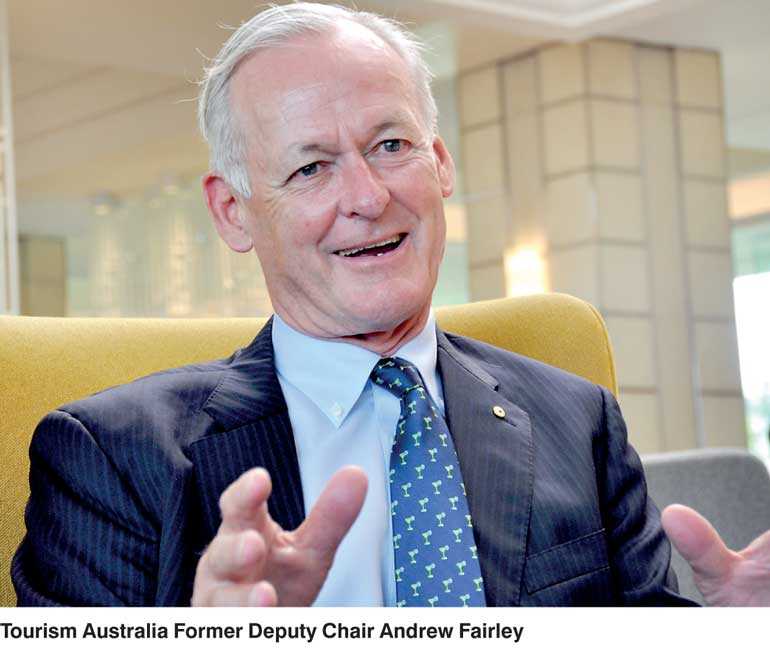 Tourism Australia Former Deputy Chair Andrew Fairley recently highlighted key factors that Sri Lanka need focus to stay ahead in the growing sector, drawing parallels with Tourism Australia's strategic journey. He worked with the Government and tourism authorities on the Tourism Strategic Plan

2017-2020 which was released last year. Fairly also emphasised on the importance of converting plans into action to accelerate growth. During his visit this time, he participated in a public lecture titled 'Staying ahead in global tourism marketing: How core-market research and outreach can deliver a sustainable advantage'. Fairley took time off to speak to Daily FT during his brief visit. Below are excerpts of the interview.
By Charumini de Silva

Q: You've been a frequent visitor to Sri Lanka; what was the purpose of your visit this time?

A: I am working under the aegis of the Australian High Commission and they are very much involved in trying to assist Sri Lanka, initially on the development, but now on the implementation of Sri Lanka's Tourism Strategic Plan (TSP). As I mentioned in my public lecture, it is a very well-crafted and drafted document, it has a comprehensive set of aspirations about what the strategy is looking to achieve and it is quite courageous. However, it requires a brave government to be prepared to take tough political decisions that they will need to take, in order to achieve the targeted outcome.

The main purpose of this visit is to give that message to the people of Sri Lanka and the industry through my lecture, that there is terrific strategic plan in place and to try and encourage everybody to do what they need to do to support it. I came here to share with you all the experiences that Australia has had in dealing with tourism promotion and some of the initiatives we have done which were successful; Sri Lanka may want to look at emulating some of these aspects. I certainly didn't come here to tell Sri Lanka what to do. My contribution has been to try and give them some sense of what others are doing in the world and what has worked, sharing some insights into why it has worked and how Sri Lanka might use those similar experiences to do down that path.

Q: Since the launch of the TSP in 2017, how well has Sri Lanka converted its plan into action?

A: Well, that is a really difficult question to answer because it's really brand new. I have a sense that it has not been widely distributed and spoken about within the country as it might have been. I think the wheels of the Government grind slowly and to the extent that this requires some brave decisions. The first decision the Government made is to commit to the plan, so they are on the road. However, each country has its own political systems and difficulties. One of the principal issues which I think is causing some difficulty at a political level is to bring together all of the institutions which have responsibility for tourism oversight in Sri Lanka and to be able to speak with one voice.

One voice is what we have been able to create in Australia. We brought four bodies together to create Tourism Australia and that has been the single most powerful factor that Australia has done to be able to go and achieve the success that it has in world tourism markets — to the extent that it is a recommendation of the policy and the Government is committed to the policy, then there needs to be clear action.

Another important part of the policy is the whole issue of visitor intelligence. Learning and understanding about what your visitors want, why they want to come here, how they rank you in terms of the benchmarks of your experience assets, how they see Sri Lanka in terms of safety and security, how they see you in terms of nature and wildlife, in terms of coastal assets, how they see the culture and heritage, whether they think wellness tourism is a really important part of what you are offering and how you see the pilgrimage tourism or cuisine — you need to know all of these because if you don't know these factors, then you are basically marketing in an archaic way.

The international market is incredibly competitive and there are 190 countries all out there trying to promote their product to the high net worth traveller. Unless you know how to target the people who you want to get here, then you are going to waste a lot of money. The two other points I want to make that have driven the decision to create one body in Australia, which underpins the tourism policy of tourism strategy, is that it is not about the numbers, but it is all about the yield per traveller. We need to get away from looking at numbers because they are meaningless. It is all about what the tourists are bringing into your country in terms of contribution to Gross Domestic Product (GDP), the number of people that they are able to employ and the economic, social and environmental impact that they are having on the country.

The second aspect is it has been able to be driven effectively by having a 'one voice' system is that you are able to achieve a disbursal. The disbursals is actually taking people away from areas that are most visited and pushing them out in to other areas that are least visited. From Australia's perspective, it is taking travellers away from the capital cities, and sending them out to regional locations so that you can push and create niches that get people out – that I believe is incredibly important for Sri Lanka. Everybody in this country benefits from tourism and to have 'one voice' gives you more power to be able to accentuate the power of disbursal.



Q: Could you elaborate on the importance of data and research?

A: The Government has adopted a policy, the strategy commits to achieving a significant level of market intelligence. They need to empower the public sector and all other stakeholders to get on with the strategy and undertaking that work. There are many niche opportunities in Sri Lanka as well, which are comprehensively identified in your tourism strategy. These include health and well-being, ecotourism, and the MICE market. The challenge is to determine which have priority. Success requires you to focus on a few core strategies and do them well.

Understanding the requirement of each key market has allowed Australia to market different products in different tourism generating countries. Tourism Australia, together with other central and regional Government agencies and overseas offices, conducts research into every facet of tourism under a national tourism agenda, creating a reciprocal relationship, where policy drives research, which in turn drives policy. The conversion of research findings into actual implementation involves marketing and communication outreach, which includes addressing the optimal distribution model and acknowledging the importance of agents, wholesalers and aggregators within the process. Despite there being a noteworthy budget involved in research activities, our return on investment to this is quite significant. I think the attractions the country markets shouldn't be determined by the tourism authorities, but by the consumers, based on research.

Q: How important is it to focus on the yield per traveller and what are the learnings Sri Lanka can adopt from Australia?

A: I think what I talked about has really worked for Australia. There are two initiatives, which have empowered and driven the numbers for our tier one markets. We have done that in Australia in two distinct ways. The first is the 'Aussie Specialist' program. Over many years we have been able to create projects which educate agents about our country and empower them on how to sell Australia. At present there are 32,000 'Aussie Specialist' agents throughout the world. They are incredibly powerful because those 32,000 agencies which include retail and wholesale have such a deep knowledge about Australia. They feel very comfortable and confident in putting together the itineraries whether they are short or medium term, so that they can give confidence to the customer that they know what they are doing. That has meant that you make it easy for the agent to sell your country.

If an agent feels intimidated or unable to grasp all of the complexities of your product, then they could easily sell away from you to somewhere else that they do know. Thus, this was our first strategy, which has now been in practice for more than 25 years. I suggest that this is a model that Sri Lanka may well want to log into. You will be able to find hundreds of agents already that you could instantly accredit and that mere accreditation would then create an awareness where lots of other agents would say 'I want to be a Sri Lankan Specialist' and in that way you create demand.

The second initiative that we have been using nearly for 40 years is the concept of bringing the buyers into country and meeting with sellers, in a form of tourism exchange. The four-day program allows buyers to understand what actually is on offer for Australia and the sellers meet the buyers and understand the extent of the market that they are looking at. I think it is a very complementary process. Added to that, when you bring the buyers out, we try and do a familiarisation before the tourism exchange and after the tourism exchange, so that they get a real sense of the diversity of the product that you have to offer. They are highly-skilled advisors.

At the moment, Sri Lanka doesn't have a tourism exchange program and I would regard this as a low-hanging fruit. To that extent, I think it provides Sri Lanka a great option to be able to get to those agents and distribution channels that do specialise in higher yield travel. Sri Lanka's whole strategy is built around the high-valued traveller. You already have a number of agents who are Sri Lankan experts such as diaspora or people like me who love the country, who are looking to help build your tourism success.

It will immediately start that awareness and educational tools, hopefully online to facilitate programs to educate agents, whereby they sell more than just Colombo, Galle, Sigiriya and Kandy — there is much more to Sri Lanka than just that. What you need to do is empower those agents with the knowledge and the skills which enables them to understand how they can send their customers to different parts of Sri Lanka and have different experiences, particularly some of which are off the beaten track. There are a lot of travellers who love to be off the beaten track and they are high-yield travellers.

Q: What tips would you give to make the best out of the promotion activities?

A: I think one of the impressive elements of Sri Lanka's tourism strategy is that it addresses all of these issues. It has a very strong commitment to social media, building your presence on Facebook, Instagram and other platforms building your linkages with travellers around the world. Social media is such an essential part of your brand recognition today and your brand stewardship, it's got to be managed proactively. You must put content constantly on to those outlets to be able to get to people.

Firstly, build your following and build your fans. Secondly, look at your distribution channels and work on those. Thirdly, there is a commitment from the Government level having adopted that strategy to bring all tourism governance agencies together so that they can work with 'one voice'. The Government needs to be brave and progress those issue, this is simply outlining what the Government has already said in adopting the tourism strategy.

Sri Lanka recently commenced its digital promotional campaign and I think it's a perfectly fine presentation of the experience assets. I can say that Australia has had a lot of success in making its ads and presentation of the country very emotive. Thereby, the creative that has been put into the making of these advertisements of messages are very emotional. The whole notion of the creative present that Australia is not a place you go, but it is a place you feel. This is proceeded by a whole series of incredible emotional, romantic and gorgeous views with fabulous music that's evocative of deep emotional experience.

Sri Lanka too evokes deep, personal, emotional experiences in people and I think that you could have far more creative outcomes from the way in which you market by using some of those emotions, beautiful and incredible views with people in them that are showing that level of emotions and joy about being in them. What you want to have is an incredibly powerful emotional impact.

Q: What are the key challenges you foresee?

A: I think there are probably three. The first is political challenge and that is to ensure that there is sufficient courage at Government level to want to actually see change occur. The second is to enable the creation of product that is sufficiently diverse which will take the pressure of your tourism hotspots as mentioned like Sigiriya and Yala. The third is the human resource issue and that is how you change the perception in this country that tourism is a legitimate industry and the young people can aspire to a career in tourism, not just hospitality but tourism in broader sense. It is about shifting mindsets.

Sri Lanka will need a lot of people when you are consistently adding room inventory to Colombo and other areas around that are attracting tourists. It requires people in housekeeping, F&B, marketing, front office and in all aspects of hotel management. I just have a sense that tourism to some parents is still regarded as something that you do while you're at studying rather than tourism being seen as a legitimate career that has the ability to deliver success not just in terms of finance and satisfaction, but also in what you have been able to achieve in working with people.

Q: What are your suggestions to tourism authorities in managing the visitation at tourism hotspots?

A: I formerly was the Chairman of Parks Victoria. We used to manage 4.5 million hectares of land, aiding the Centre of State of Victoria, therefore I know a little bit of park management. One of the fundamentals of park management is to ensure that you regularly conduct a review of the state of the parks which includes the capacity constraints, are the capacity constrains being exceeded and if so what's the effect on the biodiversity of the parks.

Parks require active management; the moment you allow visitors into a park, you have responsibility in managing that into action. Going back to the principles of moving from the principles of micro application, it is clear that there are issues with numbers at Sigiriya and Yala. It is also clear that the experience in Yala is not optimal because there is a lack of clarity, stability between the park management and people who drive the jeeps.

In terms of overcoming the issue of overcrowding or lack of appropriate stewardships of those parks, then you need to enforce principles and rules that are associated with responsible park management. To that extent, it requires you to limit the number of people going in and out, look at the carrying capacity and not exceeding it, which takes some brave decision making.

In tourism management sense, what you look for is alternatives to those assets to be able to satisfy the burgeoning demand from your tourism growth. One thing you can be guaranteed of is, if you over promote a destination, then you get over tourism within that destination. In terms of Sigiriya, I have climbed the rock three times in my life. However, arriving there after a couple of tourist buses, when you're a frequent independent traveller (FIT), it is not a good idea. You have a long queue waiting to pay your $50 and then you have to get into a long line again to climb the mountain. There is a very limited amount of interpretation, there is less money that should be spent on environs — it could be improved in terms of the visitor's experience.

If there are alternative things to do there, such as if there was an interpretation area, if there is an F&B outlet for people go and wait till their relatives and family climb the rock and come back again, I think there will be less pressure on the rock climbing and at end of the day the international tourists who haven't been here before that's the thing that they are coming to rock to do — that's the excitement. However, for the repeat travellers, they don't need to do it again. Instead, if the repeat travellers can be sent to an interpretation centre, while children climb and come it will be more interesting way to spend time and a learning experience.

Thus, I think it is really about a master plan of the way and which the traffic flow. The disappointment when you come out of the property and experience, you have to go through a series of little vendors trying to sell things travellers don't need. It takes away from the whole professionalism of the tourism experience and this is just a personal reflection.

Q: You mentioned ensuring safety and security as being utmost importance aspects in tourism. Could you elaborate?

A: I think Sri Lanka has to go back to the principles that were set out in those examples I gave in the discussion and that is using three tier one countries on what are the most important things to them in visiting Australia. The number one in those three markets which is reflected in all tier one markets of Australia is safety and security. There is a strong commitment to self-preservation. If you're a tourism marketer, you're a person who has responsibility for the stewardship of your brand here. It is critical to ensure that the perception out there of safety and security is also the reality.

The war in Sri Lanka ended almost a decade ago, yet people still have bad memories. Perception is reality. There needs to be an absolutely committed campaign to those countries which Sri Lanka regards as potential core markets, where the market intelligence is showing that is still an issue. In addition, there needs to be a level of confidence in your visitor tourist that the people driving the buses or vans are safe and they are good drivers and have accreditation. This is such a key message that it ought to be front and central in the way in which Sri Lanka presents itself and overcomes other perceptions.

Pic by Lasantha Kumara