Explores to establish commercial team to develop market, partnerships with local tour operators
Expresses confidence to surpass last year's 170,000 inbound tourist number
China ranks top among nationalities coming to Colombo via AirAsia, while Australia, Malaysia, the UK follow
Focuses on price, network, connectivity, use of technology for innovation to improve the overall flying experience
Says huge opportunity in ASEAN region at present with many economies booming, remains focused on expanding footprint to markets in Europe
Announces exclusive promotion to Kuala Lumpur
By Charumini de Silva

AirAsia, leading low-cost carrier said it would remain committed to further strengthen its operations in Colombo, while exploring to setup a commercial team to develop the market for 2018.

"We are keen on further strengthening our operations and partnerships in Colombo. We will continue to open up air travel to masses connecting Sri Lanka to the world," AirAsia Malaysia Head of Commercial Spencer Lee told journalists in Colombo last week.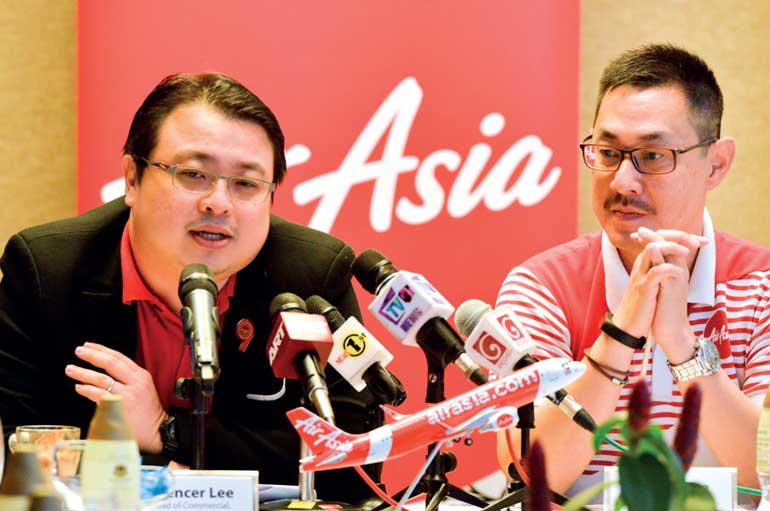 Air Asia Head of Commercial Spencer Lee(left) and Air Asia Sales and Distribution Group Commercial Rayner Teo
He said their focus for 2018 will explore setting up a commercial team to further develop market and looking into partnerships with local travel and tour operators.

"We do see the potential of growing Sri Lanka's tourism market which is why we are exploring to set up a commercial team to further develop the market here for the year ahead. For Sri Lanka, now, we are focusing on our existing route, Colombo; however we are always open to expanding our services when the opportunity arises," he added. Highlighting that the airline carried 169,962 passengers last year, he expressed confidence they would be able to beat last year's inbound tourism to Sri Lanka.

"We see a healthy and a strong booking coming to Sri Lanka. With Sri Lanka open up economically, we are exploring the opportunity to expand our presence also in the leisure market. We are looking at any opportunity to expand our presence in Sri Lanka. We are very happy with where we are today from our humble beginnings in 2009," he added.

Increasing demand from the local market and the expansion of its network has now prompted AirAsia to double its frequency into Colombo which now operates a twice daily schedule. He said the top four nationalities coming to Colombo via AirAsia are from China, Australia, Malaysia and United Kingdom adding that it shows the power of low-cost airline connectivity.

"We hope to build more local content, local product offering on our digital platform for seamless travel experience to our valued customers. Our customers will decide what they want. Price, network, connectivity and use of technology for innovation to improve the overall flying experience are key strategies we explore to offer best product offering to our customers," he said.

He said further strengthening its operations and partnerships in Colombo also showcases commitment to the Sri Lankan market and its growing tourism industry as well.

"Our focus in Sri Lanka remains on connecting locals to the world. Everyone should be able to fly. Connectivity is important for every economy for its development and we will continue to open up more routes for Sri Lankan market," he pointed out. The airline also announced a special deal of Rs. 12,699 for direct flights from Colombo to Kuala Lumpur, Malaysia as part its efforts to further engage in the local market ahead of its plans for 2018. In terms of the competition in the airline industry, he said they believe in open market and healthy competition, which allows them to improve better. "We always believe that the best product wins and we are confident that AirAsia will remain humble in our focus to offer best experience to our customers."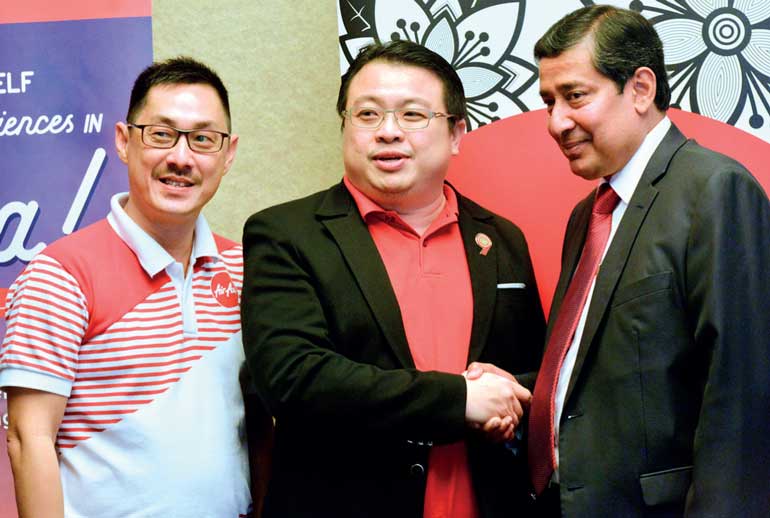 From left: AirAsia Head of Commercial Spencer Lee, AirAsia Sales and Distribution Group Commercial Rayner Teo and Setmil Group Chairman Arjuna Hettiarachchi
A consistent push to improve operational efficiencies and adopting automation through innovation, like the online booking, self-check-in, self-bag-drop and more, has enabled the airline to offer some of the lowest rates for air travel anywhere in the world with a world-class experience.

"The next phase for us is to offer an even seamless experience using technology and data. We want guests to enjoy products and services that are personalised, convenient and most importantly easily accessible with just a few clicks. Among them include our cashless transaction app BigPay, in-flight Wi-Fi and free entertainment platform ROKKI, duty-free marketplace ROKKIshop.com and many more. We will also launch face recognition technology next week. We look forward to growing further in Sri Lanka not only in terms of connectivity, but digitally as well to cultivate an ecosystem of smart travelling," he added.

He pointed that there is a lot of opportunity in the ASEAN region with many economies booming, while there is also focus on expanding its footprint to other markets in Europe. Acknowledging they were happy with the airport services offered at the Bandaranaike International Airport (BIA) right now, he refrained from commenting on AirAsia's plans to setup budget carrier in Sri Lanka.

Despite being a low-cost carrier, he assured that AirAsia is fully committed to highest safety standards. "We want to open up flying for everyone, but that doesn't mean we compromise safety standards," Lee stated.

With AirAsia, the Sri Lankan traveller currently has access to a wide network and connectivity across 14 countries in Asia, Australia and even the US, with a total of 41 routes via Kuala Lumpur thanks to their Fly-Thru service. The Fly-Thru service connects travellers to other flights from Kuala Lumpur with their baggage checked-through to the final destination without the hassle of immigration clearance at the transit hub.

Pix by Daminda Harsha Perera