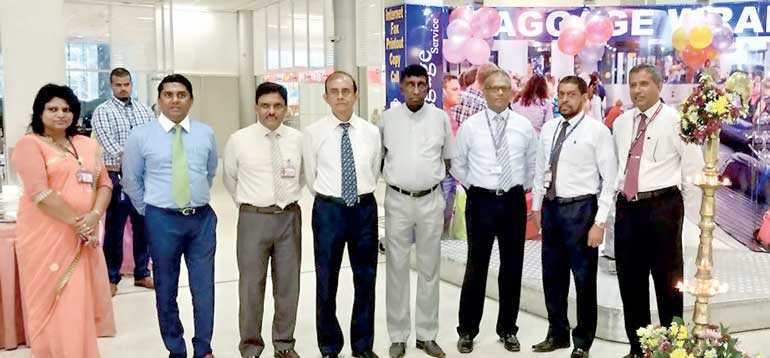 Since 5 April, all passengers travelling abroad via Bandaranaike International Airport (BIA) in Katunayake have been offered another valuable service to ease their journey. The UK based company Advance Baggage Service has introduced a new excess baggage service counter which was launched at the airport premises for the convenience of travellers.

Advance Baggage UK are the pioneers who successfully introduced and managed the excess baggage operation at BIA from 2001-2012. This is an excellent addition to the portfolio of other services under Advance Baggage, including travel accessories, baggage wrapping and internet, telephone and printing facilities all available in the Departure Lobby at BIA.

This newly re-launched excess baggage service offers the passengers several options if they find they have packed too many extra items and exceeded their check in allowance. Advanced Baggage can ship the excess baggage to over 300 destinations, door to door, sea freight, air freight or even local delivery, ensuring an easy transit through the airport.

In addition, Advanced Baggage also offers their customers the option of shipping the baggage beforehand. Instead of paying to drag luggage to the airport, then waiting in line to check the bag and wait at the baggage claim area, the air passengers now have the option to use Advance Baggage to ship the bags directly to the final destination, saving both time and money.

If the passengers arrive at the airport and realise that they have a bag or two too many, then simply all they have to do is to pop over to the excess baggage counter and let the experts take care of it.

Handling passenger baggage is a specialised process, but the staff at Advance Baggage are experts in the field, offering a simple, stress free, professional, customer focused solution to the excess baggage. They offer 24/7 booking platform from any PC, Tablet or phone wherever passengers might travel – a real time booking system where travellers can book and pay online at their convenience.

Payments can also be made in the destination country once the passengers arrive home. An online track and trace system, with SITA connectivity, means the customers can follow the delivery of the baggage. The baggage delivery will be under taken to the highest British standards with uncompromised quality of service, being authorised by BIFA, FIATA and IATA.

There is no need to say that this service is an excellent addition to the ones already available at the BIA, so the passengers may shop and pack secure in the knowledge that their prized possessions will be shipped with the utmost care.