Emirates celebrated its 35th year of operations to Sri Lanka on 1 April 2021. Over the past three decades, the airline's flight operations have supported the country's growth in tourism, trade and business. As Sri Lanka focuses on rebuilding a tourism industry disrupted by COVID-19, aviation veteran Chandana de Silva, Area Manager for Sri Lanka and Maldives at Emirates, says the airline's commitment to Sri Lanka remains steadfast, and elaborates on how it has responded to the challenges of the pandemic. Following are excerpts:
---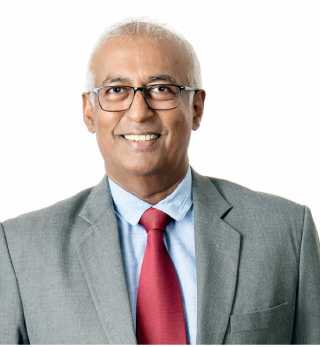 Emirates Area Manager for Sri Lanka and Maldives Chandana de Silva
---
Q: Emirates celebrated 35 years of operations to Sri Lanka this month. Why is this milestone significant?

International connectivity is an essential element of economic growth. There is no better illustration of this than the nexus between the development of Dubai and Emirates. When Emirates commenced its operations in Dubai with just two aircraft, Colombo was its fourth destination and by the time we celebrated our 30th anniversary in Sri Lanka, Emirates was one of the largest international airlines in the world – connecting our country to global destinations across six continents. This connectivity meant that Sri Lanka could import its requirements from virtually anywhere in the world and could seamlessly export to markets across the world. Additionally, global tourists could access the destination with ease.

Today, as we celebrate 35 years of connecting Sri Lanka to the world, times have changed due to the pandemic but our commitment remains steadfast, and as we rebuild our network with the reopening of countries around the world, Sri Lanka continues to benefit from the connectivity Emirates offers.


Q: Are you able to quantify some of the economic benefits that have accrued to Sri Lanka from Emirates operations?

Emirates launched operations to Colombo on 1 April 1986, with a Boeing 727-200 aircraft. Since the first flight, the airline has carried more than eight million passengers to and from Colombo, operating more than 49,000 roundtrip flights. In 1997, due to increased passenger demand, we upgraded our operations and introduced the wide-body Boeing 777-200LR aircraft in a three-class configuration.

Today, Emirates is the only international airline to serve Colombo with First Class services – offering passengers superior services and comfort in air and on-ground. Emirates SkyCargo, the airline's freight division, continues to play a crucial role in maintaining vital trade links and driving economic activity, helping local businesses connect to more than 130 cargo destinations worldwide.

Over the past 10 years, Emirates SkyCargo has carried more than 275,000 tonnes to and from the country including the main commodities of seafood, fruits, vegetables, pharmaceuticals, consumer electronic goods, and medical equipment.

Additionally, more than 140,500 Sri Lankan nationals and residents are enrolled in Emirates Skywards, the award-winning loyalty programme of Emirates and flydubai. This allows them to redeem exclusive benefits and rewards including flights with partner airlines, hotel stays, retail outlets and lifestyle experiences supported by Emirates.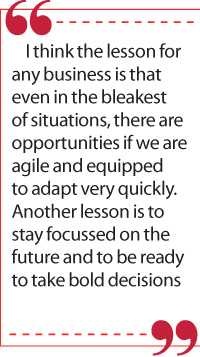 Q: Sri Lanka reopened its airports for commercial travel in January this year. How does Emirates view this development and what does it mean for the airline?

As a global connector of people and places, we welcome the reopening of countries to international travel, with appropriate health and safety protocols in place to ensure the safety of our passengers and crew. In February, we increased our services to Colombo from four to six weekly flights to meet market demand, offer customers greater connectivity and support the country's efforts to revive tourism.

In Sri Lanka, several agencies and organisations including the Sri Lanka Tourism Development Authority, Civil Aviation Authority, Airport & Aviation Services and the Ministry of Health are working together continuously on the protocols and processes that apply to inbound and outbound travel for tourists as well as Sri Lankans.

Customers can fly safer and better with us as we have implemented a comprehensive set of measures at every step of the customer journey, introduced free multi-risk travel insurance and revised our booking policies to offer generous re-booking terms.

Emirates is no stranger to implementing stringent safety measures that protect our passengers, staff, airport personnel, and the communities we serve. This includes the distribution of hygiene kits to all passengers, personal protective equipment for cabin crew on-board, and enhanced cleaning procedures such as the disinfection of aircraft lavatories every 45 minutes on flights longer than 1.5 hours. These measures can be witnessed at the point of check-in, in transit, boarding and on-board.

At Dubai International Airport (DXB), we have placed physical distancing indicators and protective barriers at the check-in counters, we also follow staggered boarding to follow social distancing protocols. Our wide-body aircrafts are fitted with advanced HEPA air filters which remove 99.97% of viruses and eliminate dust, allergens and germs from cabin air for a healthier and safer on-board environment.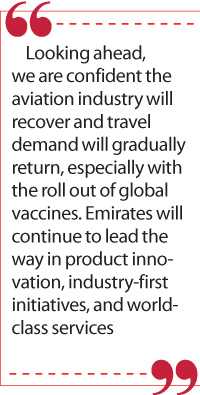 Q: How did the closure of airports since March 2020 affect Emirates' operations in Sri Lanka?

In March 2020, we temporarily suspended all passenger flights as directed by our regulator the UAE GCAA. That hit us hard, but Emirates fully supports Dubai and the UAE's pandemic response measures, which always put people's health and safety first. As early as April 2020, Emirates SkyCargo quickly adapted its operations to meet the needs of the changing environment and began operating cargo-only flights to Colombo, enabling Sri Lankan exporters to keep their supply chains open.

While virtually everything else was at a standstill owing to the curfew and lockdown, in that month alone Emirates SkyCargo helped Sri Lankan businesses export 100 tonnes of produce such as fresh fish, fruit, and vegetables to markets in Zurich, Paris, Frankfurt, London, Brussels, Dubai, Karachi and Lahore utilising a Boeing 777-300ER passenger aircraft.

Emirates was one of the first international airlines to resume outbound passenger flights from Colombo last year – helping facilitate travel for foreign nationals and Sri Lankans with four flights a week. These flights also offered space for inbound and outbound cargo, enabling us to still contribute to the national economy while also helping Sri Lankans return to their families.

Today, we operate six weekly flights to and from Colombo – connecting passengers to more than 90 destinations via Dubai.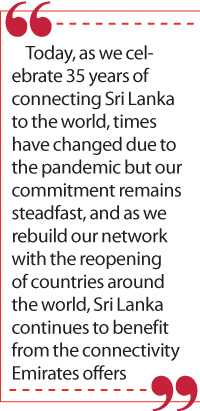 Q: What are some of the measures Emirates has implemented to navigate the 'new normal' environment resulting from the pandemic?

We adapted quickly to meet the needs of the changing business environment. This included new, comprehensive safety measures at every step of the customer journey to introducing industry-first initiatives such as our multi-risk travel insurance that includes free cover for COVID-19 medical expenses and quarantine costs to all customers, regardless of class of travel or destination. This helped boost confidence in international travel, allowing our customers to plan their travels with a peace of mind.

As I mentioned earlier, we also unveiled multi-faceted measures for employee and customers at every step of the travel journey, redefining safety and hygiene standards on board and on the ground. One of the most popular of these measures was the introduction of complimentary hygiene kits to be given to every passenger upon check in at Dubai International Airport and on flights to Dubai. These kits comprise of masks, gloves, antibacterial wipes and hand sanitiser. The hygiene kits supplemented a slew of additional measures already introduced to keep customers safe.

Emirates recently introduced contactless technology to ease customers through Dubai International Airport (DXB) including an integrated biometric path, as well as self-check-in and bag drop kiosks. We are also one of the first airlines in the world to trial IATA Travel Pass – a mobile app to help passengers easily and securely manage their travel in line with any government requirements for COVID-19 testing or vaccine information.


Q: How did Emirates provide recompense to passengers whose flights had to be cancelled at the start of the pandemic?

Emirates showed its commitment to customers by expediting travel ticket refunds, offering rebooking flexibility, and setting up a COVID-19 travel information hub on our website to offer the latest updates on the ever-changing travel requirements.

By November 2020, Emirates had returned AED 6.3 billion, about 335 billion Rupees at current rates of exchange, in COVID-19 related travel refunds. Of this sum, AED 4.7 billion, about 250 billion Rupees, was refunded to customers who had booked directly with the airline, and the remainder was returned via travel agencies. Emirates managed over 130,000 refunds-related queries from customers and travel agency partners and made status changes to nearly four million flight coupons. At the peak of this project, we had 110 personnel dedicated to validating and processing refunds, massively increased from the 19-person team pre-pandemic. The airline managed this by internally moving personnel from other functions to assist in this endeavour.


Q: How has Dubai, the hub of the airline, fared as a destination and major transit point since the start of the pandemic?

Dubai re-opened for business and leisure travellers in July 2020. The city remains one of the world's most popular holiday and stopover destinations. From sun-soaked beaches to world class hospitality and leisure facilities, Dubai offers a variety of world-class experiences. It was one of the world's first cities to obtain Safe Travels stamp from the World Travel and Tourism Council (WTTC) – which endorses Dubai's comprehensive and effective measures to ensure guest health and safety.

Currently, Emirates is offering 'My Emirates Pass,' an exciting offer that turns Emirates boarding passes into exclusive membership cards that present customers with deals and discounts in over 450 restaurants, leisure destinations and retail outlets across the UAE. The pass gives our customers even more chances to explore UAE for less. Emirates' customers flying to and through Dubai from 1 January to 30 September 2021 can take advantage of the exclusive offers by simply presenting their Emirates boarding pass and a valid form of identification at any of the participating outlets. The Emirates boarding pass also unlocks offers at many tourist attractions including Atlantis Aquaventure and At the Top Burj Khalifa.


Q: Overall, what was the most noteworthy lesson that 2020 taught you?

I think the lesson for any business is that even in the bleakest of situations, there are opportunities if we are agile and equipped to adapt very quickly. This is evident in the way Emirates SkyCargo rose to the occasion to transform grounded passenger aircraft to carry cargo including essential pharmaceuticals and food. We were able to innovate and meet the urgent demand for airfreight and keep generating revenue. Another lesson is to stay focussed on the future and to be ready to take bold decisions.

Looking ahead, we are confident the aviation industry will recover and travel demand will gradually return, especially with the roll out of global vaccines. Emirates will continue to lead the way in product innovation, industry-first initiatives, and world-class services. For now, we remain committed to serving our Sri Lankan customers with world-class products and services – flying passengers better and safer to, and through, Dubai.