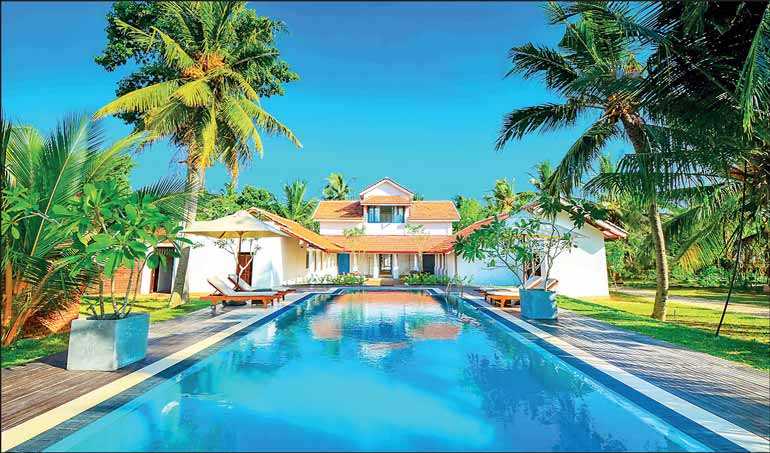 ---
Handun Villas announced that it has been awarded the '2019 Trip Advisor Certificate of Excellence' and thanked their customers for acknowledging its high quality of service and providing it with excellent reviews.

Handun Villas has always provided a high standard of service in every aspect of the holiday experience it provides to its guests. Positioning itself as a provider of the "authentic Sri Lankan experience," Handun Villas continues to make headway in the Sri Lankan holiday market.

Amidst the serene sound of the sea, the soothing scent of sandalwood and the enchantment of a 120-year-old manor, Handun Villas is the perfect getaway for a rejuvenating beach holiday.

Inspired by travellers of old who sought shelter under canopies of trees, the rooms are named after trees found in the garden, Kohomba, Kurundu, Sepalika and Kiri Palu being some of them. They are spacious rooms, designed with complete luxury and comfort in mind in order to enhance your stay.
Restaurants
Handun Villas restaurants offer you an opportunity to indulge your taste buds in a host of delectable authentic southern Sri Lankan cuisine. Be it a traditional breakfast of string-hoppers, hoppers, coconut roti and milk rice made with generous helpings of coconut milk, or the typical rice and curry meal, you can savour it all. Some of the signature southern favourites are the fish ambul thiyal, made in a clay pot, marinated with goraka paste. And to top it all off, a delectable curd and treacle dessert. All the vegetables are locally sourced and some from its own garden and picked fresh for cooking to preserve the distinctive flavours.

The Handun Beach Restaurant caters to your gastronomical needs while you laze on the beach and melt into the serene setting. Whether it's a thirst quencher, revitaliser, hunger buster, or just a light snack, Handun Beach's menu has it all.
Things to do
Massage: Pamper yourself with a blissful aromatherapy massage to unwind and kiss goodbye to your stress.

Yoga and meditation: The garden has many enchanting secluded spots that provide the perfect backdrop for an outdoor session of yoga or meditation.

Surfing: Get the ultimate sea-side holiday experience, cruising the waves on a surfboard. Surfing lessons can be arranged by the staff.

All in all, Handun Villas is the place to go for the ideal Sri Lankan vacation. With good food, comfortable accommodation and a place to unwind, make a date with Handun Villas soon for your ideal getaway. Visit www.handunvillas.com for more information.