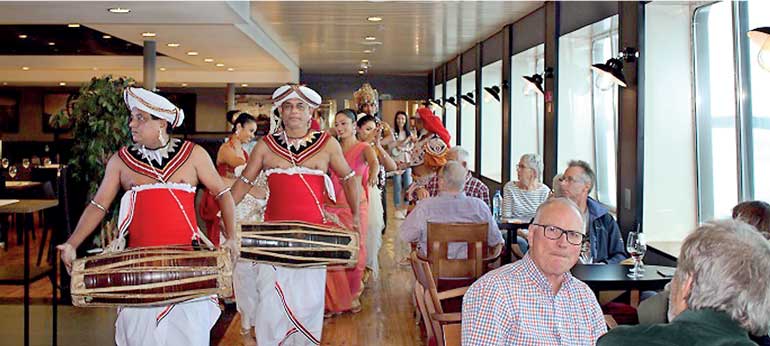 The Embassy of Sri Lanka in Stockholm in collaboration with the Sri Lanka Tourism Promotion Bureau (SLTPB) conducted a series of tourism promotional events titled 'Sri Lanka; The Land of Serendipity' on board the ships of Tallink Silja Shipping Line on their voyages to Tallinn-Estonia and Riga-Latvia and on return voyages to Stockholm from 8 to 14 September, showcasing Sri Lanka as a tourist destination.



The Tallink Silja Shipping Line is considered one of the most popular and convenient modes of conveyance within Scandinavia and the Baltic region. This promotion was coordinated by Arnis Anchupans, Honorary Consul for Sri Lanka in Latvia and Vallo Paal, Honorary Consul for Sri Lanka in Estonia in collaboration with the Tallink Silja AB. With this promotional activity, Sri Lanka tourism sector linked itself with cruise tourism in the Baltic and Scandinavian region.

The events held on board 'M/S Baltic Queen' and 'M/S Romantika' owned by Tallink Silja Shipping Line were highly successful. Dance performances by Channa Upuli Performing Arts Foundation in the main theatre of the ships brought to limelight Sri Lanka's age old dancing traditions displayed with a tinge of modern artistry.

Since the enactment of the traditional art of Sri Lanka is unique and distinctive in Scandinavia and the Baltic region, Sri Lankan entertainment could keep the audience captivated and spell bound, generating the much needed curiosity and awareness among the passengers about Sri Lanka.

Upon M/S Romantika's port of call in Riga-Latvia, a business meeting and a networking session were arranged for Diplomats, Latvian businessmen and Travel companies with the Sri Lankan representatives at the main theatre of the ship. Around 70-80 guests were present on the occasion. A similar business event and B2B meetings among travel agents were conducted at M/S Silja Serenade during the time the ship was docked at Värtahamnen, Stockholm, Sweden.

The stalls especially allocated for the Sri Lanka Embassy, Stockholm on board the ships were utilised to display exotic gems and jewellery of Sri Lanka, mask carving, and Ceylon tea. Travel agents also carried out promotions at the stalls.

Additionally, the Management of the Tallink Silja Shipping Line provided facilities for Ceylon Tea and Sri Lankan 'hoppers' to be served at the restaurants of the ships. Promotional material such as large format visuals and posters were arranged along the internal passageway of the ship to bring the best attractions of Sri Lanka to light.

Packed audiences enjoying the dance performances and the large number of passengers visiting the Sri Lanka Embassy stalls on board the ships were testimony to a tourism promotion event conducted successfully, competitively marketing Sri Lanka as a preferred tourist destination.