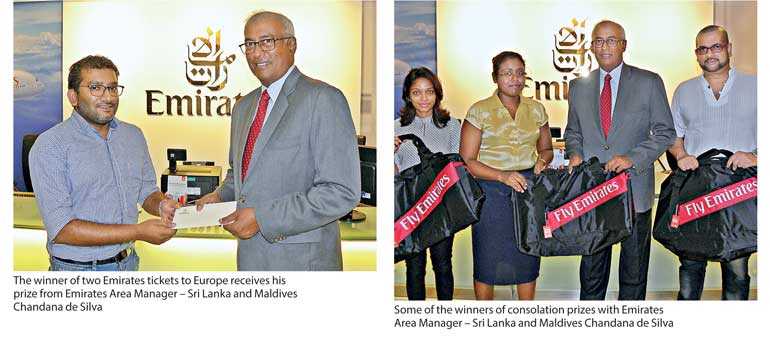 Emirates has given wings to the travel dream of a young Sri Lankan, presenting him with two return air tickets to a destination in Europe at the conclusion of an exciting competition on Facebook.

Ramitha Bandara was the lucky winner of the 'My Dream Emirates Destination' competition conducted by the airline exclusively for fans in Sri Lanka for two weeks in July. The competition invited Sri Lankans to write, in 50 words or less, what their dream destinations are and why.

The simple yet emotionally-engaging competition was intended to generate wider awareness about the virtually unlimited travel options Emirates offers Sri Lankans by connecting the island to a global network of more than 155 destinations on six continents.

Venice, Paris and London were recurring favourites among those who participated, but the winner's choice was Budapest, which is served by Emirates with a daily flight.

Five others who participated in the 'My Dream Emirates Destination' competition on Facebook received gifts of attractive Emirates-branded merchandise for their trouble.

Emirates commenced operations to Sri Lanka in April 1986. The Emirates Group employs more than 1,350 Sri Lankans who are an important segment of its multinational employee base, contributing to the success of the company in their diverse roles.

Emirates currently connects Sri Lanka to the world via 28 flights a week to its hub in Dubai.