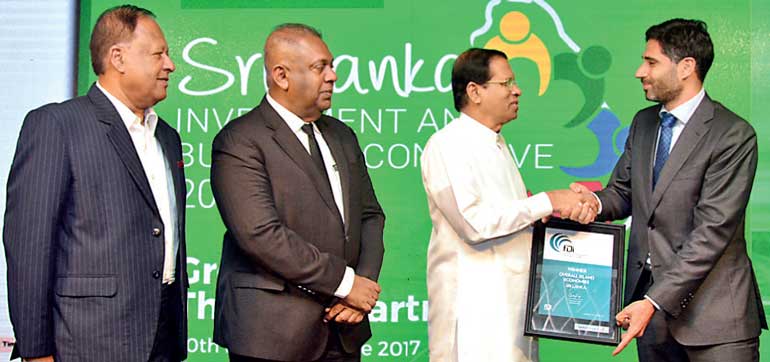 President Maithripala Sirisena being presented with the report by fDi Magazine Deputy Editor Jacopo Dettoni as Special Assignments Minister Dr. Sarath Amunugama and Finance Minister Mangala Samaraweera look on

- Pic Upul Abayasekara
As Finance Minister pledges to work harder than he was as Foreign Minister
Insists trade agreements would be negotiated with focus on SL interests
Singaporean FTA to be completed ahead of PM visit
Emphasises reconciliation and economic growth inseparable
By Uditha Jayasinghe

Newly appointed Finance Minister Mangala Samaraweera yesterday sought a conciliatory and supportive relationship with the private sector pledging to work on their behalf and negotiate trade agreements with focus on Sri Lankan interests.

Attending his first official event as Finance Minister, Samaraweera delivered the keynote at the inauguration of the "Sri Lanka Investment & Business Conclave 2017: Growth through Partnerships", organized by the Ceylon Chamber of Commerce (CCC) yesterday. Keeping a foot in his previous portfolio as Foreign Minister Samaraweera insisted that reconciliation and economic growth could not be separated from each other.

"For Sri Lanka to break free from middle income country status towards a higher income category country it is essential that we not only build physical infrastructure but set up corresponding globally recognized regulatory mechanisms and investment practices that meets Sri Lanka's aspirations to become a regional hub for financial services for international trade," he said.

"I want to assure all of you that all these agreements will indeed be negotiated carefully with positive and negative lists, safeguard agreements and dispute settlement mechanisms, which peruse Sri Lanka's interests."

Samaraweera recalled the potential Sri Lanka had at Independence but expressed hope that the country still has the chance to turn things around and use its 70th Independence to chart a new beginning. The economic policy plan presented by Prime Minister Ranil Wickremesinghe last October was referred to as a blueprint the government would follow.

"To support these efforts, together with my Cabinet colleagues I have worked, during the last two years or so as the Foreign Affairs Minister, to create the best possible enabling environment for Sri Lanka to attract more business, trade and investment. Now in my new portfolio I will work closely with all of you as well as with the international community and all stakeholders to work even harder to realize the economic development democratization and the reconciliation agenda of the national unity government for the benefit of all our people."

"In fact this is where reconciliation comes in. Without reconciliation and durable peace, without guarantees of non-reoccurrence Sri Lanka cannot exceed on its successes. That is the very reason that the Ministry of Reconciliation has been given the highest priority and it is a subject under the president."

He went onto say that human rights, democracy, good governance, rule of law are all elements of stability and in turn foster development. Reconciliation and development are intertwined. "Without reconciliation and a stable foundation economic progress would once again evade our nation. In fact this is why a new Constitution in important, a Constitution that would celebrate the diversity of Sri Lanka as a multi-ethnic, multi-religious, multi-lingual country."

"The national unity government focuses on a three-pillared agenda that is essential in this context. Democratization, which includes strengthening good governance and the rule of law. Reconciliation, which is truth seeking, reparation, accountability and guarantees of non-recurrence. The third pillar being sustainable and equitable development with employment generation that transmits the benefits of growth widely is critical. The private sector and partnerships are key. The growth model Sri Lanka evolves would need to be private sector driven with exports and FDI as key pillars."

Reiterating the government's plans to forge fresh trade agreements with China, Japan and Singapore as well as deepen existing ones with India, Samaraweera was optimistic that by the end of 2017 Sri Lanka would have preferential trade access to

I believe the Singaporean agreement I was told would be able to be completed before the end of the year, before the expected visit of the Singaporean Prime Minister in December. The restoration of the GSP+ facility earlier this month was a remarkable expression on confidence in Sri Lanka by the European Union. If all works well by end 2017 Sri Lanka would have preferential access to a market of nearly 3 billion people," he said.