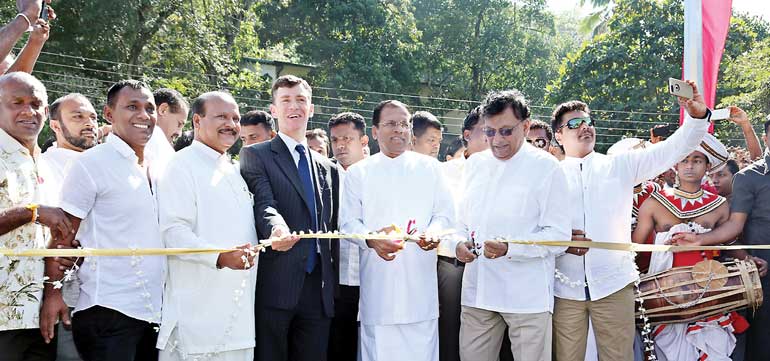 President Maithripala Sirisena, the Minister of Highways and Higher Education, and the UK High Commissioner jointly inaugurate the new bridge in Kandy yesterday. Minster of Post, Postal Services and Muslim Religious Affairs M. H. A. Haleem, MPs Mayantha Dissanayaka, Lucky Jayawardana and Ananda Aluthgamage and Chief Minister of the Central Province Sarath Ekanayake are also present.
President Maithripala Sirisena yesterday revealed that the country will get the crucial GSP+ concession from the European Union next week.

This disclosure from the President came during an address at the opening of the newly built bridge in Halloluwa, Dodanwala, Kandy.

"I have received information that Sri Lanka will receive the GSP + trade concession next week, marking a significant turning point in the industry and export fields of the country," the President was quoted as saying by his office during the address.

The President further said that during the last two years the present Government was able to build friendships with all the countries in the world, eliminating many hindrances that had halted the forward drive of the country.

"When we talk about our development works with great pride, we should also pay our attention to the severe debt burden on the country. My government is not ready in any way to launch mega-scale development projects obtaining loans, aiming for popularity while ruining the future of the country. We should take into consideration the tragedies faced by various countries in the world due to their severe debt burden," the President added.

Expressing his views on false propaganda carried out by some sections of the society regarding the Hambantota Port and the proposed industrial zone, the President said that he is not ready to give the land rights of this country to any country in the world.

The President further said that though new industries and investments are needed for the country, the land for such endeavours will be given according to laws and regulations as pelt out by the Constitution of Sri Lanka. Though some groups say that people will be removed from their villages and temples of historical value will be destroyed, the Government has never allowed any such improper action.

"Our agreements with countries, businessmen, investors and international organisations are very open. The current Government is honestly committed to the development of the country," the President said.

"Though some groups issue statements saying that the Government will be toppled, nobody can put down the current Government. Nobody has the ability to change the Government until a new government is elected in the next election will be held in 2020", stressed Sirisena.

The bridge which has been built as a solution for the traffic in the Kandy Town is 105 meters long was constructed at a cost of Rs. 374 million.

Asgiri Maha Nayaka Most Ven. Varakagoda Sri Gnanarathne Thero, Ministers Lakshman Kiriella and Abdul Haleem, Chief Minister of the Central Province Sarath Ekanayake and the British High Commissioner with foreign representatives took part in this event.