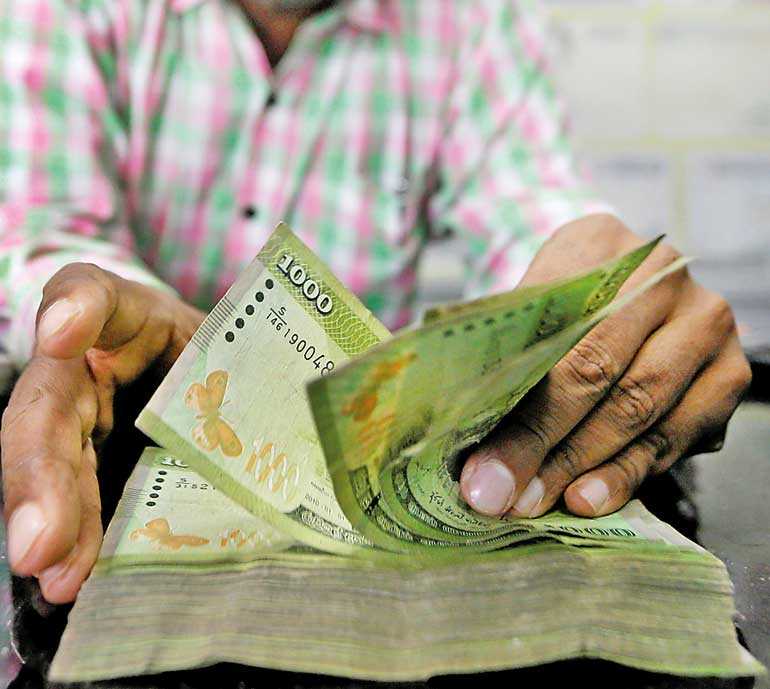 ---
CBSL says 22,306 loans amounting to Rs. 60.25 b under Saubagya COVID-19 Renaissance Facility approved as of Friday
Rs. 30.5 b disbursed already among 13,333 borrowers
Just last week 2,066 new loans worth Rs. 7 b approved
COVID-hit businesses and individuals can submit loan applications to banks until 31 August
Commercial Bank tops in terms of value of financial support extended so far; People's Bank leads by number of loans
---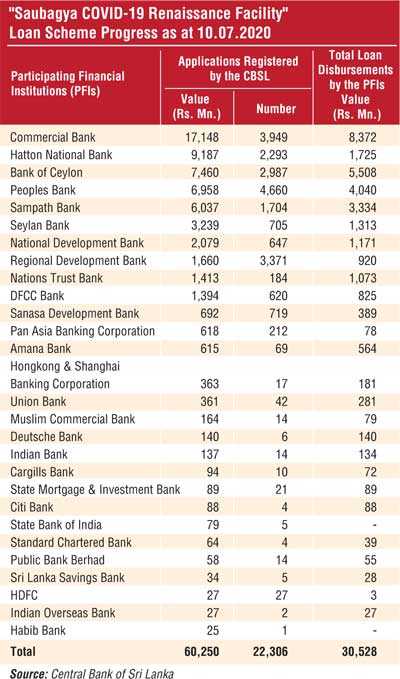 Crucial working capital at concessionary rate of interest for COVID-hit enterprises and individuals has gathered pace with over Rs. 60 billion approved and half of it disbursed to thousands of customers of banks.

In its weekly performance update, the Central Bank (CBSL) on Friday it had approved 22,306 loans amounting to Rs. 60.25 billion under the Saubagya COVID-19 renaissance facility as of 10 July.

Just last week approval was given for 2,066 new loans, amounting to nearly Rs. 7 billion.

CBSL said the licensed banks have already disbursed Rs. 30.5 billion among 13,333 borrowers countrywide as of Thursday.

The latest statement reflects a Rs. 7 billion increase in the approved amount from the previous disclosure by the Central Bank as of 2 July under Phase 1 and 11 of the scheme. As of early July it was stated that CBSL had approved 20,240 loans worth Rs. 53.27 billion.

In Friday's statement CBSL has combined the figures of both phases.

The CBSL, in consultation with the Government, has introduced the Saubagya COVID-19 Renaissance Loan Scheme to provide working capital loans at 4% interest rate to businesses adversely affected by the COVID-19 outbreak, through licensed banks, thereby supporting the revival of economic activity in the country. Repayment period is 24-months including a grace period of six months.

This loan scheme is available for COVID-19-affected businesses with an annual turnover below Rs. 1 billion, including self-employment and individuals. The Rs. 1 billion limit of annual turnover will not be applicable to businesses engaged in tourism, exports and related logistical supplies.

In the previous update of Rs. 53 billion approved, CBSL said 45% has been provided to businesses in the services sector led by trade services, while distributing 38% and 17% among businesses in the industry sector and the agriculture sector, respectively.

COVID-19 affected businesses and individuals can submit their loan applications under the above loan scheme to respective banks until 31 August.

The largest private sector player Commercial Bank has given the highest support in terms of value amounting to Rs. 8.4 billion (disbursed) for 2,260 applicants out of Rs. 17.15 billion approved for 3,949 applicants, while HNB is the second best supporter. In terms of number of loans, People's Bank tops the list with 4,660 worth Rs. 7 billion of which Rs. 4 billion has been disbursed to 3,379 applicants.

The loan scheme, implemented in three phases, is expected to disburse a total of Rs. 150 billion in working capital loans.

It comes with a credit guarantee and interest subsidy and was launched in July with a view to accelerating lending using the already available excess liquidity with licensed banks and to ensure adequate flow of funds for businesses which lack collateral to back their creditworthiness.

CBSL shares a major portion of credit risk of end borrowers, while providing an interest subsidy of 5% per annum to banks to cover their cost of funds. The credit guarantee provided by the Central Bank ranges from 80% for the smaller loans to 50% for relatively larger loans.