Suspends 99 members who sought nominations from SJB
Unanimous Working Committee decision endorsing RW's recommendation
Sajith, Kabir, Kiriella, Mangala, Harsha and Thalatha among those suspended
Eight new members appointed to Working Committee
RW assures UNP will not form a national Government
Urges Govt. to make COVID-19 control their priority, not General Election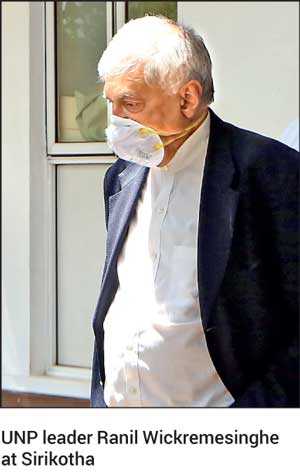 By Asiri Fernando

Ninety-nine members of the United National Party (UNP) including its one-time Deputy Leader Sajith Premadasa and Party Chairman Kabir Hashim had their party membership suspended yesterday widening the rift with the UNP's breakaway faction, the Samagi Jana Balawegaya (SJB).

The Working Committee of the United National Party (UNP), made up of loyalists of Party leader Ranil Wickremesinghe, endorsed the decision to suspend 99 members from party membership and positions they held before obtaining nominations to contest in the upcoming elections from another party.

"The Working Committee which met yesterday (29 May) unanimously decided to endorse the decision taken by the party leader to suspend 99 members who have obtained nominations through the Samagi Jana Balawegaya (SBJ)," Legal Secretary of the UNP, Nissanka Nanayakkara PC told the Daily FT.

Those who had their party membership suspended included senior UNP members including Lakshman Kiriella, Thalatha Athukorale, Mangala Samaraweera and Dr. Harsha De Silva.

The Working Committee also ratified the appointment of eight new WC members who were appointed on 22 May 2020. These include Sandith Samarasinghe, Palitha Thewarapperuma, Prof. Ashu Marasinghe, Shanthini Kongahage, Nalaka Kolonne, Chanaka Illeperuma, Azmi Thassim and Kasthuri Anuradhanayake.

In a statement before the WC met, Wickremesinghe dismissed rumours that the UNP was in talks to form a national government and explained that following the defeat of Sajith Premadasa at the 2019 Presidential Election, the UNP Parliamentary Group took the decision that the Prime Minister and the Cabinet Ministers would leave the government and sit in the Opposition.
"The party took the decision to regain the confidence of the public and regain the public mandate at the upcoming General Election. We have not had discussions to form a national government, and will not enter a national government," Wickremesinghe said.

He however said that the UNP's foremost responsibility was safeguarding the country and to this end the Party would support the national efforts in the face of the growing COVID-19 impact.

"The elections have been postponed due to the COVID-19 virus, the entire world is facing this challenge, we must all understand that our primary duty is to protect the public and protect their wellbeing. That has become the primary role of Governments world-wide. As the Opposition we will assist the Government for the betterment of the public in this situation." Wickremesinghe stated.

He added that although the UNP was willing to support COVID-19 measures, as a responsible Opposition it is also bound to criticise and point out discrepancies in the Government policy and inadequacies in implementation and that they would not tolerate the erosion of democracy in these times.