Exports remain unchanged compared to April 2017, higher appetite for vehicle imports

Reserves hit $9.9b supported by latest tranche of IMF funding

Rupee depreciates by 3.7% at end June, decline in line with other major currencies as dollar grows stronger

Gold imports remain stubbornly high despite tax increase, but CB expects demand to diminish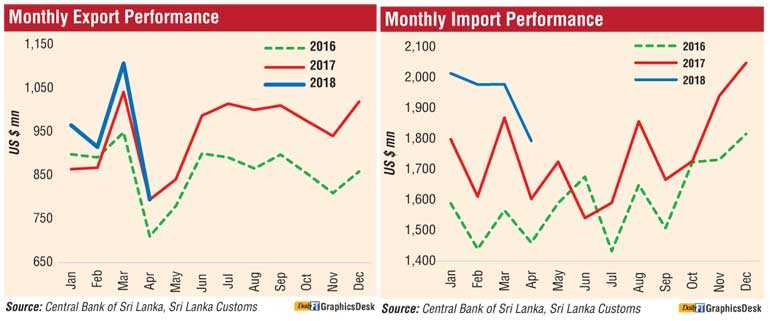 Sri Lanka's trade deficit widened in April on a sharp increase of imports, driven largely on increases in vehicle imports and unchanged export revenue but reserves hit a historic high of $ 9.9 billion, the Central Bank said in its latest External Performance Report.

Sri Lanka's external sector strengthened in April 2018 with continuous inflows to the financial account of the balance of payments (BOP) despite the mixed performance demonstrated in the current account.

Higher inflows to the financial account, particularly with the proceeds of the 12th international sovereign bond (ISB) issuance, project loans and FCBU loans and foreign investment in the Colombo Stock Exchange (CSE) and the Government securities market, resulted in gross official reserves reaching the historically highest level of $9.9 billion as at end April 2018.

In terms of the current account, the trade deficit expanded in April 2018 as import expenditure increased at a higher pace while export earnings remained subdued. However, tourist earnings and workers' remittances continued to record a healthy growth during the month.


The deficit in the trade account expanded in April 2018 reversing the deceleration observed in the previous month. This expansion was largely driven by the increase in expenditure on imports while earnings from exports remained stagnant. The cumulative trade deficit also expanded during the first four months of 2018.

In April 2018, merchandise export earnings remained unchanged at $ 795 million when compared with April 2017.

Earnings from industrial exports showed a slight growth while agricultural and mineral exports declined. Under industrial exports, earnings from food, beverages and tobacco exports rose driven by the increase in coconut related products categorised under vegetable, fruit and nut preparations. Earnings from petroleum product exports increased due to higher prices for bunker and aviation fuel and the marginal increase in volumes.


Rubber product exports increased due to higher earnings from tyre exports. In contrast, earnings from textiles and garment exports declined for the first time since June 2017. Notably, export of garments to the USA and non-traditional markets declined in April 2018 in comparison to April 2017, while exports to the EU market showed a marginal growth.

Further, earnings from transport equipment declined in April 2018 mainly due to the base effect as April 2017 registered the export of a cargo vessel. The subdued performance in spices, minor agricultural products and coconut kernel products also contributed to the contraction in agricultural exports.

However, export earnings of all sub categories of sea food increased while earnings from tea exports increased marginally with higher volumes exported despite a decline in average export prices. Leading markets for merchandise exports of Sri Lanka, in April 2018, were the USA, the UK, India, Germany and Italy accounting for about 49% of total exports.

In April 2018, expenditure on imports increased to $1,794 million, registering a double-digit year-on-year growth. This growth was supported by the increase in all main categories.

Import expenditure on personal vehicles, categorised under consumer goods, contributed mainly to the overall growth in imports due to the substantial increase in imports of small engine capacity vehicles, hybrids and electric vehicles. Expenditure on rice imports recorded the lowest value for the past ten months despite a growth in comparison to April 2017. Under intermediate goods, gold imports continued to increase (year-on-year) in April 2018.


In order to stem the increasing trend in gold imports, the Government imposed 15% customs duty with effect from 18 April 2018. Accordingly, expenditure on gold imports is expected to decline in the coming months of the year. Expenditure on base metals imports increased in April 2018 owing to higher imports of iron and steel and aluminium articles.

The increase in imports of plastic and articles and fertiliser also contributed substantially to the growth in intermediate goods. Import expenditure on fuel increased marginally with higher imports of refined petroleum while expenditure on crude oil and coal imports declined substantially.

Meanwhile, expenditure on textiles and textile articles reduced marginally driven by lower fabric imports in April 2018. Machinery and equipment mainly contributed to the growth in import expenditure of investment goods while expenditure on the import of transport equipment also increased driven by commercial vehicles such as buses and tractors.

Meanwhile, cement imports mainly contributed to the decline in building materials during the month. India, China, Japan, UAE and Singapore were the main import origins in April 2018, accounting for about 59% of total imports.


Foreign investments in the CSE, including both secondary and primary market foreign exchange flows, recorded a net inflow of $28.4 million during the month of April 2018. Consequently, cumulative net inflows to the CSE in the first four months of 2018 amounted to $47.2 million.

Meanwhile, net inflows to the Treasury bonds market exceeded the net outflows from the Treasury bills market resulting in an overall net inflow of $13.6 million to the Government securities market in April 2018. Further, long term loans to the Government recorded a net inflow of $30.1 million during April 2018.

With proceeds of the ISB issuance, the level of gross official reserves of the country increased to $9.9 billion, equivalent to 5.5 months of imports, at end April 2018. Total foreign assets, including foreign assets of the banking sector, were estimated at $12.3 billion as at end April 2018, which was sufficient to cover 6.8 months of imports.

The Sri Lankan Rupee depreciated by 3.7% against the US Dollar during the year up to 28 June 2018. Furthermore, reflecting cross currency movements, the Sri Lankan Rupee depreciated against other major currencies except for the Canadian Dollar, the Australian Dollar and the Indian Rupee during this period. The weakening of the Sri Lankan Rupee against the US Dollar partly reflects a broad-based strengthening of the US dollar globally.