Minister sets sights on 4 m travellers, $ 5 b income with new marketing strategy
Optimistic of increasing average daily spending by 17% to $ 210 and average stay to over 10 days
Plans to create 600,000 job opportunities in sector
Keen to work closely with all stakeholders to achieve 7 m arrivals and $ 10 b income by 2025
By Charumini de Silva

Emboldened by its potential Sri Lanka Tourism is optimistic of pursuing an ambitious target, doubling their 2019 numbers to four million arrivals and accelerating revenue from $ 3.5 billion last year to $ 5 billion in 2020 to spearhead an overall economic revival for Sri Lanka.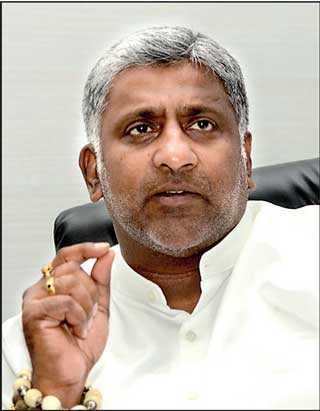 Tourism Minister Prasanna Ranatunga - Pic by

Shehan Gunasekara


"We are very optimistic about this year. The goal we want to chase is anything between 3.5 to 4 million tourist arrivals and an income of around $ 5 billion by the end of this year," Tourism Minister Prasanna Ranatunga told the Daily FT.

He also said a new long-term marketing plan to boost Sri Lanka Tourism has been finalised for the consideration of the industry and the Government within the next few weeks.

"The 'So Sri Lanka' tagline will continue, with a new marketing strategy. Officials of Sri Lanka Tourism is currently finalising on the new strategy," Ranatunga added.

The Minister noted that they hope to see the average daily spending jump from $ 180 to $ 210, while also expecting the average stay of a traveller be extended from eight days to 10 days or more by the end of this year.

Given how Sri Lanka was devastated by the deadly Easter Sunday attacks, he said President Gotabaya Rajapaksa has given priority to the recovery of the industry, reflecting on its ability to contribute to the development of the overall economy.

"President Gotabaya Rajapaksa has identified tourism as a thrust sector and he has encouraged us to set optimistic, higher targets for the industry. Even if we fall short of the target within the given timeframe, the achievement would still be beyond the potential," he added.

Ranatunga said this was one of the reasons why the Government's previously outlined $ 10 billion industry with seven million tourist arrivals by 2030 target was fast forwarded to 2025.

Just two months as the new Government, he said an upward confidence in tourist arrivals was seen with December recording 241,663 – the highest received post-Easter Sunday tragedy.

The Minister also said the authorities were working on ways to create 600,000 job opportunities in the tourism sector within this year.

"Anticipation is high for the tourism industry. There is a lot to do, but we are looking forward to realise our goals together as an industry despite challenges. The objective is to work closely with the private sector as well as different Ministries and Government agencies," Ranatunga added.

Sri Lanka ended 2019 with 1.91 million tourists, down by 18% from a year earlier. Sri Lanka originally targeted 2.5 million tourist arrivals for 2019, but the Sri Lanka Tourism Development Authority (SLTDA) revised it in August post-Easter Sunday terror attacks, stating that it hoped to get around 2-2.1 million tourists, reflecting a 10% decline over 2018.

The SLTDA subsequently revised the annual projection again to 1.9 million. In April, soon after Easter Sunday, tourism officials estimated a $ 1.5 billion revenue loss this year, while projecting a 30% drop in arrivals.