By Charumini de Silva

Considering the adverse impact of the upheaval that took place in the country, Tourism Development Minister John Amaratunga yesterday (19 March) said Sri Lanka may miss the 2.5 million tourist arrival target this year as well.

"There could be a slight impact to the 2.5 million tourist arrival estimate of the country this year. However, it can also pick up in the next couple of months," he told journalists in Colombo yesterday.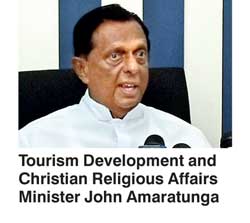 Claiming that there were few adverse travel advisories that went out, Amaratunga urged the diplomatic community to advise their countrymen not to fear coming to Sri Lanka, as the State of Emergency has been revoked and the country has returned to normalcy.

"President declared the State of Emergency to prevent any upheaval taking place in the country and now it has been lifted. The country has now come to normalcy; all places of tourist interest are now absolutely safe and accessible. There is nothing to be frightened of or alarmed by for any foreign individual to travel about in Sri Lanka," the Minister added.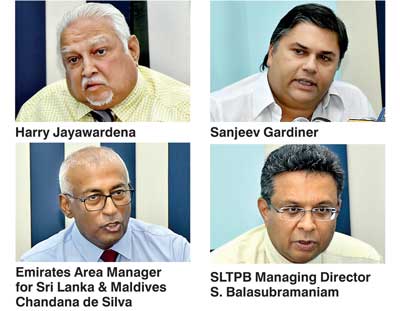 However Amaratunga said there were few airline booking cancellations. "We are opening up the internal air travel for the private sector and next week we are opening the Batticaloa airport."

Tourism Advisory Committee Chairman Harry Jayawardene stressed that there were no reports of violation, damage, or injury to any tourist or tourist properties.

However, he admitted that the incident took place at the wrong time when the Chinese New Year took place. "All hotels were booked and tourists were ready to come," Jayawardene added.

He pointed out that the biggest problem is that because of these travel advisories, there is an insurance claim. "When a country declares a State of Emergency,there is a huge effect and debt on the entry: either you surcharge 100% or 50%. The biggest problem is the insurance. Every tourist who comes here must take a cover, and because of that they have to get a confirmation from the authoritative Government that doesn't come. This message has disrupted the whole industry," Jayawardene said.

He said that cancellations at his group of hotels were at a minimum and had only 3% impact in their bookings, insisting they didn't have a major impact.

When asked if the authorities assessed the impact to the hotel industry, the Minister said there was only a minimum impact. "There was a lull for those five to six days."

SLTPB Managing Director Sutheash Balasubramaniam said they have not done an assessment on the monetary effect; however, he said that according to the Hotels association of Sri Lanka there were 5000 nights cancelled overall.

Galle Face Hotel Chairman Sanjeev Gardiner also stated that there was no impact, but added that extra care must be taken next time.

On behalf of the Board of Airline Representatives (BAR), Emirates Airlines Area Manager (Sri Lanka and Maldives) Chandana de Silva, while acknowledging that there were no flights cancelled, said that they saw a bit of a downtrend in the number of travellers, because of the travel advisories."There was a downtrend of about 8% to 10% largely from Middle-Eastern countries. We are happy that the state of emergency has been revoked," he added.

De Silva assured that the forward bookings are not gloomy and looking positive, as Emirates had not seen a major downward trend in forward bookings.

Balasubramaniam said they will use the largest tourism trade show in the Middle East to insist that Sri Lanka is still the safest place to visit.

Justifying the grounds of banning and censoring social media, he said the impact was minimal."The Government has already noted to all foreign Missions and Ambassadors to revoke the adverse travel advisory.There may have been some cancellations on the short hauls, India, China and Middle East but we have not heard a major impact on the long hauls," Balasubramaniam pointed out.

In terms of Sri Lanka Tourism promotional plans, Balasubramaniam said that a global media campaign on CNN will commence in April with a cost of $640,000. Following which in May there will be a $3.5 million digital advertising campaign on social media platforms for six months, and with that coming to an end, SLTPB will roll out the Rs.6 billion global campaign for three years.

In addition, he said, they will commence advertising in some of the major magazines in Sri Lanka's top 12 markets, where some of them have been rolled out.Balasubramaniam expressed confidence that Sri Lanka's upcoming road shows in Middle East, India and China will bring tourists as usual.
Pix by Indraratne Balasuriya