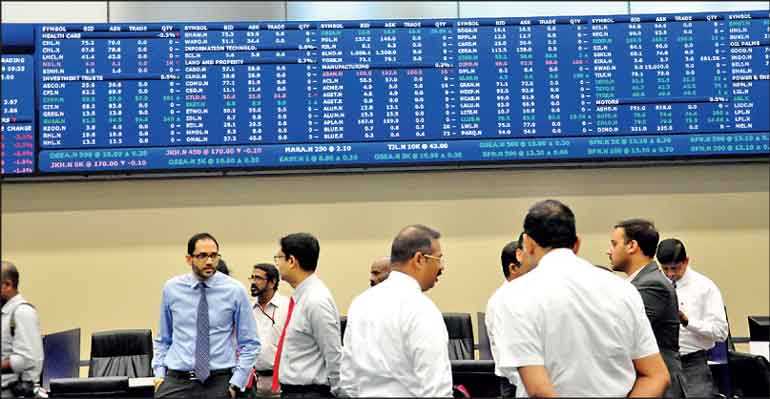 Colombo Stock Exchange
Main indices gain by over 5% with average turnover of over Rs. 3 b
The Colombo stock market yesterday ended a stellar week in what is widely regarded as "super September" with the main indices gaining by over 5% and turnover averaging a robust Rs. 3 billion plus.

If the rally post-COVID-resumption was driven by local high-net-worth investors and institutions, this week the retailers joined in picking mid-cap stocks.

Yesterday the market saw a fourth consecutive day of over Rs. 3 billion turnover whilst both the All Share Price Index (ASPI) and the S&P SL 20 Index gained momentum.

Brokers attributed the revival this week to a host of positive news from policymakers as well as from corporates.

NDB Securities said during the week, the ASPI and S&P SL20 gained 5.18% and 6.49%, respectively, while recording an average turnover of Rs. 3.2 billion.

First Capital, noting that the Bourse marked a "week of green", said retailers continued to play a dominant role in the market sustaining the drive in the positive direction marking a week of green.

"ASPI spiked within the first few minutes of trading, thereafter recorded a gradual uptrend for the rest of the session due to the buying interest in selective banking counters and closed at 5,721 gaining 62 points," First Capital said.

It said the market experienced the highest turnover for the week led by the banking counters contributing 36%. Moreover, the parcel trades boosted the turnover amounting to 17% of total. Foreign investors continued to be net sellers recording low participation. NDB Securities said the ASPI closed in green as a result of price gains in counters such as Browns Investments, HNB Finance Ltd., and LOLC Holdings.

High-net-worth and institutional investor participation was noted in John Keells Holdings, Hatton National Bank, and Commercial Bank. Mixed interest was observed in Sampath Bank and Expolanka Holdings, whilst retail interest was noted in Browns Investments, Tokyo Cement Company voting and non-voting.

Foreigners closed as net sellers mainly due to foreign selling in John Keells Holdings, said NDB Securities.
The Banking sector was the top contributor to the market turnover (due to Commercial Bank, Hatton National Bank, and Sampath Bank), whilst the sector index gained 1.79%. The share price of Commercial Bank increased by Rs. 0.40 (0.49%) to close at Rs. 82.80. The share price of Hatton National Bank moved up by Rs. 3.20 (2.52%) to close at Rs. 130.30 while the share price of Sampath Bank appreciated by Rs. 4.60 (3.47%) to close at Rs. 137.

Capital Goods sector was the second highest contributor to the market turnover (due to John Keells Holdings), whilst the sector index increased by 1.08%. The share price of John Keells Holdings recorded a gain of Rs. 0.90 (0.66%) closing at Rs. 137.90, whilst foreign holdings decreased by 1,732,257 shares. Expolanka Holdings was also included amongst the top turnover contributors. The share price of Expolanka Holdings gained Rs. 0.90 (10.11%) to close at Rs. 9.80.

Separately Tokyo Cement Company announced its first and final dividend of Rs. 1.50 per share.