With more people opting for digital payments, Sri Lanka has become the second fastest growing market for Visa in terms of volume within South Asia.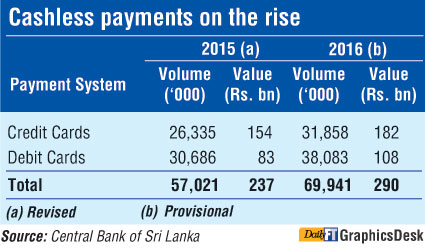 Last year Visa, the global leader in payments technology, saw a 22% volume growth in Sri Lanka and a higher growth momentum is continuing so far in 2017.


As per Central Bank data, last year nearly 70,000 transactions were conducted by the country's base of debit and credit cards, as against 57,000 in 2015. In terms of value, these cards did Rs. 290 billion worth of transactions, up by 22% from Rs. 237 billion in 2015.


Visa Sri Lanka and Maldives Country Manager Anthony Watson told the Daily FT that the biggest volume growth was coming from the travel and airline sector, which has reported a 30% increase year-on-year in June. This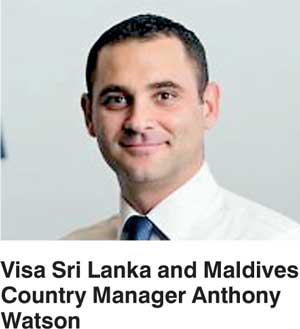 momentum in fact prompted Visa to partner SriLankan Airlines and Standard Chartered Bank to unveil the national carrier's biggest ever promotion of up to a maximum of two free tickets for online bookings.


Last year, payment volume on Visa credit cards increased 23%, while Visa debit cards were up 21%. There has also been a significant increase in the overall number of Visa transactions (22%), with a 61% increase in ecommerce transactions, of which half is via mobile phones, and there is a 39% increase in international transactions. Overall cards in force saw a 12% growth.


The overall number of credit and debit cards in the market is estimated at around 17 million.



According to Watson, the impressive growth comes on the back of a number of initiatives and investments made by Visa in developing acceptance infrastructure and driving awareness over the benefits of electronic payments in the country.


He said that with the increased security provided and smart phones being affordable and gaining popularity, more Lankans are making digital payments. Sri Lanka's mobile phone penetration is at 92% and there are over four million internet users with mobile internet via smart phones, registering phenomenal growth.

"Initiatives and investments made by Visa in developing the acceptance infrastructure and driving awareness around digital payments have helped fuel growth," Watson added. "More people are taking advantage of the convenience to shop online," he added.


Visa continuously enhances security for mobile payments. Its Verified by Visa provides extra peace of mind for online shoppers. It is a password-protected authentication system designed to confirm the identity of the cardholder when a Visa card is used online. Another feature is Visa Token Vault, which stores tokens and their domain restrictions in a secure digital vault and links tokens to a cardholder's Primary Account Number (PAN) for payment processing and delivers tokens to authorise internet-connected devices and mobile applications for payment.


Watson said that although digital payments are rising rapidly, albeit from a lower base, the future potential in Sri Lanka is greater.


"Personal consumption expenditure on electronic payments remains at a very low level of 4.2%, which indicates there is still considerable room for growth. We welcome some of the recent initiatives of the Government towards a digital economy," he explained. In Asia Pacific it is 45%.


According to Visa, industry studies have shown the cost of handling cash to be between 1% and 3% of a country's GDP. However, it is not just the costs but also the externalities brought about by cash dominance that pose significant concerns such as the presence of large unorganised sectors, black money, persistent exclusion of millions from formal financial services, loss of revenue on account of evasion of taxes, etc.


Watson said as the country shifts online and more time is spent online, both via desktop computers and mobile phones, the e-commerce sector becomes more important. While awareness of online shopping is growing, countries need to offer reliable online payment services to support the expansion of e-commerce, while creating a competitive marketplace. Growth in tourist arrivals and Sri Lanka's efforts to attract more also requires a more robust ecosystem for cashless payments.


At present Sri Lanka has only around 40,000-plus Point of Sale terminals which accept payment through card, and around 3,600 ATMs and this is mainly concentrated in the urban western provinces. Watson says the challenge is to grow the acceptance footprint in the country so that consumers can use their cards at more places and move to electronic payments.


For its part, Visa is enabling the transition from cash to electronic payments in Sri Lanka through three key pillars, according to Watson.


Firstly, it is providing a focus on security and convenience, creating a safe and secure environment for consumers to make electronic payments and businesses to receive payments. Secondly, it is continuing to innovate and introducing new forms of payment technology to accelerate the growth and adoption of digital commerce. Finally, it is evolving the payments ecosystem by embracing new digital commerce players in the market, especially SMEs, and collaborating with them to create new consumer experiences that accelerate the adoption of electronic payments.


Watson said Visa was committed to working with the Government, merchants and financial institutions to continue to drive the growth and development of electronic payments across Sri Lanka.


Globally Visa connects consumers, businesses, financial institutions and governments in over 200 countries and territories to fast, secure and reliable electronic payments. It operates one of the world's most advanced processing networks - VisaNet – which is capable of handling over 65,000 transaction messages a second, with fraud protection for consumers and assured payment for merchants.