Full year figure of $ 11.4 billion up 10% from 2016 and surpassed previous best of $ 11.1 billion in 2014

Government policy on shifting to export-driven growth continues through trade agreement negotiations underway and EDB initiatives
Sri Lanka's exports in 2017 hit an all-time high of $ 11.4 billion, up 10% from 2016 and surpassed the previous best of $ 11.1 billion achieved in 2014.

The Ministry of Development Strategies and International Trade said the EU and the US were the biggest markets taking $ 3 billion each.

The sectors showing particularly strong year-on-year growth were tea 20% and fisheries 40%. Tea benefitted from higher prices and enhanced access to Middle Eastern markets, particularly Iran. Fisheries benefitted from both the lifting of the EU ban in June 2016 and the GSP+ concession in May 2017.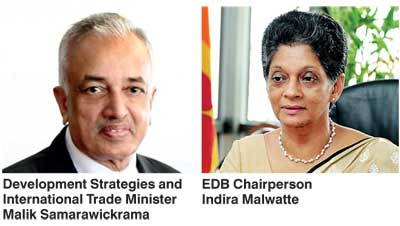 Apparel, which accounts for over 40% of all goods exports and directly employs over 300,000 people, mostly women, recorded a modest 2% growth over 2016. However, it is encouraging that the past four months showed 10% year-on-year growth as new orders from the EU were secured due to the GSP+ benefit of 12% duty exemption. The Ministry said 2018 was expected to be a strong year for apparel manufacturers. Services exports comprising ICT/BPM, logistics, financial services and construction contributed an additional $ 3.7 billion of exports, an increase of 8% compared to 2016. The growth in services in 2017 was significant compared to 2016 where ICT/BPM grew at 7.7% and logistics at 5%. Furthermore, ICT/BPM companies are expected to show double-digit growth next year with the Budget support for IT SMEs to be executed in 2018, while benefiting from grant schemes for innovation and entrepreneurship.

In addition, the 40% foreign ownership restriction will be removed from freight forwarding to facilitate investment in the sector. The Export Development Board (EDB), under the Ministry of Development Strategies and International Trade, is Sri Lanka's apex organisation for the promotion and development of exports.
Commenting on the landmark 2017 performance, EDB Chairperson Indira Malwatte said: "Our export results are particularly noteworthy given the global trading environment. Our peer nations have experienced material declines in trade in the past year, while Sri Lanka has maintained growth.

This is a testament to the tenacity of our exporters and the relentless enhancement of their value proposition to customers."

The EDB has been championing the National Export Strategy (NES) in collaboration with the International Trade Centre to develop the future export sectors. The main strategies on six focus sectors - IT, Spices and Concentrates, Boating Industry, Wellness Tourism, Processed Food and Beverages and Electrical and Electronic components - and four Trade Support Functions - Trade Information and Promotion, National Quality Infrastructure, Innovation and R&D and Logistics - will create the conditions of success for high potential growth sectors that can deliver leading exporters of tomorrow.

The vision of the EDB to "position Sri Lanka as a prominent export hub for innovative products and services" is well aligned with the development vision of the Government to reorient economic policy towards exports- and investment-driven growth, rather than debt-funded public infrastructure spending.

Development Strategies and International Trade Minister Malik Samarawickrama said: "We are signing the Free Trade Agreement (FTA) with Singapore. This sophisticated FTA will give a signal to the world that Sri Lanka is ready to engage in global value chains and production sharing networks. The trade agreements currently under negotiation with China and India will give our exporters preferential access to a middle class market of 300 million people – the same size as the whole of the EU. These trade agreements will be a key pillar in our quest to reach foreign exchange earnings of $ 22 billion from merchandise and services exports by 2020."