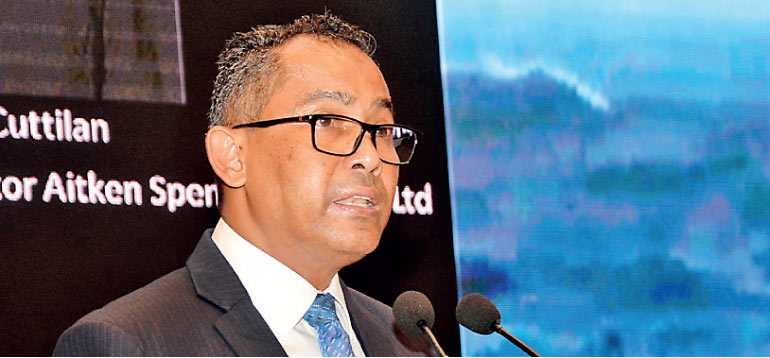 CASA Chairman Iqram Cuttilan - Pic by Upul Abayasekara
---
(See more pix "CASA conducts 54th Annual General Meeting")
---
"To remain competitive and grow further we just cannot only rely on geographic location but need to build capacity": CASA Chief
Expresses extreme concern on undue delay in operationalising East Container Terminal
Stresses need to commence development of West Terminal
Warns Indian Govt. developing deep water ports going to be a threat to Colombo
Says to be a maritime hub Sri Lanka needs to simplify processes, cut down red tape, and promote ease of doing business
Calls for fast-tracking of National Single Window, e-clearance of cargo and vessels, electronic payment, etc.
Dismisses providing full foreign shareholding in shipping agency business will increase cargo volumes as false myth
Strongly urges new Govt. to support local entrepreneurship and not bow down to pressures exerted by interested parties
---
Ceylon Association of Shipping Agents (CASA) has warned Colombo's status as a maritime hub is under threat by the failure to expedite capacity expansion, ease of business as well as major port development moves to by neighbouring India.

A growing list of challenges and pending unresolved issues was highlighted by CASA Chairman Iqram Cuttilan at the Annual General Meeting held recently with new Ports and Shipping Minister Rohitha Abeygunawardena and new leadership of Port Authority and Customs as well as private sector shipping industry in attendance.

"The Port of Colombo, with its close proximity to the main East West trade lane has benefited due to our geographic location. The Port of Colombo recorded a throughput of 7.2 million TEUS in 2019. If we are to remain competitive and grow further we just cannot only rely on our geographic location. We need to build capacity," Cuttilan said.

"As the shipping industry, we are extremely concerned on the undue delay in operationalising East Container Terminal. Despite 450 m of quay length of East Terminal having been built, the terminal is not being made use for the purpose it was built. It is very unfortunate that this facility has been lying idle for five years due to the indecisiveness," CASA Chairman pointed out.

However Cuttilan expressed the hope that Minister under his leadership as well as the leadership of President Gotabaya Rajapaksa and Prime Minister Mahinda Rajapaksa, the Government will fast-track port development.
"The need of hour is to operationalise ECT immediately so that we don't lose out our competitive advantage of our geographic location. We as the industry are requesting you to fast-track the operationalising of ECT as well as commence development of West Terminal if Colombo is to continue as the TS and maritime hub. Any delays in operating ECT will affect Colombo's position of being the TS hub of the Indian Sub-Continent," CASA Chief Cuttilan said.

According to him the Indian Government is developing deep water ports which are going to be a threat to Colombo. The Port of Vizhinjam and the ambitious $ 1 billion project in Nicobar Islands will directly compete with Colombo.

"So, unless we continue adding deep draft capacity in Colombo, we are going to be the losers. The fall out of this will be that the service strings which have mega vessels will not call at Colombo which will result in stagnation of volume growth in Colombo as well as our importers and exporters not being able to secure space for their cargoes as well as enjoy the competitive freight rates," CASA Chief warned.

"The COVID pandemic also resulted in the digitisation of the clearance of cargo which was a very positive step. This project had got stuck for a long period of time," CASA Chief said, extending appreciation to the Director General of Customs and his team for the measures taken to implement this.

CASA also extended its gratitude to the various players of the logistics industry, Customs House Agents, transporters, staff of SLPA, customs, the terminals and all other stakeholders who worked throughout the lockdown period to ensure the movement of cargo, vessels and provide the necessary services.

However Cuttilan warned that to be a maritime hub Sri Lanka needs to simplify processes, cut down red tape, and promote the ease of doing business. Digitisation plays a significant role in achieving this.

The establishing of the National Single Window, e-clearance of cargo and vessels, electronic payment etc. needs to be fast-tracked so that efficiency can be brought about.

"Whilst the Government has taken certain initiatives in establishing these the process is quite slow. CASA will fully support these initiatives," Cuttilan said.

The need to focus on developing the Passenger Cruise business, Break Bulk and Bulk cargo industry, promoting the handling multi-country consolidation, Entrepot trading, bunkering, ship repair and numerous other ancillary services was also emphasised.

"To promote servicing of vessel at off port limits, we request that the charges being levied be withdrawn," he added.

"We are still seeing interested parties spreading the false myth that providing full foreign shareholding in the shipping agency business will increase cargo volumes. We as the shipping industry have contributed much to the economy and strongly believe that the new Government will support local entrepreneurship and not bow down to the pressures exerted by these interested parties. If we increase our deep draft capacity, we will attract container volumes as we saw with the commissioning of CICT," Cuttilan said.

"CASA will carry out its responsibilities as the voice of the shipping industry. We are passionate on making Sri Lanka a maritime hub as this will benefit not only the industry but the country and the National economy as well.

"We will work very closely with our members and stakeholders in promoting the maritime hub concept. We will also actively engage with other industry associations, stakeholders as well as the SLPA, the three container terminals to promote the ease of doing business and reduce the barriers that are impeding the growth of Maritime and logistics industry," CASA Chief said.

He also said that 2021 is going to be challenging as well. "Business is no longer going to be as usual. We have to realign and reinvent our business activities if we are to succeed and move forward with a positive mind. I am confident that with your support and assistance, I will be able to lead CASA successfully in the upcoming year. May I conclude with a quote from Abdul Kalam, 'A positive mind finds opportunity in everything a negative mind finds fault in everything'," CASA Chief Cuttilan added.