Governor says macro-economic stabilisation has been faster than structural reforms, calls for swifter implementation to boost growth
Warns SL must end boom-bust cycles as dependent on rating agencies and capital markets for debt financing
SL being only second country in Asia to have IMF program indication of bad performance
Praises Govt. reforms efforts, believes if house is put in order could avert higher interest rates on international borrowings
Ageing population needs innovation now to foster growth, argues demographic dividend during war sustained economic expansion
By Uditha Jayasinghe

The Government must synergise macroeconomic stabilisation with its thus far sluggish structural reforms to foster growth, the Central Bank Governor said yesterday, warning Sri Lanka faces deep challenges if it triggers a future Balance of Payments crisis by failing to implement reforms.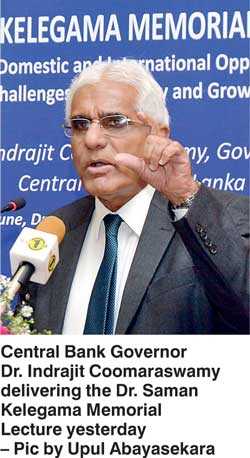 Central Bank Governor Dr. Indrajit Coomaraswamy delivering the first Dr. Saman Kelegama Memorial Lecture at the Institute of Policy Studies (IPS) under the title 'Managing Domestic and International Opportunities and Challenges for Stability and Growth' gave a detailed analysis of Sri Lanka's economic record and challenges.

He also insisted that as a low middle income country Sri Lanka could no longer depend on concessional financing to repay its debt and this necessitated the country putting its macroeconomic environment in order and restructuring the economy to attract investment and promote exports.


He warned that since Sri Lanka could no longer call on concessional funding it was dependent on rating agencies and international financial markets to raise funds. Moreover as a middle income country with debt as high as 77% of GDP the country could no longer lurch from one boom and bust cycle to the next as it had done since independence. He argued that this paradigm shift was still largely unrecognised by stakeholders.


"Now that we are a country with exposure to rating agencies and international capital markets, the way crises play out will be qualitatively different. In the past when we had a balance of payments crisis we then had a mix of concessional money from the IMF and other donors and adjustment to stabilise the economy. Now we have very limited access to low interest funding so the financing has to come from international financial markets and adjustment," he said.


"Today the capital markets are not going to do you any favours. If they think we are no longer credit worthy because our macroeconomic fundamentals have deteriorated, they will stop lending to us. So you have no financing and the rebalancing of the economy has to be borne entirely by adjustment and these financial crisis is far, far more painful than the kind of balance of payment crisis that we have experienced in the past. If we do have a crisis this time it will have far more devastating social and political consequences."


He pointed out that the structure of economic reforms that need to be put in place to strengthen the growth framework tend to get implemented slowly.


"There is a tendency to kick the can down the road on structural reforms and the inevitable result is a significant slowdown in growth. After all a stabilisation program is intended to compress demand so you have a depressive effect on growth and that must be offset by aggressive reforms to improve growth. If you don't do that you will have a big growth deficit and that is what has happened both in 2012 and to an extent in 2016, the stabilisation started by the pro-growth reforms were much slower."


Dr. Coomaraswamy also spoke extensively of the Government's reform plans including efforts to improve fiscal consolidation, the implementation of the Inland Revenue Act, transparent fuel pricing and VAT reforms that has helped Sri Lanka achieve a primary surplus for the second time since Independence. Other reforms to attract investment, including trade deals and introduction of new laws to improve the independence of the Central Bank as well as the Port City, Hambantota and infrastructure projects, were also described as positive developments.

"We are trying to institutionalise the macroeconomic framework so we can ensure that these improvements are more resilient and durable and as far as the development framework is concerned the Government plans are sound, however execution needs to speed up too."


The Governor also noted fiscal consolidation would remain crucial moving forward as it could counter rising interest rates by the US Federal Reserve and contain higher interest rates Sri Lanka would have to pay when borrowing from international markets.


"It is crucial to get our policies in better shape so we can drive down the premium attached to the Sri Lankan economy because the financing cost, the premium above the risk free rate, is based on the level of risk attached to the country concerned. So if we can strengthen our macroeconomic fundamentals and drive down the risk premium attached to the Sri Lankan economy, then in net terms there may not be a significant increase in the borrowing cost for the country. That's what we need to focus on.


"The general consensus is that the US interest rates will peak at a lower level by historical standards so hopefully that, combined with the fact that we have the scope to drive down the premium, will mean there will not be significant increase in our financing costs. Interest rates rise when economic activity is strong. The US economy is our largest export market and that will help us mitigate any cost of financing by having more opportunities for our exports."


As it searches for growth Sri Lanka could also leverage on its geographical location, noted Dr. Coomaraswamy, who said there was a very high premium now attached to developing Sri Lanka as a top 30 Ease of Doing Business country, to enable it to become the hub in the middle of the Indian Ocean.


"It is also important that Sri Lanka maintains a non-aligned neutral stance, which enables it to leverage the interests shown by several major powers, both East and West. In order to do so there must be clarity regarding our national strategic interest and economic priorities so that Sri Lanka can engage with the external world in a manner that is beneficial to the country."


He also pointed out that the International Monetary Fund (IMF) $1.5 billion Extended Fund Facility program was beneficial to Sri Lanka as it assisted reforms, raising funds and attracting investment.


"In Asia, Sri Lanka and Mongolia are the only two countries to have an IMF program. To have an IMF program in Asia at this time takes some doing. It demonstrates the extent of our mismanagement. The IMF does not come and impose its programs on us, we go to the IMF when we mess things up. This is something we need to be very clear about and if we don't have an IMF program it will be very difficult for us to access the financing we need and if we are not able to do that we would have to have import compression, which would be extremely painful for the population."


Sri Lanka also needs to grapple with the challenge of being a rapidly-ageing country, which would have significant ramifications on job creation, welfare, social safety nets and growth in the future, he said.


"We are on the cusp of ageing at a much earlier point in our development process. It means you can no longer drive growth simply through labour augmentation. It means we are having to work much harder in terms of driving productivity, in terms of driving total factor productivity at a much earlier stage in our development trajectory. So innovation, R&D, is becoming much more important. We have already enjoyed our demographic dividend and that may well be one of the reasons the economy was so extraordinarily resilient during the war, averaging 4% growth."