Foreign debt about half of total
State Minister Semasinghe assures all efforts being made to meet payments
Unveiling of Central Bank Road Map on Monday to bring greater clarity
Govt. sets 4% growth target for this year, 6% medium-term
PM to seek Cabinet approval for moratorium before end Jan.


By Uditha Jayasinghe

Sri Lanka has to repay an estimated Rs. 2 trillion in public debt in 2020, with about half that amount made up of foreign repayments, but the Government yesterday emphasised it was confident of turning around growth, and already has plans in the pipeline to meet payments and attract investments.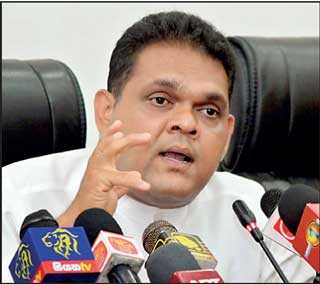 Development Banks and Loan Schemes State Minister

Shehan Semasinghe


Development Banks and Loan Schemes State Minister Shehan Semasinghe told journalists that Finance Ministry officials are focusing on the debt repayments.

The Central Bank last week said Sri Lanka will have to repay $ 4.8 billion in 2020 but has sufficient reserves of about $ 7.5 billion to meet most of the payments until the Parliamentary Election is concluded.

The Central Bank is also assisted by the fact that the next large $1 billion sovereign bond repayment is only due in October 2020. More details of how the Government will tackle the debt situation are expected to be detailed when President Gotabaya Rajapaksa makes his statement to Parliament today, and when the Central Bank unveils its annual Road Map next Monday.

"We are confident of meeting all these payments and plans are already being made. To put Sri Lanka's debt on a sustainable footing, we must first improve growth. The Government is expecting growth to recover to 4% this year, with plans to increase it to 6% in the medium term. This is also why the Government has announced wide-ranging plans to reduce taxes, attract investment, and establish a moratorium," he said.

The moratorium for loans obtained by Small and Medium Enterprises (SMEs) for loans below Rs. 300 million, which was announced in December, will be submitted for Cabinet approval by Prime Minister Mahinda Rajapaksa in his capacity as Finance Minister before the end of January. The Minister also said that details on sectors that would be covered under the moratorium were still being evaluated, and the tea sector may also be included in it.

"Once the moratorium was announced, we had many people come to us and ask for their sectors to be included in the moratorium. We have had positive responses from the banks, and we are confident that we can provide significant relief to multiple sectors. We will try to cover as many people as possible. The banks understand that this is a positive way to reduce their non-performing loans as well," he added.