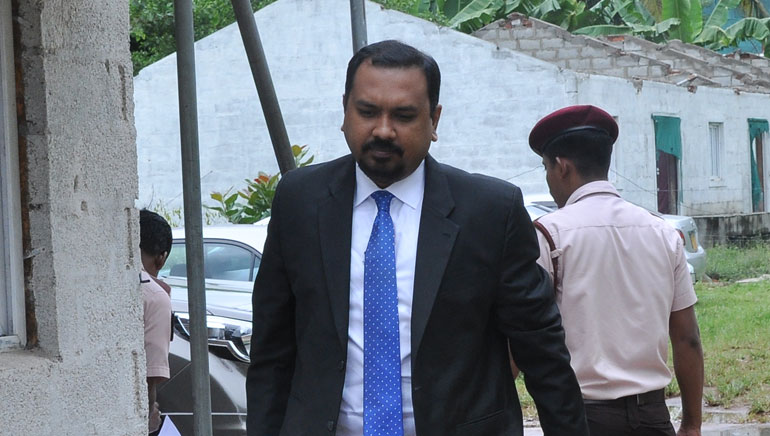 Perpetual Treasuries Ltd. (PTL) CEO Kasun Palisena
Aloysius formally refuses to testify
Marapana, PC, commends commission's decision
Acting Solicitor General will consult Attorney General on future course of action
Deputy Solicitor General continues to lead evidence on CEO Palisena
Commission listens again to phone recordings; seeks clarification on "powerful friends" who provided price sensitive info and cut-off marks
Palisena concedes info is accurate but claims ignorance on possible sources
Expresses doubt Aloysius had inside info
Agrees Tender Board and/or PDD could have decided auction outcome
Former CB Governor Mahendran summoned to appear on Tuesday
By Himal Kotelawala

Claiming ignorance on the identity of the "powerful friends" who are said to have relayed confidential, price-sensitive information to former Director Arjun Aloysius, Perpetual Treasuries Ltd. (PTL) CEO Kasun Palisena yesterday hesitantly agreed with the Bond Commission's assessment that it was possible the powerful places where the outcome of a bond auction is decided are the Tender Board and/or the Public Debt Department (PDD) of the Central Bank.

At the start of yesterday's proceedings, former Director Aloysius formally conveyed to the Presidential Commission of Inquiry on the controversial bond issuance of February 2015 his unwillingness to testify, following Wednesday's landmark order conceding that the commission could not compel Aloysius to give evidence.

His attorney President' Counsel Gamini Marapana commended the commission's decision, after which his client personally addressed the commission, upon its directive, officially expressing his refusal to testify.

Acting Solicitor General Dappula de Livera, however, was not in favour of the order and said he would consult the Attorney General on the future course of action as Aloysius' testimony would be crucial to the ongoing proceedings.

Deputy Solicitor General Milinda Gunatillake then continued to lead evidence from CEO Palisena, further questioning him about an alleged "ring" of chief dealers that had, according to Gunatillake, been selling government securities to the Employees' Provident Fund (EPF) and other state institutes.

Audio recordings of telephone conversations between Palisena and Aloysius from when the latter was in Singapore on 29 March 2016 were played again before the commission, where Gunatillake said Aloysius had given Palisena precise information on the cut-off mark for that day's Treasury bond auction.

In one of the calls, a person purported to be Aloysius could be heard telling Palisena that he had obtained the rates at which the EPF would be bidding a total of Rs. 15 billion. In the conversation, the PTL CEO is also instructed by the company's erstwhile Chairman that any bid between 13.5% and 14.5% would be accepted, and the former is asked to make a "very, very smart call."

Anything beyond 14.5% would be tough (hence the need for a smart call) which, according to Gunatillake, Aloysius refers to as a "gift" given to PTL.

The Deputy Solicitor General pointed out that Palisena's call of 14.8% had indeed proved very smart, as the cut-off had turned to be exactly that.

In the call, Aloysius, referring to the bid for the 2030 bond, could be heard saying "he wants us to go from 13.5% to 14.5%." Gunatillake pressed Palisena on whom this "he" might have been, to which the latter simply said, "I don't know. That's how [Aloysius] speaks all the time."

Referring to the friends in powerful places mentioned in the call, Palisena claimed to not know who those friends might have been.

When Gunatillake pointed out Aloysius' use of the words "our friends", Palisena again said that's how his boss speaks all the time.

"Our friends? His friends and your friends? How does it work?" asked Gunatillake, adding if there was an "our apartment" too, to which Palisena replied in the negative.

Commissioner Justice Prasanna Jayawardena at this point intervened to ask Palisena if Aloysius spoke loosely, remarking that the commission wondered why he had not come forward to give evidence.

Palisena insisted that that's simply how Aloysius speaks, saying the businessman has friends all over the world - maybe even in powerful places.

Upon further questioning, Palisena acknowledged that Aloysius would get involved in PTL's activities wherever there was a "substantial investment."

This prompted Justice Jayawardena to quip: "Put it another way: When there's an opportunity to make a killing, Mr. Aloysius gets involved?"

"Most of the time," responded Palisena.

Gunatillake asked Palisena if he was simply tasked with executing Aloysius' orders, to which he said he took care of matters internal and market-related.

"You have followed his instructions to the letter," responded Gunatillake, pointing to a bid made by Pan Asia Bank on behalf of PTL for Rs. 5 billion at 14.8% - exactly where the cut-off line had been drawn.

Palisena agreed that, at least in that instance, he had been given precise instructions, including yields and amounts on how to bid - instructions he had clearly followed.

Gunatillake observed that PTL had made Rs. 2 billion each in profits in April and May 2016. He attributed this success to PTL knowing exactly where to bid, allowing the company to buy large amounts at a low price.

Palisena, however, contended that it was only one part of it, but Gunatillake implied that that was enough, adding that the next part is the company dumping it on the EPF at a "substantially higher price." Palisena disagreed.

How Aloysius managed to provide Palisena with such precise information all the way from Singapore was the focus of the next round of questions, eventually leading Gunatillake to again ask Palisena who the "powerful friends" might have been.

"I would not know that. You'd have to ask him," said Palisena.

"Could it have been somebody in the Sri Lanka Transport Board?" asked Gunatilalke, to which Palisena said he did not know whether the SLTB possessed that information.

Asked if the Public Debt Department (PDD) would have the cut-off point information, Palisena said it was unlikely that the PDD could have determined the cut-off point before concluding the auction.

The "nice, fat Rs. 5 billion sitting exactly on top off the cut-off point" would have served as a helpful indication on where to draw the line, retorted Gunatillake.

Pan Asia Bank's bid on behalf of PTL alone would not have helped, contended Palisena, as someone else bidding the same amount at the same yield would have rendered it problematic. He stressed that he did not know whether Aloysius had any information.

"[Aloysius] knew that we were fully liquid by this time," he said.

Gunatillake then suggested that his witness was lying to the commission, an accusation that Palisena promptly denied, adding that only Aloysius would know who "those people" might be.

The Deputy Solicitor General went on to say Aloysius had "run away from this commission, leaving [Palisena] to carry the can."

Referring again to the EPF rates that Aloysius had purportedly known beforehand, Gunatillake asked who could have possessed that information in order to give it to him.

Palisena said he was not privy to the bidding process of the EPF.

Asked why Palisena had not sounded surprised when Aloysius told him he had the EPF rates, he again said "that's how he talks."

"Are you used to him telling you [confidential, price sensitive information]?" asked Gunatillake.

Countered Palisena: "He's talking about private bank bids as well. How would he know those?" insinuating that Aloysius was relaying information about private sector primary dealers, too - information that he could not possibly have possessed.

"So Mr. Aloysius is privy to lots of price sensitive information all the time?" asked Gunatillake.

"I don't know. That's how speaks," said Palisena. Asked again why he simply said "okay" with no trace of surprise when Aloysius announced that he'd just received the EPF rates, Palisena said, "This is just before an auction. That's how he speaks."

At this point, Gunatillake promptly stopped that line of questioning with a "very good; thank you."

Palisena eventually agreed that he had bid precisely as instructed.

Justice Jayawardena, before the conclusion of the day's proceedings, pressed Palisena on who might have relayed the crucial bit of information to Aloysius, asking him who, in his opinion, would have been in a position to decide the outcome of bids accepted at a Treasury bond auction.

The PTL CEO's best guess, it turned out, was the Central Bank's Tender Board, as that's where acceptance of bids is usually said to take place. Responding to Justice Jayawardena's questions, he said it goes through the PDD, and hesitantly agreed with the commissioner's assessment that the "powerful places" referred to in the call could have been the PDD and/or the Tender Board.

Justice Jayawardena inquired if the Tender Board's decision goes up to the Central Bank Governor for approval and if so, once approved, would anybody from the Governor to the Tender Board to the PDD be in a position to decide the outcome?

"At the conclusion, yes," agreed Palisena.

The cut-off rate is decided at the end of the auction, asked Justice Jayawardena, but the process is that the PDD recommends it, which then goes through the Tender Board followed by the Governor for approval? Palisena said that should be the case, though he was unsure of the exact process.

The commissioner asked if this meant anyone from the Governor to the Tender Board Chairman and members and the PDD could decide the outcome of an auction.

"The final result, yes," said Palisena.

The proceedings ended with the commission noting that former Central Bank Governor Arjuna Mahendran has been summoned to appear before the commission next Tuesday (19 September). Mahendran is expected to provide an affidavit by Monday. His counsel Attorney-at-Law Chanaka de Silva told the commission an affidavit will require time, but said, "I'll endeavour to see what's feasible," adding that his client would prefer to give oral evidence.

The cross-examination of Palisena will continue today and is expected to be followed by a re-examination by his attorney President's Counsel Nihal Fernando.
- Pic by Nisal Baduge